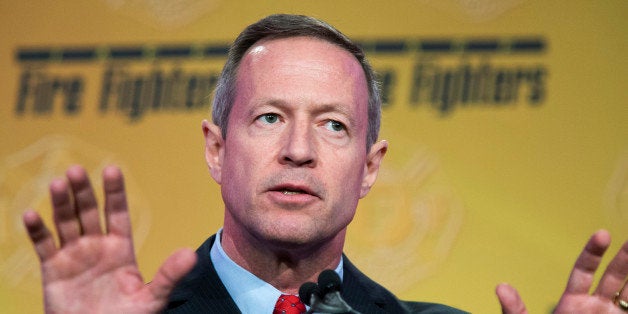 In a political season that will swirl with discussion on the value and policy-based protection of black lives, Martin O'Malley may be the most disingenuous, unqualified race-based storm chaser. The former Baltimore mayor and Maryland governor is at the center of two of the nation's biggest displays of black frustration boiling over into street violence and landmark federal litigation.
As mayor, O'Malley instituted Baltimore's now infamous 'zero tolerance' policy, a policing strategy that helped to reduce violent crime in the city by more than 16 percent, but resulted in inflamed relations between citizens and city police.
In its heyday, the zero-tolerance culture resulted in more than 108,000 arrests in 2005, a number that critics cited as a major factor in reducing individual employability, community mobility, and thousands of illegal police stops and arrests that led to a pervasive culture of racial profiling. From the Washington Post:
A. Dwight Pettit, a Baltimore lawyer whose clients have won numerous settlements from police brutality complaints, said O'Malley's "approach to policing when he was mayor was disregard for the Constitution."

"His philosophy was, 'Put them in jail and figure it out later,' and that will solve the crime problem," he said. "It created a confrontational mentality with the police."
In 2010, Baltimore City reached a settlement exceeding more than $800,000 with several complainants, including Tyrone Braxton, who was illegally arrested and detained without charge for more than 36 hours in 2005.
Just one year later, alumni and students from Maryland's four historically black colleges and universities filed a federal lawsuit against the state of Maryland, alleging discriminatory practices in funding, illegal duplication of academic programs and negligent support for the public HBCUs.
"We are proud of the multitude of excellent academic programs that exist throughout the state, and we respectfully disagree with the court's conclusions regarding duplication. We are continuing to review today's decision and are considering all of our options, including resolving the lone remaining issue through constructive mediation."
And we wonder how O'Malley, who catapulted himself to national political prominence on the vote and hope of black citizens in Baltimore and throughout Maryland, can stand before protestors rallying to the call of 'Black Lives Matter' and counter with 'All Lives Matter?'
That's the Martin O'Malley the nation should meet - the former mayor and governor who perfected the art of political smokescreen in detriment to black people, who now wants us to believe that he can lift the fog of racial animus that now, all of us, can see choking the life out of the American dream.
Popular in the Community