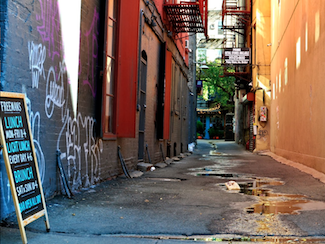 Even the "unmarked," alleyway entrance to Freemans felt sunny...
SIX OF US gathered at Freemans, on New York's Lower East Side, for a cozy Sunday brunch of rustic-style skillet eggs, seasonal aperitifs and single malt Scotch. Then, since it was warmer and sunnier out than it had been for some time, we set out with high spirits to visit twenty of the almost 150 galleries now populating the Lower East Side. It was a thrilling afternoon, most memorable for three highlights:
Timothy Hull: Pastiche Cicero
Now through April 20
Fitzroy Gallery
195 Chrystie Street, New York, NY
Hours: Wed-Sat, 11-6
Transported from the walls of an imaginary Pompeii like a whimsical archaeological dig, Timothy Hull's Pastiche Cicero exhibition is a bouncy, lyrical show long on graphic motifs from antiquity, leavened with contemporary wit. Favorite works were a proudly strutting amphora with erection, and the graffiti covering the walls of the gallery's bathroom, all set in happy, blue porcelain hues.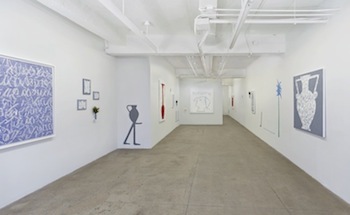 Installation view: Timothy Hull's Pastiche Cicero, at the Fitzroy Gallery
Mika Tajima: Negative Entropy
Now through April 13
Eleven Rivington
195 Chrystie, New York, NY
Hours: Wed-Sat, 11-6
Mika Tajima's Negative Entropy is a delicious show featuring spray-painted acrylic works that give off an aura of Gummy Bears-meet-L.A.'s Space and Light movement; and woven works with a radiant hum, seemingly created by passing sound vibrations through a Gerhard Richter painting.
Mika Tajima at Eleven Rivington (left), and Margaret Lee at Jack Hanley
Margaret Lee: closer to right than wrong/closer to wrong than right
Jack Hanley Gallery
327 Broome Street, New York, NY
Hours: Wed-Sat, 11-6
Margaret Lee totally nails minimalist kitsch with her witty, bone-white stage composed of ghosts of Modernist furniture and Brancusi's Endless Column all covered in Dalmatian-like polka dots. No rainclouds here!
NOTE: Most galleries on the Lower East Side offer a giveaway map of art in the neighborhood, for your walking and viewing pleasure.
Popular in the Community