Will Roberson takes the seat just across from me on an almost rainy day at Tacombi in Nolita. (Tacos are always in the budget.) We're settling into a conversation about his new work (painting) and waiting on his collaborator in another work (music), "City" (formerly "Jemini the Gifted One"). City is an artist with a formidable resume in tow as a Brooklyn heavyweight, but, as you'll see, with no bland nostalgia for hip hop and a sharp geopolitical take on life. Already, I'm enjoying this conversation, for all of the reasons I write this series of articles on the intersection of art and policy. Will and City are a look backward and forward to inform our times.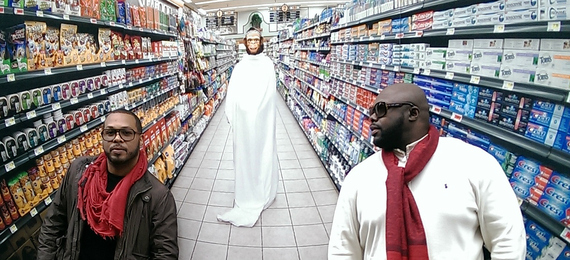 [Will Roberson and City, Lower East Side, NYC. photo credit ericjhenderson]
There are people who have woven themselves into the flag as pure, if less-documented Americana. All good: For any flag to have integrity, you need a high threadcount and pure comfort with the paradox of being unable to see individual strands. Will and City are two you may know, but perhaps not by name. City's most noted work comes as producer on Danger Mouse's 2003 album Ghetto Pop Life. Will entered the art world as a student at Boys & Girls Harbor, a program created by Anthony Drexel Duke. Later, he was a select protege of abstract expressionist Willliem de Kooning.
Long before the world sung along with Jay and Kanye "...in Paris" (Yeh, I'm skipping the Nettlesome word; it hijacks every time), Will and City were doing business on international scale as part of the the big stomp that gave hip hop its 90's global footprint. City was sought after as an artist and producer. Roberson produced Résurrection for Toulouse duo (Kartel Double Détente) KDD as well as Oxygen In The Ghetto for new age artist Jean-Michel Jarre, which he performed on Bastille Day in front of a crowd of 600,000. And Europe bobbed its head.
If hip hop, along with jazz, is one of the purest threads of homegrown Americana, then Roberson and Smith are part of it. And they're still putting in work with their current project, Can't Say This, Can't Say That. Apart, Roberson is disturbing the edges of the art scene with a series of images featuring a world-traveling canine he's dubbed "Lucky."
City arrives, and the conversation is uninterrupted, about hip hop, of course, but more about the larger picture of cultural diffusion. Three minutes later, Roberson spots Emerald Fitzgerald, formerly Managing Director Rox Gallery. Pure coincidence that she was just passing by, walking at a pretty furious pace. But she doesn't escape Roberson's shout, "Emerald! I'm dropping my work at the gallery in 20," referring to his first major show as a painter. Later that week, he would exhibit to an overflow crowd at Rox alongside established notables.

It's a rush of movement that matches our conversation. But both men are quiet, humble -- letting gravitas fill any void. City fuels that vibe with perspective as he notes the shift in hip hop:
There was a moment when hip hop informed the world. Today, it only looks like that; we're presented these figures who supposedly bring fashion, art, music and thought to the world through hip hop. That's the facade. Hip hop is fed commerce and delivers that commerce. It was once a medium for the thought, feeling and style of the artists. This is what happens with any art once the machine is built around it. We were innovators then, but mostly a facsimile of that today.
(You should play that quote again.)
This isn't a rant. There's no bitterness in the tone, but rather it comes off as a statement of fact. It makes sense when we consider the brutal competition of hip hop's early days, iron sharpening iron and delivering art in the only way it can be produced -- through travail. Wackness had consequences. What I can witness to in City's thought is the collective struggle of an art form. Neither he nor Will are stuck on the old school, noting that the old school welcomes evolution but, still, dreads the loss of essential Art that can happen when it reaches certain scale. Will takes it one step further, though, not dreading but "deading today's Hip Hop. It is an embarrassment and a bubble gum machine and I don't feel like waiting for the tooth fairy to come."
He takes out a few of his paintings, and we meet the protagonist, Lucky, who evinces an unexpectedly knowing vibe. Dogs are happy not to "know," but Lucky combines that prescient look with real "dogness" -- that I'm-just-happy-to-be-here kind of physical curiosity. Hard to do that and stay cool at the same time. But it works. One brush stroke at a time, Will is attracting attention, with commissioned works for major entertainers and collaborations from Space Cowboy boots in Soho to Harlem Shake restaurant, for which he's creating a limited edition tee to release at a 9/13 press event.
What I see in the two is what endures about hip hop and in any art that rises to the level of Art:
If an art form can be co-opted once it hits scale, that scale also creates a space that is ripe for the form to progress.
I mean, you don't have to speak Sami, a language spoken by less than 20,000 people, to get the flow of the young Nils Rune Utsi from Máze, a town of 250 people in Norway. Utsi raps in Sami "to preserve (it) in a way the youth can understand it." That's the root of hip hop, standing up and demanding to be heard from the margins.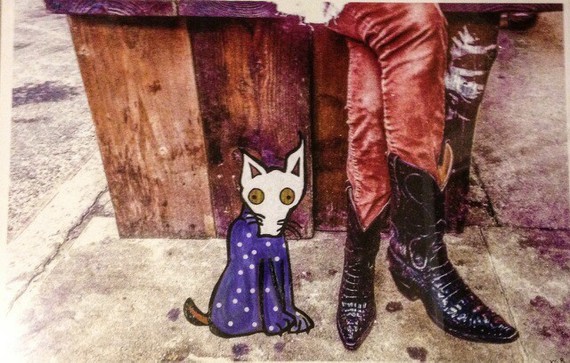 [Mixed Media by Will Roberson: "Planet Cowboy" feat. "Lucky" on photo backdrop by Milton Washington]
I'm now listening to a few cuts from the EP, Can't Say This, Can't Say That, and it all sounds fresh. Not "fresh" as in the 80's (though it is that) but, just fresh! The themes are straightforward commentary on life and politics, dead on the moment ...and with beats! So, here we ditch the empty moments of today's music together with the naysayers who go too far. Art is out there, whether it fills galleries and seats or not, though I hope these two fill up those seats and invade the headphones.
For me, this is a small slice of Americana, at the exact time when Americans could stand a trip to the woodshed and be forced to go over the weave of an apparently tattered flag thread-by-thread to understand what this Union is about. To steal a line, "Even so then at this present time also there is a remnant." In this case, the remnant of integrity.