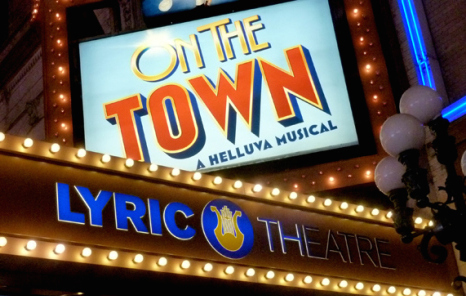 My daughters, Lea and Sara, ages 9 and 12, were very skeptical about On the Town as a revival. MGM's 1949 movie version is one of their absolute favorites. As Sara said, when I asked her if she cared to see On the Town on Broadway: "Papa. How can they replace Frank Sinatra and Gene Kelly? With who?"
It is a tribute, I guess, to the revival's ad campaign -- as broadcast in the back of taxi cabs (God help me) and plastered on the side of buses (on the town, indeed!) -- that my girls eventually became curious. Clearly, those three sailor guys were not Kelly or Sinatra (or even Munshin), but they could move! And the sight of that lovely lady ballerina grabbed Sara particularly.
So, recently, at their instigation, we went.
The production has been staged with such embracing affection, underscored by a true reverence for the Leonard Bernstein score, the Comden and Green script and lyrics, and the style of Jerome Robbins' original dance pallete. Tribute is not paid, it is shared, with a very sweet grin.
I was impressed. Director John Rando, musical director James Moore and choreographer Joshua Bergasse have performed miracles large and small. For example, Bernstein's kaleidoscopic contribution to On the Town is one of the wonders of the Broadway canon, but delivering his music with maximum luster and rhythmic vibrancy is no mean trick. What I noticed about Mr. Moore's baton was its languid sweep. In an age of hyper-charged musical overdrive on Broadway, conductor Moore has the taste, the guts and the faith in Bernstein's genius to give it room to breath, at tempi paced to lingeringly showcase the symphonic heights and sultry depths of On the Town's explosive score.
Similarly, Mr. Bergasse's choreographic take on Jerome Robbins is vivid and fresh, yet savors On the Town's period and what I like to think were Jerome Robbins' steps (I wasn't around to see them the first time). I am not a terpsichorean scholar by any stretch but I have seen enough dancing on Broadway to appreciate the art of filling a stage with movement that compellingly complements the action, while also seeming spontaneous, passionate, intricate and athletic, yet effortless. I've seen very little choreography over the past few years achieve virtually any of these prerequisites -- except for the athletic. Joshua Bergasse's choreography for On the Town has it all, abundantly.
Lea and Sara long ago memorized the songs of the cinematic On the Town. They expressed dismay when I warned them that lots of those songs would be missing from the revival because...well, because they were never there in the first place. Shocking as it seems now, a good seventy-five percent of Leonard Bernstein's original score and Comden and Green's lyrics were dropped for the movie and replaced with catchy but lesser tunes, mostly by the film's co-producer, Roger Edens.
Lea and Sara could not believe what they had been missing! The "new" (for them), which is to say, the original songs, scored instantly. How could they not? Sara was particularly knocked out by "I Can Cook Too," sung by Alysha Umphress, as the taxi driver Hildy Esterhazy, with sass and scatting jazz chops. "It was just so bouncy!" exclaimed Sara, while Lea fell in love with "Lucky to Be Me," spectacularly danced and voiced by Tony Yazbeck as Gabey, the sailor once played by Gene Kelly, with just as much elevation. All three sailors deserve to be saluted here -- Jay Armstrong Johnson as Chip; Clyde Alves as Ozzie -- because all three were exceptional, both as dancers and as knockabout comedians. They actually made us forget about Gene Kelly, Jules Munshin, and Frankie S., at least for an afternoon. Sara, Lea and I were also enraptured by a fabulous coup de théâtre concocted by director John Rando for the song "Lonely Town," that sent the entire company out into the audience for an acapella choral break, with one young cast member standing right in front of us, singing his heart out, just that close. Truly breathtaking.
From what I understand, it is the size of the house at the Lyric Theatre that has made life tough for On the Town. At 1,930 seats, it is the second largest on Broadway and cavernously hard to fill. The space actually encompasses two vintage 42nd Street Broadway theaters that were demolished in 1996 to make the Lyric. This (and more) we learned in an utterly spontaneous backstage tour that we were given after the show by my darling buddy, Stephen DeRosa, who plays eight different parts in On the Town, and so generously (and knowledgeably) showed the girls and me around after we descended on him without warning once the curtain fell. Lea gleefully collected autographs. Sara gaped at the wall in the wings hung with ballet shoes and the high heels that New York City Ballet star Megan Fairchild brilliantly dances in as Ivy Smith. ("I've tried that, Papa," Sara reminded me. "It's almost impossible to dance ballet in high heels!")
Was there anything at all that I missed in this On the Town? Yes, I confess -- the melancholic undercurrent that made the show so poignant in its original wartime incarnation in 1944; the unspoken knowledge that after their one day in New York, these three sailors were going off to World War II and might never come back. I have seen productions of On the Town that communicated this fatal sense powerfully. The present one, chooses not to. I can bear it. Here's to On the Town filling the Lyric Theatre with a rare spirit on Broadway these days, a spirit of joy, delivered at a very high caliber of excellence. The show's producers, led by Howard and Janet Kagan, their stellar cast and creative crew, all deserve to be congratulated. Lea, Sara and I will certainly remember them.
REAL LIFE. REAL NEWS. REAL VOICES.
Help us tell more of the stories that matter from voices that too often remain unheard.