It's more than a year since we came back from our journey following the grey whales. At home, the whale-quest behind us, with David Attenborough's ocean documentaries on repeat, I couldn't face the fact that our trip was finally over. Until now.

By following the migration, I'd wanted to share with my toddler one of the most miraculous and mysterious accomplishments in the undersea world. Mother and baby whales make this wondrous journey every year. They swim up to 11,000 kilometers each way. It's like going from pole to pole on foot, or whizzing around the moon, twice.

The whales start in their warm winter breeding grounds in Mexico and end in the icy, nutrient-rich waters of the Arctic. There they eat as much as possible, vacuuming up to ten wheelbarrow loads at a time of their favorite food, amphipods: tiny, bottom-dwelling, shrimp-like creatures which are plentiful in Arctic waters.

To fulfill their mission the whales first have to do one really important thing: get fat. They need a thick layer of blubber so they can feed their unborn calves while traveling back south to the birthing lagoons in Mexico. Most of the eating for the whole year is done up north. After a pregnancy of about 13 months and then giving birth, the mother needs to produce enough milk to feed the baby. Once the little one is blubbery enough to survive the journey, they travel back north to the feeding grounds together.

While in labor with my son, in the dimly lit hospital pool, I submerged and pictured the whales breathing and blowing with me. They helped me through. They swam through my head so often that I ached to see them for real; and I wanted to thank them. I'm a wanderer by nature and following their transient lives for a few months gave me a brief respite from the reality of putting down roots for the two of us.

Our trip began gloriously. The whales in Mexico behaved as though they'd been waiting for us to arrive before starting their journey. They blew bubbles, bumped our boat, and poked up their noses within kissing distance. I imagined a trip where we would greet each other along the way. However, they evaporated like apparitions at each subsequent stop.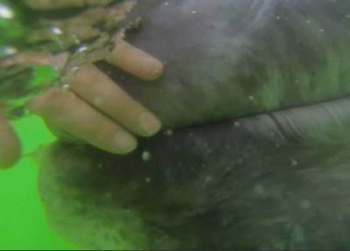 By the time we got to Kodiak Island, our final stop, we had chased them by bus, boat, train and plane, up the west coast of Mexico, the U.S. and Canada, to the northernmost tip of the Alaskan Arctic.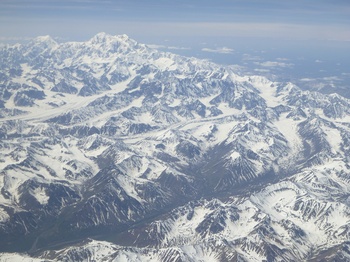 In Los Angeles, they'd already left, only days before. In Monterey we saw only humpbacks. Depoe Bay? Too stormy to go out. At sea between Seattle and Vancouver, one humpback. On the boat from Vancouver to Whittier, humpbacks and killers only. Point Barrow, too icy to whale watch.
Our last chance was a remote island tossed carelessly out into the Gulf of Alaska... Kodiak. Here we would spend the final two days of our journey.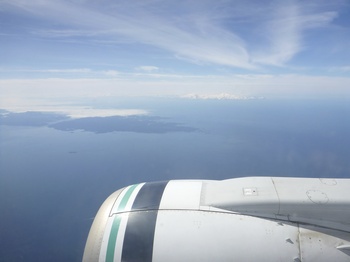 As our tightly packed flight buzzed lower, the island revealed itself, a vast, untamed sprawl of green, jagged against an austere blue ocean. There were plenty of coastal nooks and crannies where whales might be feeding.

Much as I like to feel the greys and I have an exclusive relationship, we were not the first, nor the only ones, to come to Kodiak looking for whales. Locals and eco-tourists from all over the world gather every April to celebrate the return of the migrating greys. There's a Whale Fest, with art, music, science events and expeditions. We were two months late but the organizer, Cheryl Nugent, had assured me by email that there were still lots of whales about. That is, of course, if I only had a boat to go and look for them. Hiring one cost $1,000. It wasn't going to happen.

The airport was small, and crammed with a surprising amount of people for such a remote place. An unusual number of long cases slid onto the baggage carousel, full of hunting and fishing gear, I guessed. Or, maybe, full of parts meant for a secret and deadly weapon... My vivid imagination had been fed by my readings on the plane. A guidebook explained Kodiak is home to a major U.S. military base. It's been a strategic outpost for both Russia and America during its history. This was no ordinary island for sure.

Nor are its inhabitants, as I was blessed to discover soon after arrival. Someone was waiting for us. I'd been sent an email with instructions: 'look for two small blonde girls chasing each other around and a mom chasing them around - that's me.' Alex Otto, a mathematics teacher, had seen a Facebook post about my journey a couple of weeks earlier and had offered to drive us around to look for whales from the beaches and cliffs. How kind is that?

Unruffled amidst the chaos of the arrivals hall, Alex's long dark hair was hoisted into a ponytail, her pixie face lit by a serene smile. We barely had time to speak. The toddler, five-year-old Tatiana, three-year-old Alicyn, and my collection of bags, toys, rucksack, buggy, car seat and life jackets had to be organized into Alex's minivan. We were immediately a team. I felt relief. This must be a sign that the journey had finally started to go right.

We were kept busy managing the three vocal, tired, small people so our whale chat was postponed until the next day. Alex dropped us at our B&B, the Cranky Crow, on a hill a little outside the city center. From the deck outside, the sea was just visible, shining under the setting sun, but there was no way I was venturing out. The island has another celebrity animal resident, the Kodiak bear, which I was a bit worried about meeting by accident. The toddler and I told each other stories about bears and whales until we dropped off to sleep.

I was up early the next morning, looking forward to meeting a local biologist, Bree Witteveen, whom I had read lots about. I desperately hoped she would be able to give me insider information on where to find my greys. When Bree appeared she had tousled blonde hair, faded ripped jeans and the insouciant air of a surfer.

"I'm a humpback girl," she fired off almost immediately, pointing out that grey whales are not as charismatic as humpbacks, they don't breach as much, are more discreet and generally stay away from boats in the open sea. But that's what I liked! They were hard to get but once you did the rewards were immense. I loyally defended them, pointing out their iconic endurance, wise-dinosaur eyes and describing the astonishing playfulness of the mothers and babies we met in the Mexican lagoons. How exciting to be talking whales again. They felt near. I felt momentum gathering around us.

Before we parted, Bree gave me a big smile and a precious tip. I fancied I'd earned her respect in our clash over the titans of the ocean. A drive through the mountains, she said, would take me to Pasagshak beach. That's where they go to hide from the predatory orcas, or "jerks" as Bree described them. "I recently saw a juvenile grey rolling in the surf there..." she said, with an air of promise. I had my crucial clue.

I couldn't wait to tell Alex. Within minutes she had swept us up in her minivan -- breezy and determined, our new, wonder woman friend. We set off on our quest, loaded up with wriggling children, toys and clothes, only stopping briefly at the Java Flats cafe for provisions. I stuffed my bag with some gigantic local cookies named "Electric banana monkey love", made with peanut butter, banana, coconut, chocolate chips and something else I can't remember. I figured they ought to bring good luck.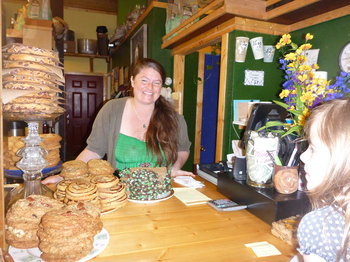 On Bree's instructions, we headed on towards Pasagshak, a wide, sheltered bay, cradled by cliffs on either side. As we came out of the mountains and started to head down towards the coast we took a turn. I couldn't believe what I saw: a huge, thick, white blanket entirely covering the sea. Fog. This wasn't happening.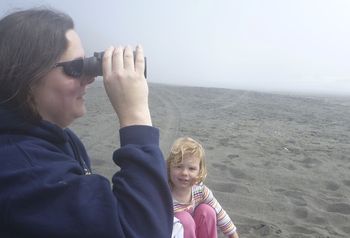 Alex and I stared into the white. The fancy binoculars borrowed from Whale Fest organizer Cheryl started to feel like a joke. It had all seemed so promising. A lump formed in my throat. Surrounded by an icy ocean, with just 24 hours left on an island full of bears and fog, I was on the brink of irredeemable failure.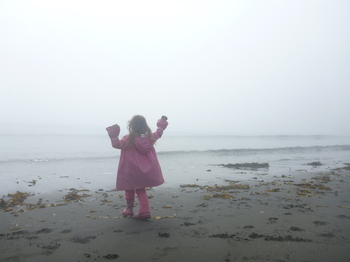 REAL LIFE. REAL NEWS. REAL VOICES.
Help us tell more of the stories that matter from voices that too often remain unheard.