If you get a chance today, go outside and look around. Chances are, no matter where you are, you'll see birds soaring above you, and hear their songs from nearby trees.
That's because a century ago ― August 16, 1916 ― the modern conservation era took flight.
On that day, the world's first international conservation agreement was signed ― a Treaty for the Conservation of Migratory Birds in North America by the United States and Great Britain on behalf of Canada. While the United States had previously set aside protected lands as national parks and wildlife refuges, the Treaty marked the first time that species themselves were given specific protections across their range. A treaty was required because birds migrate across state and national boundaries ― many traveling thousands of miles between spring breeding habitat in the northern U.S. and Canada and wintering habitat in the southern U.S., Mexico and Latin America. Thus, out of necessity, migratory bird conservation has always been implemented at a continental scale.
In the United States, the Treaty spurred passage of the Migratory Bird Treaty Act, as well as a host of other important and enduring conservation laws that have enabled us to bring the bald eagle, peregrine falcon and other species back from the brink of extinction, while restoring healthy and abundant populations of waterfowl and other migratory birds across North America.
The seemingly hopeless plight of migratory birds inspired leaders like Theodore Roosevelt, Aldo Leopold, Ding Darling, Rachel Carson and other conservationists to act, in concert with millions of hunters and other like-minded citizens.
Repeatedly, when success seemed impossible, they forged ahead with optimism and persistence.
In the early years of the 20th century, they fought against the widespread commercial slaughter of birds that led to the extinction of the passenger pigeon and pushed hundreds of other species to the brink. At the height of the Depression and the overwhelming ecological catastrophe of the Dust Bowl, they secured billions of dollars in dedicated support for state-level habitat protection, restoration and education efforts through the Wildlife and Sport Fish Restoration Program, and vital funding for the Refuge System through sales of the Federal Duck Stamp ― still the best way for citizens to help protect wildlife habitat. ring the industrial boom of the postwar years, they spotlighted the hidden effects of DDT and other contaminants on migratory birds, leading to new regulations on pesticides and other chemicals. And when habitat loss and degradation threatened the continent's waterfowl populations in the early 1980s, they created a remarkable, partnership-driven blueprint for waterfowl conservation on a grand scale.
These pioneering efforts to protect and restore migratory birds laid the foundation for the North American Model of Wildlife Conservation – the most successful and visionary approach to conservation the world has ever seen.
Today, all Americans ― and hundreds of other native fish, wildlife and plant species ― are the beneficiaries of that success.
The National Wildlife Refuge System now includes 564 units spanning more than 150 million acres in all 50 states and U.S. territories. Many of these refuges, which host more than 47 million visitors each year, were established for the express purpose of providing breeding, stopover and wintering habitat for waterfowl and other migratory birds.
More than six decades of aerial waterfowl and wetland survey data guide our management of migratory bird populations throughout North America's flyways. Migratory bird conservation is also catalyzed by the North American Waterfowl Management Plan and its incredibly successful, voluntary network of 24 regional, self-directed habitat and species-specific Joint Ventures. These Joint Ventures, which bring together a broad spectrum of government and non-governmental partners, have conserved more than 26.5 million acres across the U.S., Canada and Mexico.
Now, this remarkable century of achievement serves as our inspiration and guide, as we work together to confront the enormous conservation challenges of the 21st Century.
The scale and scope of those challenges is daunting. Global climate disruption, habitat loss and fragmentation, water scarcity, invasive species and wildlife disease threaten vulnerable species across the hemisphere ― as well as the earth's growing human population.
But I'm optimistic for the future. After all, we have a century-long legacy of success, against all odds, to inspire us.
The strength of the migratory bird management "enterprise" has always lain in its ability to respond rapidly to a changing conservation, management and policy environment at a continental scale. That approach lies at the heart of our current efforts.
Inspired by the success of Migratory Bird Joint Ventures, we've created a nationwide network of Landscape Conservation Cooperatives with our partners to strengthen and expand partnership-focused conservation for hundreds of other native species in the places where it will bring the greatest return on our investment. We're using the latest science and innovative technology to guide our efforts and magnify our impact. And we're engaging private landowners and other stakeholders to identify shared conservation solutions that conserve wildlife in ways that preserve working landscapes and build community support.
It's our turn to rise to the challenge and prove ourselves worthy of the legacy bestowed by the past century of conservation work.
Together, we can and will succeed in sustaining North America's native fish, wildlife and plants for the next century and beyond.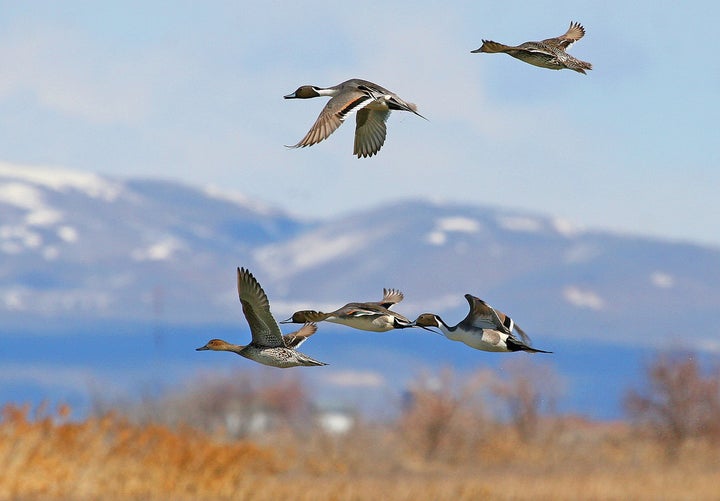 REAL LIFE. REAL NEWS. REAL VOICES.
Help us tell more of the stories that matter from voices that too often remain unheard.
BEFORE YOU GO
PHOTO GALLERY
Beautiful Birds