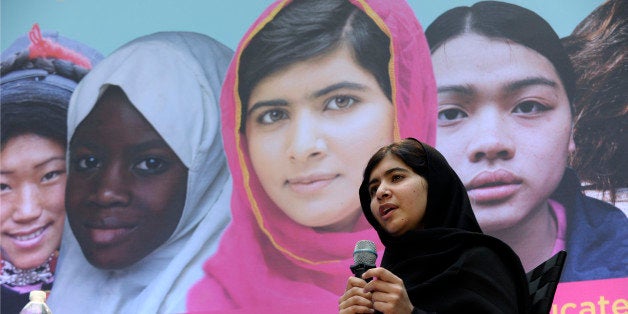 Rarely does a day go by when we're not reminded of the grave economic and political challenges facing our world. In the midst of these challenges, many community and world leaders are now recognizing what we at the Mona Foundation have known for over 15 years: Strategically investing in women and girls transforms communities and can heal the world.
Today is a day to honor the women and girls who have been at the forefront of social change. For more than 100 years, people around the globe have been acknowledging this day -- March 8 -- as International Women's Day. We join with others to celebrate and recognize the contributions of women, from Aung San Suu Kyi to Susan B. Anthony to the women in trade unions who, a century ago, led the way to better working conditions for all Americans.
And while we recognize the advancements toward women's rights and gender equality, we also acknowledge that progress has been slow, and that women and girls still face excruciating poverty, sexual violence and lack of access to education.
The Mona Foundation invests in girls' education and in strengthening gender equality to alleviate poverty and empower communities. Our approach is confirmed by the United Nations, which reports that "investment in girls' education may be the highest return investment in the developing world."
This investment ignites a powerful chain reaction -- when a woman is educated, healthy and economically secure, her family, neighborhood and community also prosper. Just take a look at these statistics from the UN and the World Bank:
When girls are educated, they earn more and they spend it on their families: In developing countries, an extra year of primary school boosts girls' eventual wages by 10 to 20 percent; an extra year of secondary school equals a raise of 15 to 25 percent. And, when girls and women earn income, they reinvest 90 percent of it in their families, as compared to 30 to 50 percent for a man.
When women are educated, their children don't die: If all women completed primary education in low and lower-middle income countries, the child mortality rate would fall by 15 percent. If all women completed secondary education, it would fall by 49 percent -- nearly 2.8 million lives saved a year.
When women are educated, they don't die in childbirth: If all women completed primary education, there would be 66 percent fewer maternal deaths, saving 189,000 lives per year.
When girls are educated, they don't marry while they are still children: When a girl in the developing world receives seven or more years of education, she marries four years later and has 2.2. fewer children.
Thirty years ago a 16-year-old Iranian girl, Mona Mahmudnizad, was executed because of her beliefs as a Baha'i and for teaching school. Her youth and courage, and her dedication to education, justice and service to others inspired us to name our foundation after her. Two years ago, Malala Yousafzai was shot by the Taliban to prevent her from going to school.
In their honor, let us recommit ourselves to work harder for the rights of women and girls, to achieve a more just, and prosperous world.
Rainn Wilson is a three time Emmy nominated actor (The Office, Backstrom) who is also a board member of the Mona Foundation (www.monafoundation.org). Along with his wife he founded LIDE, an educational initiative in Haiti. He also created SoulPancake, a media company that tries to uplift and challenge viewers.