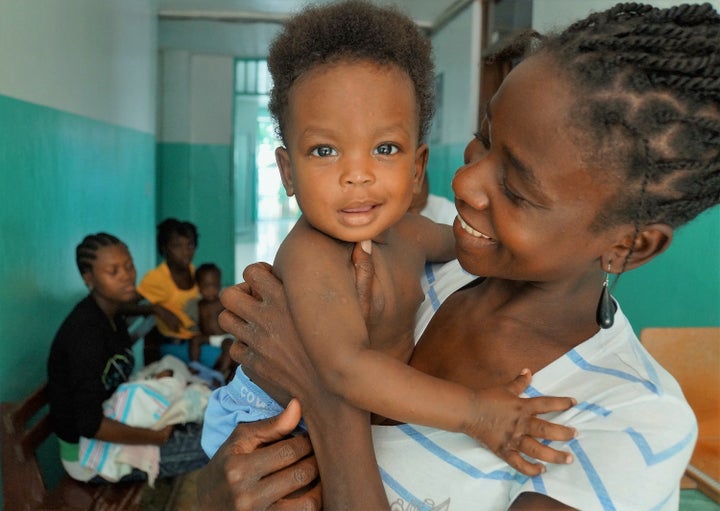 To celebrate mothers on this Mother's Day, we need to talk about science.
The words "Mother's Day" and "science" might not readily associate in our minds. But without serious science, and the discernment, discovery, financing, testing and scale that scientific research requires, mothers everywhere, especially poor mothers, will continue to die needlessly.
Events within the last several weeks provide evidence enough. A global trial of 20,000 mothers showed that an affordable, readily available drug, administered promptly, reduced by nearly a third the number of deaths from post-partum hemorrhaging (PPH), the leading cause of maternal mortality worldwide.
As reported in The Lancet, this medication, tranexamic acid (TXA), keeps blood clots from dissolving, thereby stanching the severe bleeding after childbirth that kills more than 100,000 mothers every year.
The study came about as the result of a global public-private partnership spanning more than half a century. Tranexamic acid was invented in the 1960s by Shosuke and Utako Okamoto, a Japanese husband and wife research team seeking a treatment for mothers' lethal hemorrhaging. At the time no obstetricians would agree to test the drug. But large-scale trials have since demonstrated the efficacy of TXA injections in preventing accident victims from bleeding to death, and in 2009 the World Health Organization added the drug to its list of essential medicines. In 2010, a research team led by the London School of Hygiene and Tropical Medicine embarked on a massive, six-year trial funded jointly by The Wellcome Trust, the United Kingdom Department of Health (through its Health Innovation Challenge Fund) and the Bill & Melinda Gates Foundation. This randomized, double-blind, placebo-controlled trial was carried out in partnership with 193 hospitals in 21 countries.
With the preponderance of deaths from post-partum hemorrhaging occurring in poor countries, the trial took place largely in countries with sizeable impoverished populations – India, Pakistan, Bangladesh, Ethiopia and Nigeria. Across the trial countries, researchers found that to keep mothers from dying, the drug needed to be administered within three hours of the onset of severe bleeding. This critical finding points to the importance of reducing the potential delays and costs involved in reaching the hospital in good time.
In countries with significant poverty, such delays and costs are often the result of long distances, inadequate rural and urban infrastructure, poor transport linkages, and/or mothers' pressing childcare, eldercare or work responsibilities. These obstacles point to what American assistance is uniquely positioned to address: enabling integrated, functioning, regional and national systems capable of preserving human life and the public health.
Yet developments over the last several weeks suggest that at home and abroad, U.S. government policy may be heading in precisely the wrong direction. The 28-percent proposed cut in U.S. foreign development assistance, coupled with the direct, gender-based assault on maternal health services internationally and domestically, make it increasingly difficult to save mothers' lives. Accessible health facilities, professional health training and the infrastructure required to support these are all essential to maintaining a fully functioning and robust health system capable of addressing any emergency, including those involving pregnancy and childbirth.
Moreover, the draconian slashing of funding and redirection of resources proposed for the National Institutes of Health, National Science Foundation and Centers for Disease and Prevention risk jeopardizing the benefits of lifesaving research carried out by American and international scientists, with consequences measured in undiminished maternal mortality rates.
Already as a result of these policies, women in complicated pregnancies both here and overseas must often travel hours for care previously available closer to their homes and families. This anti-mother, anti-family approach has been roundly denounced by medical practitioners and health associations for needlessly putting maternal and newborn lives at risk.
Beyond cruel indifference to the outcomes for mothers and families is the shortsightedness of this approach for our national and international security. Wherever one lives, in a rich country or a poor one, growing up without a caring mother hurts children and is deleterious to human development. In impoverished countries, a lack of love, bonding and attention can be exacerbated by limited access to healthcare, schooling and livelihood opportunities. Young people, starved of family support and decent options, are at risk of drifting toward gangs, pimps, traffickers and anyone feigning an interest in them and their wellbeing.
Why flirt with so many negative outcomes when America, a global leader, can continue to support the science, health services and foreign assistance that are now saving mothers and sustaining families, communities, peace and security?
A question to ponder, as we send our own mothers the flowers and love that, fragrant and grateful as these sweet tokens are, fall far short of acknowledging the irreplaceable role mothers play and the rights they all deserve.
Support HuffPost
The Stakes Have Never Been Higher
Related
Popular in the Community