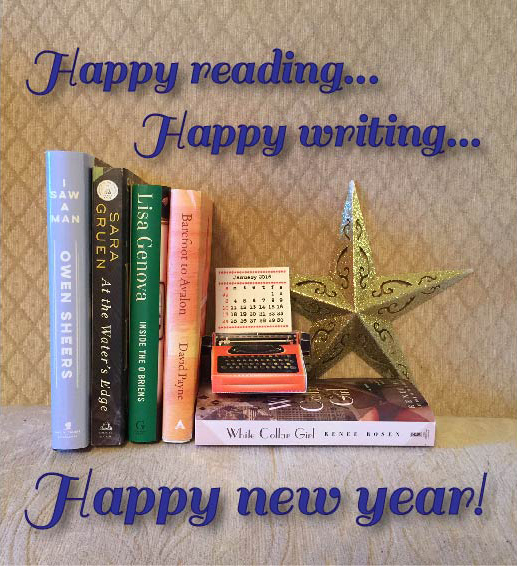 I didn't spend New Year's day writing. I didn't make a list of resolutions, either. I spent the day with my dear hubster, cooking, eating, playing with dogs, doing errands, napping, listening to football, and generally hanging out without an agenda. I do too little of this and it felt so damn good.
So today I'm slipping into reflection. 2015 began with great joy in the marriage of my son to a lovely young woman whom we're thrilled to have in our family. This overshadowed the gloom we'd felt the previous year as my sister fought her way through leukemia treatments.
In March we learned that the experimental chemo my sister was taking had done its job and she was cancer free. Two weeks later a new bomb hit when a DNA blood panel revealed that all of the chemo she'd previously endured caused a blood cell mutation called MDS, which is fatal if not treated with a bone marrow transplant.
On top of my sister's diagnosis, my sister-in-law and a dear friend each learned they had breast cancer and would undergo double mastectomies within weeks of each other. Happily, both of these lovely women are doing well today, though the specter of cancer is hard exorcise.
In the meantime, prayers for a donor for my sister went out all over the globe and within weeks a match was found. (Sadly, though I had registered with the donor registry, I was not a match). Not only was a match found, it was a PERFECT match. Each of the matching criteria was satisfied at the highest levels. My sister went into treatment in early May and responded so well, she is now off of most of the medications, including the anti-rejection meds. Her color and vitality has returned, her hair is growing, and best of all, she's back to her familiar self. (I originally wrote "old self," here, but when you're pushing 60, you tend to avoid using the term "old.")
Throughout all of this I continued to write. My literary website, LitChat, continues to be a great joy and this year I interviewed some of my literary heroes--Margaret Atwood, Sara Gruen, Graeme Simison, Tasha Alexander, and Dolen Perkins-Valdez--through the #LitChat sessions in Twitter. My travel website, TravelOvations, has taken a backseat for now, though I'm still publishing travel stories for The Huffington Post and Greer's OC. I finished my third novel, Whispering Nights, in April and began the arduous task of finding a publisher.
In early December a small mainstream press offered me a publishing contract for Whispering Nights. Although the press has a good reputation and I adore the editor, and their many authors seem satisfied, after much careful thought and wise counsel, I turned down the contract for its lack of flexibility in some important contractual points. This may sound harsh, but a publishing deal is like a marriage. Both partners must agree about the primary issues and when they don't, there's no point in buying the dress and renting the church.
So it goes that 2016 will find me doing the same thing I've done every year. I'll be loving on my great, big, crazy family and doing this: Write. Edit. Publish. Repeat.
Happy reading. Happy writing. Happy new year.
This piece also appears in Carolyn's personal blog, Ovations.
REAL LIFE. REAL NEWS. REAL VOICES.
Help us tell more of the stories that matter from voices that too often remain unheard.