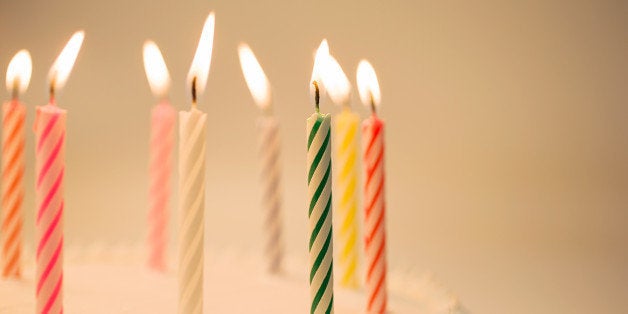 Today I turn 39. Wow, where did the time fly? I swear I was just 19 and home from college to celebrate my birthday. Or, wasn't I just 30, walking in the door to my surprise party? It's a cliché, but the days are long and the years are fast, and it's moments like birthdays that always make me more sentimental then I already am.
Another birthday reminds me that life is precious. We are never promised another day, so it is up to us to make each day count. Really count. It's a reminder to me to stop sweating the small stuff, to yell at my kids less, to carry a softer tone with my husband, to not settle on any of the work that I do, and to tell those that I love them --and how much I love them.
It's a reminder that those grey hairs are pushing through because of this thing call life experience that makes us older, wiser and sometimes a little crazier.
Another birthday reminds me that it is one more without my dear grandparents. I miss them every day, and although I was so very blessed to have grandparents who collectively were married more than a century and who led an incredible life, it still doesn't make me miss them any less.
Who could forget the McDonald's gift certificates my Grandma would send me (the grandma who had 30+ grandkids and who would never forget a birthday), or the bottle of Estee Lauder that my Nana would give me almost every year, or how my grandpa would always greet me, "Hey beautiful," every time he saw me, or one of the last meaningful conversations I had with my Papa when he said, "I'm proud of you, doll."
My husband often asks me why I keep practically every card I receive, and all I have to do is show them the boxes of cards from my grandparents and he understands.
Another birthday reminds me that my brother and my parents are getting older and as we in my family like to say -- "not to be morbid but...." so I'll say it -- not to be morbid but live each day to the fullest. When you come over to my house I'm going to crack open a great bottle of wine. I pour the good stuff here. ☺
My family and friends often say, "Are you sure? That's a good bottle!" And I always say, "Why wait?" I think too often we wait until everything is perfect -- the right house, the right car, the right job. And it's never the right time to do what you really want to do in life.
Another birthday reminds me that if I've learned anything these last 39 years is that no one is perfect -- most certainly not me. People aren't perfect -- we are messy and rude and inconsiderate and thoughtful and amazing and funny and caring and everything in between. People will disappoint you but they will also surprise you in the most amazing way.
This is one of the reasons I fell in love with social media -- because of the people. I have met some of my dearest friends on the walls of Facebook and in between a hashtag on Twitter. I have reunited with friends and family through Instagram pictures of their kids and their cats and through silly YouTube videos.
Social media has single-handedly changed my life in so many ways, and I am constantly reminded through social media -- that (as my husband always says) -- people are inherently good. And for as much ickiness that we see in the media , I am reminded everyday that our actions and behaviors are a choice. We choose to be negative or we choose to be positive -- that choice is up to us.
Another birthday reminds me that some of the greatest blessings in life were things I wasn't ready for -- my kids, meeting my husband, moving cross country and back, starting my own company, and the list goes on. But, life is about taking a risk and putting yourself out there. Some of the very best things in life were things I wasn't ready for. I wasn't ready to start my own consulting firm -- but I just decided to do it. I had an idea, a supportive husband, and a whole lot of heart and hustle and so I just went for it. Two years later and dozens of amazing clients later -- I still pinch myself.
Who am I to have this 'success' -- well, who am I NOT to? Right?
Another birthday reminds me that it's OK to be scared. I remember when I first found out I was pregnant with my now-7-year-old in 2007. My first reaction? I was scared out of my freaking mind. I was literally freaking out.
I didn't know how to be a mom or how to act. I knew I wanted kids... one day, but now? But now, as any mom will tell you -- I can't imagine a day without my kids. My two boys are single-handedly the most amazing thing I've ever created, and I am so incredibly blessed to be their mom and I fall in love with my husband more and more because of the dad and role model he is to our boys.
Another birthday reminds me to smile more, and stress out less. I am one of those people that tends to hold it all it and then let it out on the people I love the most. Why do we do that? I vow to continue to work on that and to say, "I'm sorry" more.
Another birthday reminds me to seize the day -- call that person you want to call, go on that trip you want to go on, buy that expensive trinket you've had your eye on.
Life is short and as Ferris Bueller said, "Life moves pretty fast, if we don't stop and look around once in a while, you may just miss it."
Popular in the Community