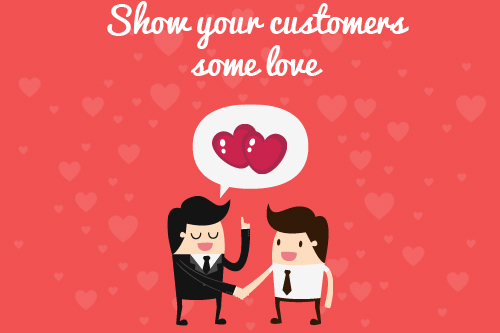 This Valentine's Day, as you go through the annual ritual of romance with flowers and gifts and cards and chocolates for that special person in your life... or maybe escape from the madness with a quiet evening in front of the TV, stop for a moment and consider the other important relationship in your life - the relationship you have with your Customers.
Unlike your Valentine's Day romantic ritual, Customer relationships cannot be showered with attention and gifts one day of the year, and relegated to the back-burner until the special day comes around again next year. You have to keep the magic going throughout the year and maintain the warmth in your business relationships to make sure that your Customers don't break-up with you suddenly and run into the waiting arms of your competitor.
Here are 4 quick tips on how you can use a Customer Relationship Management (CRM) software to keep the magic in business relationships alive throughout the year:
Know your Customers intimately
Store every single piece of information related to your Customer in your CRM and use that data to get a window into your Customer's soul. Having all information about your Customer - business information, contact details, products purchased, invoices sent, payment received, communication logs, support cases - stored in one place will give you a complete 360 degree view of everything about that Customer. So, next time you receive a call from that demanding Customer asking for an immediate answer, you can take a loving glance at the data in your CRM, and answer his question with patience and understanding like you have known him for years. That is what a long-term relationship is all about!
Keep in touch
Relationships need constant communication to keep the romance going. Use the Email Campaign feature of your CRM to be in constant touch with you Customer. You can communicate about your product updates, new services, business news, .. or even something trendy or fun, depending on the business you are in. Honest, open and frequent communication leads to familiarity and trust, which is important in all relationships.
Make them feel important
With the Business Process Automation feature of your CRM, it is easy to keep your Customers updated with the latest status of the work you are doing for them.. without creating any additional workload for you. Configure your CRM to send out automated thank-you mails, project status mails, documents, reminders, agreements,... so you can make your customers feel warm and fuzzy, and still have time to take that vacation you have been dreaming about. It is extremely important to make time for yourself.
Listen with empathy
No relationship is perfect all the time. There will be times in every relationship when issues are raised and accusations made. Letting grievances pile up by not responding to them is a surefire way to destroy any relationship. Regardless of whether the complaints arise due to a genuine problem or just a passing bad mood, it is extremely important to listen to your customer, treat each issue with the importance it deserves and respond quickly to every issue. A Case Management feature built into your CRM will help you register every complaint made by your Customer as a Support Case, which can then be analyzed and responded accordingly. Listening to every issue and sending a genuine response quickly will send the message to your customers that they are being heard and their opinion is valued.
Following these tips will make your customers feel that they matter, that you are listening to them and will be there for them when things go wrong. And in any human relationship, personal or business, this feeling of being valued by another human being is what matters most of all.
Calling all HuffPost superfans!
Sign up for membership to become a founding member and help shape HuffPost's next chapter