In the 1980s, an addiction to drugs and alcohol consumed my cash and I found myself homeless and living in my car. I became one of thousands of Americans without a safe place to call home.
I count myself among the lucky ones. In 1990, I got clean and sober while traveling across the country as a stand-up comedian and, over the past 25 years, built a career as an entrepreneur.
Since then, I've donated a good portion of my time giving back by funding new programs and advocating for others in similar situations. In 2007, with the support of musician John Mellencamp, I created the 501(c)(3) nonprofit 1Matters.org.
In 2012, we formed the program Veterans Matter to house 35 local homeless Veterans. With the help of more than 20 celebrities raising money and awareness, we have now housed about 790 Veterans in 110-plus cities nationwide.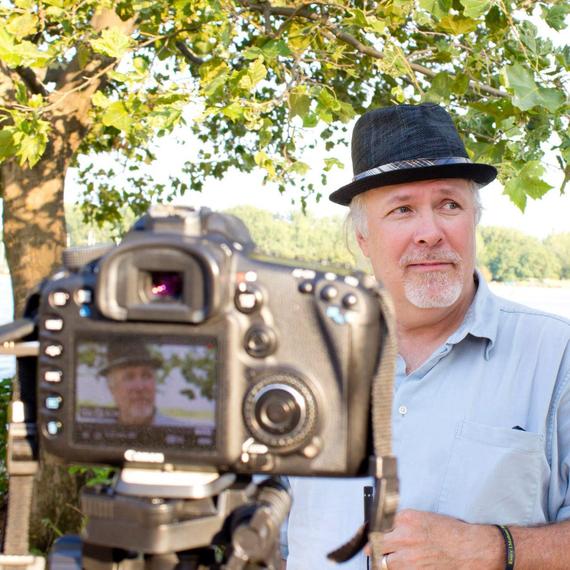 Ken Leslie founded 1Matters.org/Veterans Matter to help permanently house Veterans who are homeless.
On Veterans Day 2015, we are teaming up with the National Exchange Club, Veterans' organizations, government entities, individuals and celebrities for community rallies to help house even more of America's Veterans who are homeless. We've dubbed these the "11/11 @ 7 Rallies to House America's Veterans," and we invite you to rally with us.
Veterans Matter is a group of regular Americans that takes care of our own: Veterans who need financial help to become permanently housed. Our innovative program was inspired by my conversation with a U.S. Department of Veterans Affairs (VA) program coordinator during a regular outreach visit in 2012 to camps, shelters and abandoned buildings to find Veterans in need of housing.
She told me about the Department of Housing and Urban Development (HUD)-VA Supportive Housing program, known as HUD-VASH. It provides eligible Veterans who are chronically homeless with two essential things: a monthly rental housing voucher from HUD and supportive services from VA.
Simple, I thought: HUD would provide the money for Veterans to obtain housing and then VA social workers would help them get back on their feet. My VA contact said our 35 local Veterans qualified for HUD-VASH vouchers.
But as we all know, few things in life are simple.
It turns out that some of these HUD-VASH-approved Veterans didn't have the first month's rent deposit and other fees required by most private landlords. Even with a HUD-VASH voucher in hand and a home selected, some Veterans remained homeless because they lacked move-in cash.
Raising Funds to Fill the Gaps
That very night I created Veterans Matter under the 1Matters.org umbrella to raise the funds these Veterans needed to get housed. We ask for private donations, partner with VA to learn of Veterans in need, approve the Veteran referral in minutes through a private, cloud-based system and then cut checks and mail them to landlords the same day. This gives us a 100 percent success rate in housing Veterans. A full 91 percent of Veterans we have served remain housed.
On its way to reaching the goal of 2,000 Veterans housed, Veterans Matter has assisted homeless Veterans around the country. Illustration courtesy of Veterans Matter.
Working With Others to End Veteran Homelessness
We are proud to be among many organizations reaching and rescuing our brothers and sisters who served their country and who fell on hard times. We took to heart the White House pledge in 2010 to end Veteran homelessness, and we salute the progress of VA, other federal agencies and countless government and nongovernment organizations across the country that have dramatically reduced homelessness among Veterans nationwide. This past year mayors and local officials were also challenged to go all in to reach the goal, and increasingly more cities -- like New Orleans, Houston, Phoenix, Salt Lake City and Toledo -- are on track to meet it.
Yet with nearly 50,000 Veterans remaining unhoused nationwide, there is still work to do. At Veterans Matter, our goal is to house 2,000 Veterans by the end of this year.
Rallying on Veterans Day, 11/11 @ 7, to House 2,000 Veterans
That's where you come in: VFW or American Legion posts, local civic groups and even just a few friends can rally with Veterans Matter, the National Exchange Club and community organizers nationwide to raise awareness and the critical funds needed to get Veterans into safe, stable housing.
We want to make it simple to get involved and help house the Veterans in your community, region and nation. If you would like to organize your own 11/11 @ 7 rally, dinner, auction, wine tasting, chili cook-off or other event large or small, or just want more information, contact us. Simply choose a location, invite friends, families and community members, and raise as much money to house as many Veterans as you can.
Together, we aim to start 100 rallies in cities across the country and raise funds to house at least 2,000 Veterans and Veteran families with children this year. We take care of our own. It's as simple as that. Onward to 11/11 @ 7.
Related
Popular in the Community