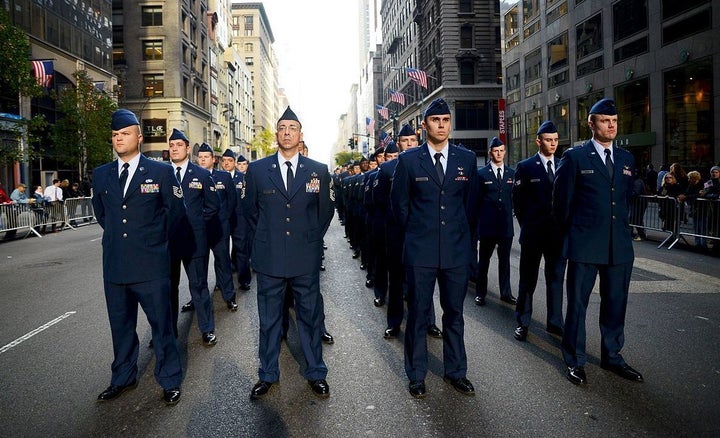 As Americans, we take pride in honoring our nation's service members and veterans — the brave individuals who are willing to risk their very lives for our freedom. That's what Veterans Day is all about. But this year, we face a shameful affront to that tradition of honoring all of our nation's heroes — President Trump's transgender military ban.
Every individual who honorably serves this nation in the armed forces deserves to be treated with dignity and respect. And they've earned their right to the benefits that come with military service. Yet Donald Trump and Mike Pence are trying to single out transgender service members for discrimination. It's an unconscionable attack on active duty service members, and it must be stopped.
With this assault on military readiness, Trump and Pence have violated their solemn responsibility to ensure all service members have the support they need and deserve in service to our country. No service member should be recklessly threatened by their commander in chief. But that's exactly what happened when transgender troops serving around the globe woke up to Trump's tweets saying he will no longer allow them to serve "in any capacity."
The threat of the transgender ban is already harming military families who now face uncertainty about their future. As a Marine Corps veteran and spouse of an active duty Marine, I know that the added stress and anxiety this is causing is not something any military family should have to face. These military families are already sacrificing far more than should be asked of them, and the last thing they need or deserve is the uncertainty and fear this administration is inflicting on their lives.
As a Marine veteran discharged under "Don't Ask, Don't Tell," I also know how transgender service members must be feeling right now. Instead of being able to focus solely on the mission, they now have to worry about being kicked out of the military just because of who they are. And it could be argued that Trump-Pence's transgender ban is even more egregious than "Don't Ask, Don't Tell" was, because the Pentagon assured transgender service members it was safe to come out. Now, they're being targeted.
For more than a year, transgender service members have been serving openly and proudly as their authentic selves. They've proven time and time again that what matters is their ability to accomplish the mission, not their gender identity. Make no mistake, they've proven the critics wrong.
After all of the progress we've made over the last several years toward ensuring any qualified American can serve, the Trump-Pence administration is trying to drag us backwards. This administration claims it supports the military more than others have. However, no administration that discriminates against service members — based on nothing more than who they are — can truthfully make this claim.
While one federal judge has already issued an injunction on the transgender military ban, the threat from this administration remains as long as Donald Trump and Mike Pence continue to undermine and target transgender service members and qualified transgender Americans who want to serve.
While the Trump-Pence politics of hate, fear, and discrimination threatens to rip our country apart, if there's one thing we should all be able to agree on, it's that all who serve and have served — including transgender service members — deserve our full respect, thanks, and support for their selfless sacrifice.
This Veterans Day, service members, veterans, and their families deserve better. Americans must stand with all who bravely serve. Donald Trump and Mike Pence should drop their politics of fear and do the same.
Popular in the Community