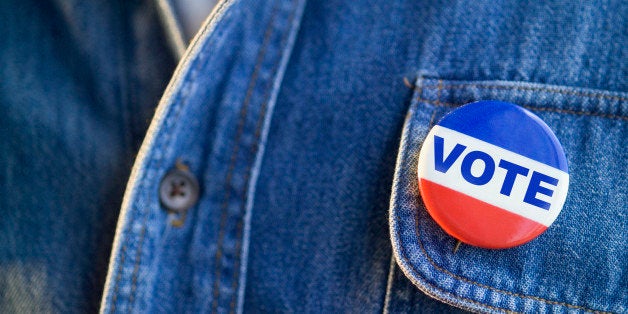 With the United States' voter registration rate among the lowest in the developed world, there's no doubt we need a National Voter Registration Day. But, if our country wants to work towards a goal of getting more Americans to vote, we also need a Voting Restoration Day.

Though many people may see low registration and turnout rates as a problem of individuals not caring enough about their government, in fact it is the reverse -- our legislators care so little about the voting rights for Americans, and particularly Black Americans, that they have actually been rolling back the suffrage.

If our country wants to work towards a goal of getting more Americans to vote, we also need a Voting Restoration Day.

Over the past several years, we've seen conservative lawmakers in states across the country pass voting laws that disproportionately strip voting rights from Black voters, from widely discredited voter identification laws to measures denying suffrage to people with felony convictions. This patchwork of restrictive voting laws deprives Black people of our full citizenship, denying too many of us a voice not just in who becomes President, but also in the local races that determine who oversees the schools our children attend, who manages the local criminal justice systems that puts too many Black people behind bars, and so much more.

Organizing to restore voting rights for those of us who have been denied them has never been more critical in recent history. Whether it's re-enfranchising former felons who have served their time, or ensuring that people who don't have access to certain forms of ID aren't turned away at the polls, or keeping confusing registration deadlines and voter rolls mishaps from shutting out voters -- we need to fight, nationwide, to ensure that Black communities win back the suffrage that we are entitled to as Americans.

Restoring the voting rights of former felons, who have served their time and become productive community members, is one area where Black communities are taking powerful action to restore voting rights. In Minnesota, for example, the Minneapolis NAACP, Color Of Change, and other Black activists have been calling on the legislature to restore voting rights for 47,000 people on probation or parole for a felony conviction. In Maryland, a coalition of organizers and ex-offenders, including Color Of Change, successfully worked to override Governor Larry Hogan's veto of a bill that would restore voting rights to nearly 39,000 people this election. And in Congress, it's vital that we demand a vote on the Democracy Restoration Act, which would restore federal voting rights to disenfranchised Americans who have been released from prison.


We need to fight, nationwide, to ensure that Black communities win back the suffrage that we are entitled to as Americans.

These fights are pivotal for restoring voting rights in Black communities. Every state except Maine and Vermont strips individuals imprisoned for a felony of the right to vote for some period of time. In many of these states, people with past felony convictions must individually petition to have their suffrage returned to them -- even years or decades after serving their time, paying taxes, and being active members of their communities. It's no coincidence that 1 in 13 Black Americans -- that's over 2 million people -- have lost their voting rights in this way: many felon disenfranchisement laws first emerged after the Civil War as a way to prevent freed slaves from voting. As they were originally intended, the piecemeal nature of restoring voting rights under these laws empowers states with a dangerous level of discretion, enabling paternalistic and racist judgements over who is worthy of a right assured to all Americans in the Constitution.

But we can't stop there. Between too many Black communities and the voting booth lay a whole range of traps set to disenfranchise -- and we must dismantle them, one-by-one. Voter registration deadlines, for example, can be inconsistent and confusing, and even those who can get the paperwork to the Post Office by the exact time may find themselves inexplicitly off the rolls, as was the case for more than 100,000 voters in Brooklyn, New York this spring. In Illinois, local activists are using tools like Color Of Change's OrganizeFor platform to push the state Senate to override Bruce Rauner's veto of Automatic Voter Registration, a measure which automatically register eligible voters who interact with government agencies like social services or the DMV, and can go a long way to re-enfranchising Black voters and stopping situations like that in Brooklyn.

And even for those who make it to the voting booth, voter ID laws stymie the one in four Black Americans -- nearly nine million people -- who don't have access to such IDs. The conservative state lawmakers who pass such laws know all too well that such IDs are costly and difficult to obtain and that their actions are disenfranchising Black communities. With study after study showing that voter fraud is largely a myth, we need to organize to repeal these dangerous measures once and for all. Judicial action, while welcome, cannot alone restore voting rights to all the Black voters impacted by these restrictive laws--Black-led collective action, which is already happening in many states, is also sorely needed.

As crucial races up and down the ballot this November show, the right to vote is not one to be taken lightly. The fact that a Black mother with two part-time jobs misses a voter registration deadline, or a Black father's rights restoration petition is denied by a new governor, could simply write off our constitutional right to vote is not just astounding -- it belongs to a bygone era of racial injustice in our nation's history. Or at least it ought to. So on National Voter Registration Day let's not just think about what the responsibilities of voters are to the country, but what the responsibilities of the country, and especially its elected leaders, are to its people. Lawmakers should prize no value higher than ensuring the freedom to vote for all Americans. And that means clearing out all the racially biased barriers that those who would threaten our democracy have so shamefully put in place.
Calling all HuffPost superfans!
Sign up for membership to become a founding member and help shape HuffPost's next chapter