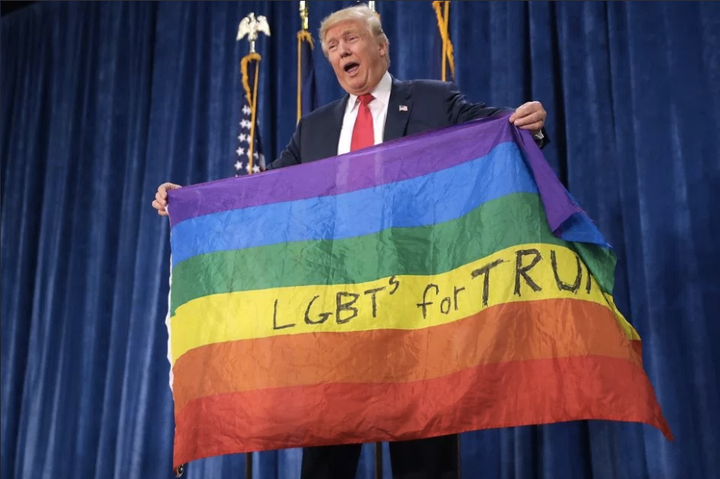 On the day of President Donald Trump's inauguration—I felt a mixture of dread and disappointment. I can no longer disavow his claim to the highest seat in the land. But I can choose to reject his supporters in the bedroom.
I connected with Hector on Jack'd while he was in D.C. for the weekend. He lived in The Bronx. From partying in Philly to bowling in Boston, he traveled each weekend to neighboring cities on the East Coast.
When I lived in Brooklyn, I binged on "Blatino" men like it was my own personal food stamp card. So when he appeared in my inbox, I couldn't contain my excitement. Was this my entry back to the city and find love?
For two years, I have been trying to get back to The City That Never Sleeps. I prayed on it. I drank. I spoke it into existence. I tried saving money. And I've even called ex's, old friends and colleagues for a couch to sleep on. This time I'm getting somewhere.
We exchanged photos, messages, and videos. I told him about the anti-Trump article I wrote. He came out of the political closet as a Trump supporter. "Fuck Hillary," he said. "I'm on the T train baby."
"Ain't no Tina on that T train," I said trying to find humor with this political revelation.
NYC represented the embodiment of my hopes and dreams. But this was a dream deferred. And I wasn't interested in giving up my cash and prizes to someone donning a red hat and racist rhetoric.
Hillary's loss of the presidency devastated me. I sunk into a week long depression where men and martinis flooded my orifices. He gloated and promoted Trump's triumph.
I deleted him from Facebook.
I discoeered that political beliefs were a deal-breaker. I would need therapy to date a Trump supporter. Don't let anyone grab you by the pussy.
Even if he's President for the next four years, I couldn't date Hector for the next four minutes.
I love you, New York. But I'm still with her.
Walter Reed is a sex columnist at LoveWalter.com Send your love and sex advice questions to asklovewalter@gmail.com
REAL LIFE. REAL NEWS. REAL VOICES.
Help us tell more of the stories that matter from voices that too often remain unheard.