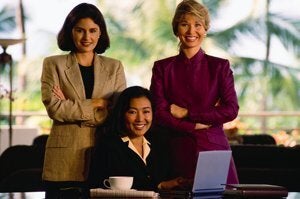 Not like Valentine's Day, which is about love and chocolate, or Mother's Day, which is about sentimentality and breakfast in bed, International Women's Day is about equality and autonomy.
The first commemoration occurred on March 19, 1911, a time when most governments in the world, including the U.S. and Canada, barred women from voting and most employers refused to hire women, ghettoizing them in sweatshops.
Six days after that first international call to action for women, flames engulfed such a sweatshop, the Triangle Shirtwaist Factory in New York City, killing 146 workers, the vast majority of them young women aged 16 to 25, some of whom jumped to their deaths from the 9th floor rather than burn.
Women can vote now. They can hold most jobs, though not all, including combat positions in the U.S. military. And their pay is only 75 percent of men's. So the struggle for equality and autonomy is not over. Yet the GOP is intent on setting women back. If Republican governors across the country succeed in confiscating collective bargaining rights from public sector workers, women will be hurt most.
The grotesque working conditions at the Triangle Shirtwaist Factory, including locked and blocked exit doors, a failed fire escape, and fire hazards such as oily floors and wicker baskets of scraps, will be invoked on this centennial commemoration of International Women's Day, as they were during observances in the early years after the tragedy. These conditions epitomized the very kind of oppression that International Women's Day had been created to eradicate.
Public sector workers -- the majority women -- already earn less than their private sector counterparts. Two studies, one by the Economic Policy Institute and one by the non-partisan Center on Budget and Policy Priorities, show that when education, experience and benefits are factored into the calculations, government workers -- the people who perform critical societal functions like protecting the elderly from abuse and teaching our children -- earn 4 to 11 percent less than comparable private sector workers.
GOP governors from Ohio to Indiana to Wisconsin have claimed last November's elections gave them a mandate to decimate worker rights. But numerous polls, from those sponsored by the New York Times to USA Today/Gallup, have shown that these Republicans are wrong, that the public is not with them. Consistently, 60 percent in the polls say they oppose legislation terminating worker rights.
They don't want corporations and they don't want governments to return to the days of the Triangle Shirtwaist Factory, when young women, without a union and without an effective collective voice, labored in a fire trap that eventually killed them. They don't want government to give itself or corporations the unfettered ability to exploit workers again.
Tuesday is the centennial commemoration of International Women's Day. It is a day for women to stand up to the Republican men trying to turn back time. It is a day for women to demand equality and autonomy, both of which are best achieved collectively.
Calling all HuffPost superfans!
Sign up for membership to become a founding member and help shape HuffPost's next chapter