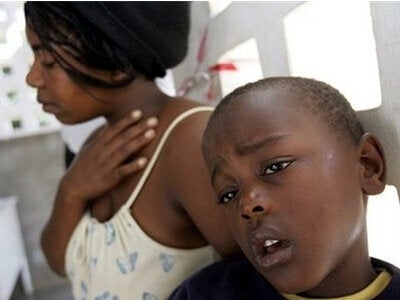 Last week, Norway's Foreign Minister Jonas Gahr Støre announced a $225 million initiative aimed at bringing effective anti-malarial drugs to all who need them. "The age when the world had effective drugs against infectious diseases but let millions die each year because they couldn't afford them is over," he declared. The Global Fund to Fight AIDS, Tuberculosis and Malaria will manage the new initiative.
Malaria is not a new disease; throughout history it has claimed the lives of millions of people, including some of the most famous figures in history -- Alexander the Great and Genghis Khan are both thought to have died from the disease. Yet for all our attempts to eradicate malaria, thousands of years later, we are still at its mercy. Today, malaria still claims over one million lives a year, with roughly half of the world's population at risk to the disease. The malaria parasite is a particularly wily foe and has overcome our attempts to defeat it on numerous occasions in the past. But the Roll Back Malaria Partnership has created a roadmap to eliminate malaria regionally and then eventually eradicate it altogether. Although the disease is widely considered to be beatable, a large effort from global stakeholders is required in order to develop the wide portfolio of treatments, preventions and research necessary to ensure that the disease is brought under control and eventually eradicated. Even though global funding has increased over the years, the UN Millennium Development Goal of halting and reversing the spread of malaria by 2015 seems a hard-to-reach target. The Roll Back Malaria Partnership estimates that some 8.9 billion dollars will be needed to be spent on research in the next 10 years to progress towards control, regional elimination and, eventually, eradication. This is no doubt a tremendous investment, but it's one that must be made, and one that will eventually pay dividends. Vaccines are the ultimate goal in prophylactic therapy and Artemisin-based Combination Therapies (ACTs) are the current WHO-recommended treatment for malaria. In total, 228 million doses of ACTs are required per year, along with 730 million nets and 1.5 billion diagnosis tests. Further, additional dollars must be committed to help these resources actually reach their intended recipients. There has been hesitation to invest in ACTs due to the unstable and unpredictable market for artemisinin - the raw material for ACTs that comes from the plant artemisia annua. Novartis, the primary producer of ACTs, estimates that it has had to absorb losses of 100 million dollars in producing the drug due to the volatility of the artemisinin price. Making this market more stable is crucial to the success of ACTs and will require a range of interventions from the market to the lab. To ultimately bring more certainty to this market, three scientific projects under the umbrella of the Artemisinin Enterprise, and backed by the Bill and Melinda Gates Foundation, are using the latest technology to address the problem of undulating Artemisinin prices. The Centre for Novel Agricultural Products in York is using plant science to produce a plant with a higher yield of artemisinin; the Institute for OneWorld Health is looking into ways of developing semi-synthetic artemisinin through fermentation; and Medicines for Malaria Venture is working on developing a more stable, rapid acting, fully synthetic artemisinin-like molecule. Although each of these projects sounds complicated, they all go to the root of the problem and will contribute to a more stable, affordable and better quality supply of ACTs. A course of ACTs can be around 30 to 60 times the price of ineffective non-artemisinin therapies. Progress in the derivatization process could markedly reduce the money spent on extracting artemisinin and enable it to be spent in other areas of the fight against malaria. The magnitude of eradicating malaria can seem daunting, but there are important short-term and long-term efforts that anyone can support on World Malaria Day and every day. On the short-term front, buy a life-saving malaria net from Nothing But Nets. On the longer-term front, learn more about supporting malaria drug development efforts from the Artemisinin Enterprise and advocate government efforts to provide essential funding to combat malaria worldwide.
Only aggressive short-term and long-term action will save millions of lives and eventually make malaria history.
REAL LIFE. REAL NEWS. REAL VOICES.
Help us tell more of the stories that matter from voices that too often remain unheard.