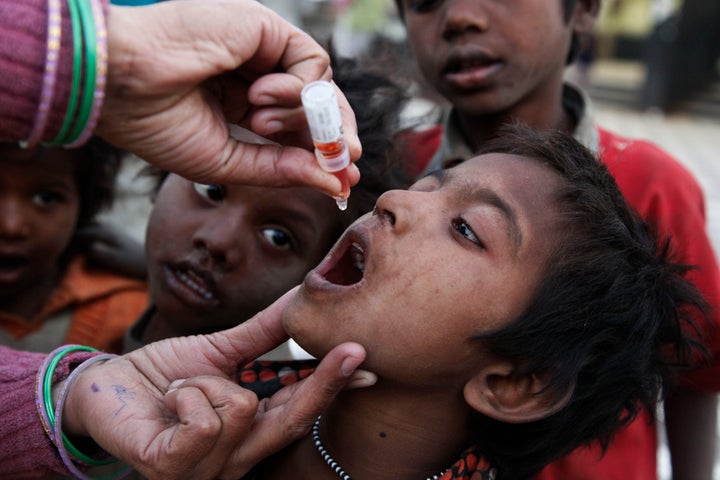 Polio is one of a limited number of diseases that can actually be eradicated. And the world is this close to making that a reality.
Polio, a disease that can affect nerves and eventually lead to paralysis, has been 99 percent wiped out. Organizations worldwide are asking for help with the other one percent on World Polio Day.
There are only four remaining polio-endemic countries that haven't stopped the transmission of the disease: Afghanistan, India, Nigeria and Pakistan.
But globally, there is a funding shortage and other roadblocks to truly make eradication happen. With gaps in private-public funding, the organizations below are ensuring governments truly wipe out the disease.
"Through a vast partnership, we've delivered polio drops to children in impossible circumstances -- in active war zones, in remote mountainous regions that are unreachable for months at a time. It's a great achievement. But World Polio Day is also a call to action because we haven't done enough yet. Polio is still paralyzing children. The last one percent is the hardest percent, and we have to do even more than we've already done if we hope to finish the job on polio."
Rotary International
Polio Plus, the most ambitious program in Rotary's history, has been leading the world in ending the disease for more than 20 years. The organization focuses on the strategies of routine immunization for children, initiating National Immunization Days and providing more surveillance of health workers, pediatricians and others investigating the debilitating effects of polio. On a small scale, the organization also seeks to volunteers to work on a smaller, often "house-to-house" scale.
See volunteer opportunities of simple ways to raise awareness and fight polio.
Donate here.
Global Polio Eradication Initiative 2011
The initiative is the public-private partnership leading international eradication efforts. The organization focuses on the polio-endemic areas of the world, with tailored programs for each location's needs. It also seeks to improve monitoring and response systems in place.
Donate here to its partner Rotary International.
Bill & Melinda Gates Foundation
The foundation looks to increase the number of polio vaccination campaigns by ensuring that every child under 5 is immunized. The organization also advocates for funding and awareness and seeks to develop new vaccines and antiviral drugs.
Donate here to the organization's partner Rotary International.
Spread the word through social media.
The End of Polio
The organization is a grassroots campaign coordinated by the Global Poverty Project. Currently, the work of the Global Polio Eradication Initiative, the public-private partnership leading international eradication efforts, is constrained by a funding gap, according to the End of Polio's site.
Sign a petition asking governments to commit to finish what they started and end polio.
Donate here to the organization's partner Rotary International.
UNICEF
UNICEF procured an average of 2 billion doses of oral polio vaccine annually for supplementary immunization during the last five years. The organization also supported the delivery of other efforts such as vitamin A and insecticide treated nets. UNICEF works with manufacturers to maintain and increase supply of the polio vaccine and also to ensure manufacturers' continued supply.
Donate here.
WATCH "Polio's Last Percent," Bill & Melinda Gates Foundation:
Related
Popular in the Community