The free app can be downloaded on iTunes and at giveashit.info. You can build your own customized poop emoji (and yes, I assure you that you should do this) by choosing from dozens of different shapes, colors, eyes, mouths, hairstyles, and accessories. The more you share your poop emojis with your friends and social networks, the more additional features become 'unlocked'. My 5-year old daughter was delighted when she unlocked "rainbow-colored" poop. Beyond sharing over social networks, the emojis can be added to your phone's keyboard to text to friends.
The appeal of the app is difficult to explain; you have to just try it out. When I downloaded the app for the first time this weekend, above-mentioned daughter was quick to take over my phone and create a whole gallery of customized poop emojis, including these: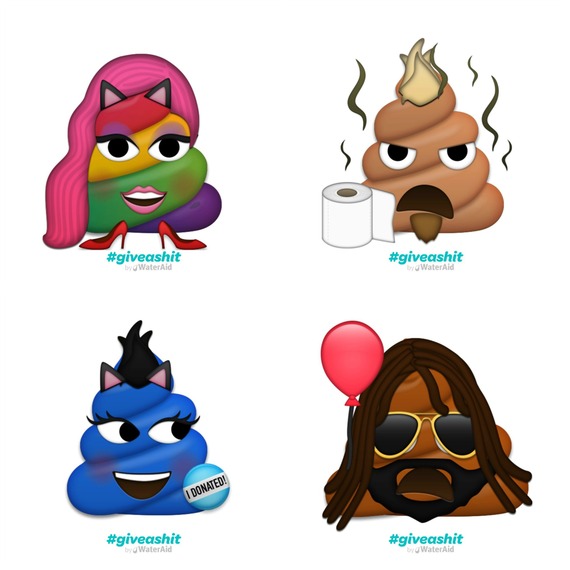 Some people have suggested that a campaign around poop emojis is superficial. But when it comes to engaging the public on a serious but seemingly far-away problem, we're counting on our poop emoji friends to give us a hand. One in 3 people in the world today don't have access to basic toilets and sanitation, and the majority of the world either doesn't want to talk about it, or isn't even aware that it's an issue.
Here's why that matters: when people have no choice but to poop in the open or in filthy, unsafe latrines, disease spreads, women are subjected to harassment and rape, and kids get sick, causing over 300,000 preventable deaths each year. All of that adds up to lost time, education, health, dignity and livelihoods--and it's something we can change.
WaterAid's new report It's No Joke: The State of the World's Toilets, reveals that the world's youngest country, South Sudan, has the worst household access to toilets and sanitation in the world, followed closely by Niger, Togo and Madagascar. Perhaps surprisingly, the report also highlights that Canada, the United Kingdom, United States and Sweden are among the developed country nations that still have measurable numbers of people living without safe, private household toilets, too.
These are important things that we all need to be talking about, and if it takes emojis to do that, I am all for it.
The poop emoji is one of the most popular emoticons on the market today, inspiring everything from pillows and wearable costumes, to coffee mugs, stress balls and endless selfies. Together with our campaign partners The Pub, Joystick Interactive, artist Julia Heffernan, Collab LLC and a wide range of entertainers, activists, YouTube celebrities and Vine stars, we decided to use emojis as an opportunity to tap into that fascination, with the hope of getting people talking about issues that truly matter.
So go on, download the app, create your poop emoji and share your poop with friends to show that you, too, #giveashit this World Toilet Day. Better yet, give more than just a shit--donate to the cause and help WaterAid reach everyone, everywhere with safe toilets and sanitation by 2030. Together, we can make the world a less shitty place.