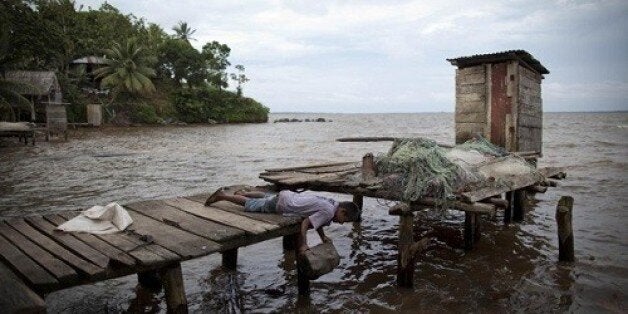 It is World Toilet Day, and thanks to years of campaigning, the words are causing less grimacing than they used to. The #worldtoiletday hashtag is trending on Twitter; open-defecation will hopefully make the evening news; and on Facebook there are multiple pictures of toilets.
The world has come a long way.
In 1990, nearly half the global population lacked adequate sanitation and 1 in 4 people worldwide (1.3 billion) defecated in the open.
In 2015, 68% of the global population - which is now 2 billion higher - has improved sanitation, though 1 in 3 people (2.4 billion) does not. Of these 1 in 8 people (946 million) still defecates in the open.
Over 800 children under 5 years old die every day from diarrheal diseases linked to water, sanitation and hygiene. That is like two Boeing 747's full of babies and pre-kindergartners crashing without survivors every single day, 365 days a year
The world hasn't come far enough.
The target in the Millennium Development Goals would have extended sanitation access to 77% of the world by 2015. With the target not met, there is a new global goal to get universal access to toilets by 2030. But if we continue at the rate we have been going, I am very much afraid that in 15 years we will be saying again: "Progress has been made but there is much more to be done."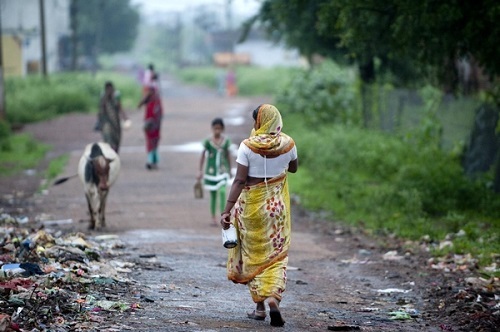 Women carry jars of water as they go out to defecate in Madhya Pradesh, India, 2013 © UNICEF/INDA2013-00391/Romana
This is not just about it being nice to have a clean environment - though that is true. This touches on lives, and in particular the lives of our children.
Added to those who die from diarrhoeal diseases, 159 million children under 5 years old globally are stunted. That means they have failed to develop, and can have permanent physical and cognitive impairment. Research from UNICEF's sanitation programmes links stunting and undernutrition directly to access to toilets and to open defecation in particular.
When our little children pay for our failures on sanitation, we can't continue to play nice over words like 'defecation' and 'shit'. The words are not as offensive as what they mean to children's lives.
Some countries are standouts on how much can be done when a government puts an all-out effort into improving sanitation. Ethiopia has brought the level of open defecation down from 92% in 1990 to 29% in 2015, the largest decrease in the world.
China by itself accounts for roughly 97% of the progress in access to improved sanitation in Eastern Asia (and 25% of global progress), according to our latest figures, with over 500 million people gaining access between 1990 and 2015.
This map shows how each country did.
What worked in China, Thailand, Malaysia, Pakistan and other countries which achieved the MDG target were: sustained political leadership; community mobilization leading to a social movement; adapting solutions to the local context; and innovation - in both technologies and approaches.
There are great examples of what can be done. Small innovators in villages are coming up with inexpensive ways to make toilets more accessible. Large organizations like the Gates Foundation are funding research into better toilets for crowded cities and slums.
I have just come back from India - home to roughly half a billion people practicing open defecation. One district in the State of West Bengal, Nadia, home to 5.3 million people, was recently declared India's first open-defecation free district. This comes only one year after state authorities launched their Nirmal Bangla campaign for total sanitation, as part of India's national sanitation campaign.
This is amazing and promising news.
So yes, much, much more must be done, but it is clear that it can be done.
Children are counting on us.
Calling all HuffPost superfans!
Sign up for membership to become a founding member and help shape HuffPost's next chapter