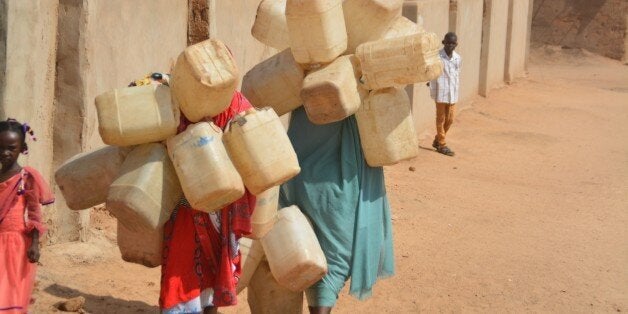 Water is one of those vital things, like air, that we take for granted until it's in short supply.
That's why World Water Day was established, which this year falls on March 22nd. An international observance that dates back to the 1992 United Nations Conference on Environment and Development, World Water Day is an opportunity to learn more about water related issues, take action to make a difference and be inspired to tell others.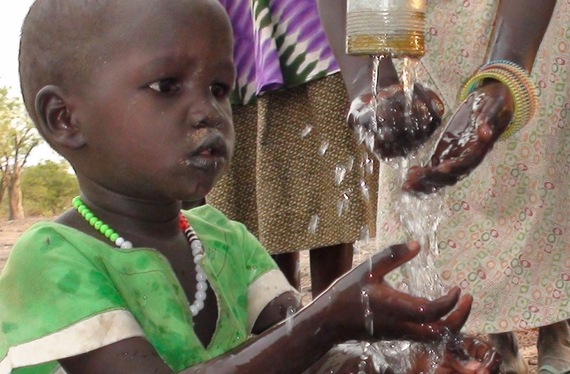 So in light of the occasion, let me share a moving story about the intersection of water with one man, one woman, one company and many employees.
The man is Salva Dut, who was born in South Sudan and found himself, at the age of 11, displaced by the country's civil war. Fleeing through the war-torn southern desert, Dut became one of the thousands of "The Lost Boys of Sudan." Heroically, Dut led 1500 "Lost Boys" hundreds of miles through the Southern Sudan desert to a refugee camp in Kenya, and eventually was lucky enough to gain entrance to the U.S.
While Dut was embraced by his adopted American family, he insisted on helping those from his homeland by forming a nonprofit called Water for South Sudan to provide much needed water that is safe and clean throughout the year. Today, Dut lives most of the time in South Sudan overseeing Water for South Sudan's drilling operations.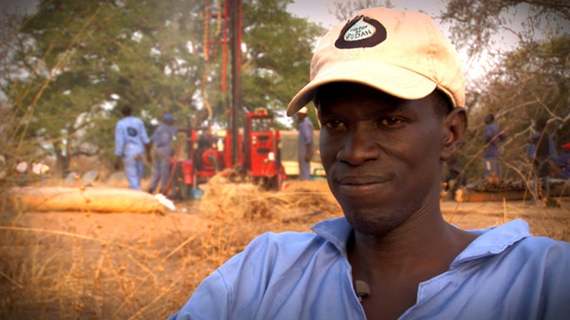 The woman is Linda Sue Park, author of the New York Times bestseller A Long Walk to Water, which has sold more than a million copies and become a modern classroom classic since it was published in 2010. Park's novel combines the true story of Salva Dut with the fictional story of Nya, a Sudanese girl who must walk eight hours a day to retrieve water from a distant well for her family.
A Long Walk to Water has electrified young readers across the country and inspired many of them to raise money to build more wells in South Sudan. To date, the efforts of children to help their less fortunate counterparts a continent away have raised more than $1 million for Water for South Sudan, directly leading to the building of many wells in South Sudan and the subsequent transformation of communities and lives, especially the lives of girls, who can now attend school and dream of a future for themselves. For many of these readers, Dut's selfless example will serve as a model for how they want to live their own lives, carving meaning from giving back.
Park spoke about this remarkable effort in a recent TED Talk, examining how children's books can change the world by lighting up pathways for empathy and engagement in young minds.
The pools of inspiration from one boy's courage and perseverance ripple even further. Global learning company Houghton Mifflin Harcourt, the publisher of A Long Walk to Water, decided to celebrate the book's one million copies sold milestone by donating $15,000 to Water for South Sudan for the drilling and installation of a new well. Then the organization took its corporate philanthropy one step further by offering a challenge to its employees to raise an additional $15,000, leveraging its matching gift initiative to accelerate this goal and fund the build of a second well.
To the surprise of everyone, the employees reached $15,000 in just two weeks.
This was the first company-wide matching campaign for HMH - which is a client of my company, Causecast - but given the strong employee engagement in the Water for South Sudan challenge, it's surely not its last. With a mission to change people's lives by fostering passionate, curious learners, it makes sense that HMH employees would rally together and show their personal commitment to a story and a cause that has touched so many hearts and changed so many lives. It's an effort that thrilled the employees of HMH and drew many of them closer to their company, connecting them with the larger purpose and impact of their jobs.
All because of one boy's determination to survive and then help the people he left behind.
The 2016 theme of World Water Day is "Better Water, Better Jobs," focusing on the central role that water plays in creating good quality jobs, which in turn fosters economic, social, and human development. Half of the world's workers - 1.5 billion people - work in water-related sectors, and almost every job across every sector relies directly on water. World Water Day 2016 asks us to recognize and support people and jobs whose work with water helps us all.
And when it comes to thinking about jobs and workers, the example of Salva Dut shows that one person's actions can spark a movement that improves the lives of everyone around him - even the life of a company.
Popular in the Community