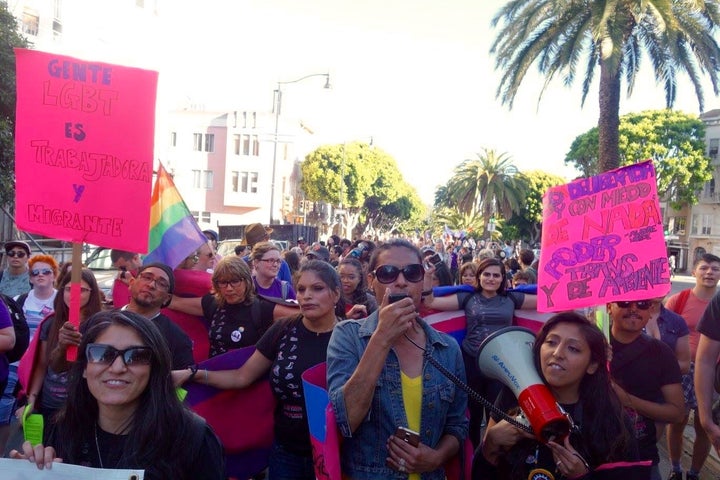 In the wake of the Pulse Nightclub shooting that left 49 mostly Latinx and Black people dead and 53 more injured, the LGBTQ community, as well as the broader nation, is trying to make sense of the tragedy and identify ways to prevent future violence. In less than a week, mainstream LGBTQ organizations, such as Human Rights Campaign, resolved to focus on gun control as the new fight for LGBTQ rights. 
In the rush to address the circumstances that led to this tragedy, however, the LGBTQ mainstream is once again overlooking important details. Much like the fight for marriage equality, achieving gun control won't address the underlying issues that make so many of us, as LGBTQ people of color, vulnerable to violence in our society and will not prevent tragedies like what happened in Orlando from happening again. If gun control is to be the new cause of the mainstream LGBTQ movement, our lived realities as people of color are again being erased. The aftermath of Orlando is yet another opportunity for the Humans Rights Campaign and similar organizations to work with and take leadership from communities and organizations on the ground who are impacted by various forms of violence everyday.    
Though physical violence remains a concerning issue for the LGBTQ community, less visible or sensational forms of violence like discrimination and harassment in housing and the workplace can be equally impactful. According to the National Coalition of Anti-Violence Programs' 2015 Hate Violence report, LGBTQ people of color report experiencing the highest rates of bias in workplaces, schools, and housing, and this places us at higher risk of unemployment and homelessness. These types of violence often intersect with and increase vulnerability to street harassment, physical violence, sexual violence, and intimate partner violence.
Here in San Francisco, for instance, unemployment and homelessness are undeniable issues.  Along with the rapid evaporation of affordable housing in the Bay Area at large, the homeless population continues to rise. In 2013, a survey conducted by the San Francisco Human Services Agency found 29% of the city's homeless population identified as LGBTQ. Additionally, according to the SF LGBT Center's Trans Employment Program, 70% of transgender SF residents are currently unemployed. Because homelessness and anti-LGBTQ bias decrease one's ability to maintain a job, and because joblessness and anti-LGBTQ bias in housing decrease one's ability to keep a home, many members of our community face a vicious cycle of poverty and discrimination everyday.
For many, the day to day violence doesn't end there. LGBTQ people who are denied access to housing and employment are more likely to experience abuse from the legal system. LGBTQ people who are at the margins are more likely to be criminalized for engaging in survival economies, such as sex work or drug sales and use, which are frequently some of the only options available to make income and survive. Because the legal system doesn't offer adequate protections for LGBTQ survivors at the fringe, they are more likely to experience violence from law enforcement and are at higher risk to be sent to jail or prison. While incarcerated, LGBTQ people are at higher risk of experiencing further physical, emotional, or sexual violence.
Given pervasive racial bias at all levels of the legal system, Black and Latinx people are most likely to be swept into the system, given overly harsh sentences, and little to no support if they are able to make it out of incarceration alive. Currently in San Francisco's jail, Athena Cadence, a trans woman of color, is on a hunger strike to demand gender self-determination policies in housing placement and searches. Even in San Francisco, she is one of many trans people of color impacted by transphobic and discriminatory policies with little outcry from the wider LGBTQ community. The silence around such day to day violence is telling.              
While the conversation about gun control is important, as an LGBTQ movement we cannot pretend that gun control will end the violence that many of us LGBTQ people of color experience daily. What we need are economic opportunities free of bias and housing opportunities that are safe and affordable. We need options to address violence without relying on the inherently biased justice system that targets and renders our communities as disposable. We need mental health services for and by us. We need real pathways to citizenship. We need protections for sex workers, including youth. We need the police to stop terrorizing our communities. We need to put a stop to U.S. imperialism, trade agreements, and foreign policies destabilizing our countries of origin. What we need are spaces that affirm and support all our lived experiences, to practice self-determination, and healing in our own ways.
We LGBTQ communities of color, such as the majority of victims of the Orlando shooting, must continue to unite and author our own narratives of safety. We must continue to resist the cooptation of our trauma and unite in our demands for real solutions that will transform the circumstances that harm us all - primarily U.S. laws and policies that further entrench the centuries of harm inflicted upon people of color, domestically and abroad. By centering our own experiences and determination to survive, we will win and we will thrive.  
REAL LIFE. REAL NEWS. REAL VOICES.
Help us tell more of the stories that matter from voices that too often remain unheard.