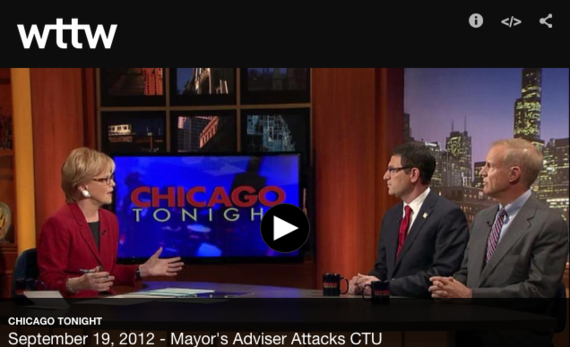 "Instead of doing the hard work of fixing Illinois' broken education funding formula, Bruce Rauner has wasted 18 months of his term holding the entire state hostage in the name of workers' compensation and right to work. After all that time, Bruce Rauner is doubling down on the failed formula that rewards wealthy children who grow up in elite communities and penalizes poor children in Chicago and across the state, and he is standing behind Illinois' ignominious distinction of being 48th in the nation for education funding. That is the real tragedy."

Statement from Chicago Mayor Rahm Emanuel, June 28, 2016
The video above and the quote below it make perfect bookends in the Bruce Rauner-Rahm Emanuel relationship trajectory.
For those following events in Springfield today but unaware of Chicago city politics four years ago, it might be disorienting to learn that Rauner in 2012 was a close adviser to Emanuel, who at the time was attempting to reshape Chicago Public Schools. In the video clip above from the Sept. 18, 2012, edition of "Chicago Tonight," Rauner voices the criticism of teachers' unions that would become a prominent theme in the gubernatorial campaign he announced the following spring.
Rauner's "Chicago Tonight" appearance and strong words came at a turbulent time for Emanuel. On the day the program aired, the Chicago Teachers Union was a week into its first strike in 25 years as members protested changes -- including a longer school day -- sought by Emanuel. Appearing alongside Chicago Teachers Union Vice-President Jesse Sharkey, Rauner (identified onscreen as an Emanuel adviser) was in effect the face of the administration on the strike.
Rauner, a potential Republican candidate for governor, speaks frequently with Emanuel and was placed by the mayor on the board of World Business Chicago, the city's economic development arm. Rauner has met more than a dozen times with Chicago Public Schools officials during the initial nine-month period that new CPS chief Jean-Claude Brizard's team was organizing policy.
Four years later, the story is vastly different. As the state's historic budget crisis moves toward its second year, approval of a state budget for K-12 education has become the single most critical and divisive issue between Rauner and the majority Democrats, led by House Speaker Michael Madigan and Senate President John Cullerton.
Many school districts statewide, including Chicago Public Schools, have said they won't open on time for the fall semester if they don't receive their state funding in July as scheduled. Public anger from such a debacle would be swift and intense.
Senate Democrats are backing a plan to put $750 million more into K-12 eduction, $286 million of which would go to Chicago Public Schools.
To Rauner and many Republicans, this represents a "bailout" of CPS. Republicans have introduced their own school budget, which increases K-12 funding by $240 million and guarantees no district will see a funding decrease. (Rauner's original budget proposal called for a reduction in state funding to CPS of $73 million.)
In a statement Tuesday morning, Rauner accused Emanuel, a Democrat, of siding with Madigan and Cullerton to block reforms and enable CPS to continue operating as a "broken system:"
I have said it before, and I say it again today: we must not bail out a broken system that refuses to change the way it does business. Forcing Illinois to raise its income tax to bail out CPS is fundamentally unfair to our school children, parents, homeowners, and small business owners across the state.

The real tragedy is that we have proposed legislation which would let Chicago fix every one of CPS' problems, allowing city leaders to protect their students and taxpayers while eliminating the need for any bailout - but Speaker Madigan has refused to call the bills for a vote.

Granting local control of collective bargaining would allow CPS to remove teachers' pensions pickup from contract negotiations, saving taxpayers from the single biggest threat to CPS' financial health. The Mayor requested the state do this last year.
Applying President Cullerton's pension reform proposal to CPS teachers' pensions would save Chicago taxpayers billions in the long run and give them the resources to hire more teachers.
Allowing CPS to declare bankruptcy if the Mayor or city council deemed it necessary to reorganize school contracts and debts could protect teachers' jobs and prevent the need for massive tax hikes on homeowners in Chicago. And even if the Mayor chose never to exercise the option, it would fundamentally alter the balance in teacher union contract negotiations, making tax hikes no longer the only inevitable option.

If Mayor Emanuel would join with his friend, President Cullerton, and lead in the effort for reforms along with Republican legislators, then together we could protect students, teachers, and taxpayers in the city and the state, creating a better future for everyone.
The Emanuel quote at the top of this article was in response to Rauner's statement.
Hard to believe that less than four years ago, these two were brothers-in-arms in the highest profile labor dispute in American education.
Calling all HuffPost superfans!
Sign up for membership to become a founding member and help shape HuffPost's next chapter