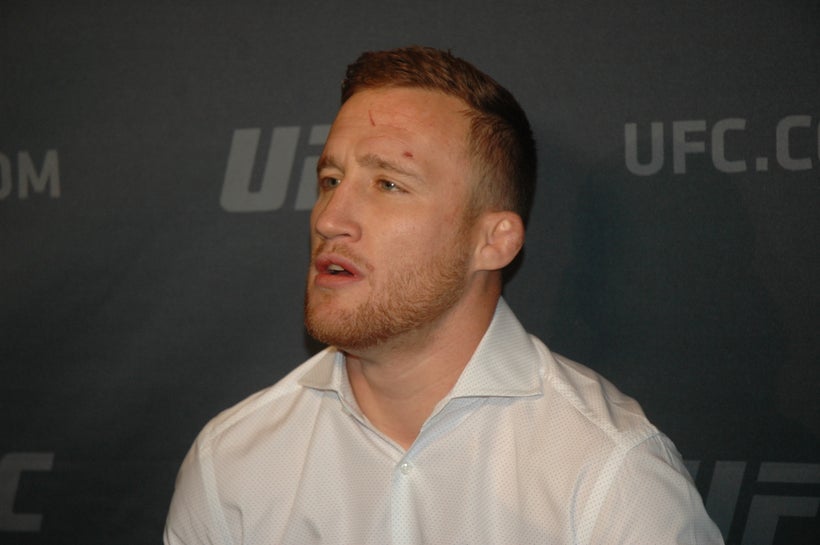 CENTURY CITY, Calif. -- For the majority of his mixed martial arts career, UFC lightweight Justin Gaethje was unable to clearly see the opponents he bashed with fists and thrashed with leg kicks. Only visible were out-of-focus silhouettes, one indistinguishable from the next.
"I used to be blind … I had horrible vision, so I got eye surgery a year ago," comments Gaethje. "I was 20/60 in one eye and 20/200 in another eye. And I was far sighted in one eye and nearsighted in another eye."
Watching Gaethje and his fighting style, the lack of vision make sense. Gaethje, who calls himself the "most hittable guy" in the 155-pound division, is a pressure fighter who walks forward into dangerous situations.
Somehow, he comes away on top in every MMA contest he's ever had, finishing 16 of his 18 fights, although the undefeated fighter rarely leaves the cage unscathed.
"If you take the time to watch the fight that you're in, then you're behind. It has to be intuition and reactions, which is all peripherals," explains Gaethje, who is set to face fellow TUF 26 coach Eddie Alvarez in the season finale on December 1. "That's what I've always fought off of. I've never had to look at anything specifically."
Gaethje emphasized fighting instincts while coaching on the UFC's tentpole reality TV show. And when scouting fighters, Gaethje, ranked fifth in the UFC lightweight division, looked for coachable fighters who admitted their shortcomings over the brash self-confident types who felt their skills were already at world-class levels.
"From day one when I was coaching. I told them that I wasn't necessarily there to teach them technique … I'm gonna try and show you the philosophy I live by and fight by, which is the reason I think I'm successful. So I was just there to teach a philosophy and that's 'preparation is everything'," states Gaethje, who intends to eventually use his notoriety to help at-risk youth. "You have to like be content with your weaknesses … I want someone that says 'I know it's gonna take extra hard work.' ... when they can acknowledge their weaknesses then that means they're willing to work on it, for one, and that they're coachable."
Joining the TUF 26 cast after only five professional fights, Nicco Montano is one of sixteen women who will vie for the UFC's first flyweight championship in a single-elimination tournament.
Unlike her TUF peers, which include a pair of UFC veterans (Roxanne Modafferi and Lauren Murphy) and a former Invicta FC champion (Barb Honchack), Montano was relatively unknown going into the show. Although, after arriving in Las Vegas for filming, she already knew she could compete with at the highest level.
"When I arrived, I saw how many girls tried out. So when I made the cut when I arrived I was like, 'okay, I fit right in with these girls'," comments Montano. "Shana Dobson was a lower seed and I had [already] beaten her to a decision and was like 'okay, well I know can hang at least with some of these girls, but it wasn't too far of a stretch or jump to get into the mental part of 'I can hang with former Invicta champs and UFC vets.' It was pretty easy."
Unlike Gaethje, who spent six years climbing up the ranks from the regional circuit to national promotions before joining the UFC in 2017, Montano is going straight for the belt, less than two years removed from her professional debut, although it's more a matter of circumstance, as the UFC is launching its women's flyweight division, using The Ultimate Fighter platform.
"I was actually on the fence about fighting," adds Montano. "I'm 28 and I'm not really financially stable. I spend all my time in the gym, so I was just trying to find a way to get security, so it was either fighting or back to school and was like 'if I'm in the UFC I'm gonna be able to fight as a career' and so that was kind of it. It's all or nothing right now."
The Ultimate Fighter 26 airs weekly on FOX Sports 1, every Wednesday at 10 p.m. EST (7 p.m. PST).
Calling all HuffPost superfans!
Sign up for membership to become a founding member and help shape HuffPost's next chapter
This post was published on the now-closed HuffPost Contributor platform. Contributors control their own work and posted freely to our site. If you need to flag this entry as abusive,
send us an email
.