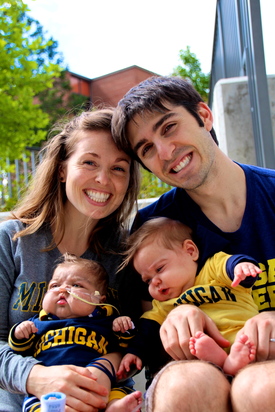 In honor of October being Pregnancy and Infant Loss Awareness Month.

"How many kids do you have?" seems like a benign question. Count your kids and say the number, simple as that. When I'm at the park or birthday parties with my son Zachary, I'm often asked some variation of this question, "Is Zachary your only child?" or "Do you have any other children?"
At first, I always answered truthfully. I never wanted to fake an answer to this question. I'm proud of my children, I love being their mom. But, the reactions I got were unintentionally hurtful and awkward. So, I tried lying about how many kids I have and that was much worse. I could not stand the heartache that accompanied my lying. Telling the truth hurt less than lying.
Truthfully though, "How many kids do you have?" is the easy question to answer -- I just say something like "two" or "Zachary has a twin brother, named Micah." Their natural next question is more difficult. "Where is your other child?" or "Why isn't Micah here, too?"
I've decided that I cannot lie about my children just to make someone else feel comfortable. I hate lies. I do not lie. I am honest with myself and my children.
My heart races and my confident voice shakes as I honestly answer their question.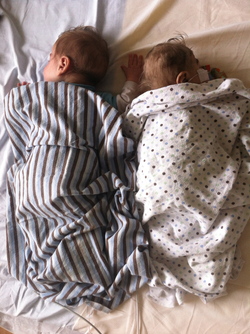 I speak the devastating truth that is my life, "Micah passed away when he and Zachary were 11 months old."
My honest answer morphs cheery faces into looks of horror. Typically, this is when people turn away and avoid eye contact with me. They have no idea how to respond, so they don't say anything and change -- or leave - the conversation as quickly as possible.
I don't expect anyone to spend hours talking about Micah. I don't expect anyone who's never dealt with child loss to "get it" because unless you've lost your baby, there is no way to understand the raw, lifelong heartache.
All I want is acceptance. Look at me. Recognize my loss. Say Micah's name. No need to say something profound, just speak empathetically and sensitively from the heart. Here are some of the most appreciated responses I've received:
Wow, you've been through hell.
Do you have a photo of Micah for me to see?
How can I celebrate and honor Micah?
I'd love to learn more about Micah.
I realize that child loss is an incredibly difficult thing to talk about, especially for people who are blissfully unaware that thousands of U.S. families lose their babies every year. But, just because I realize that it's hard for other people, doesn't make it any easier on me. It hurts when Micah is not acknowledged or spoken of. It hurts when our tragic loss is brushed over. It hurts when people act like Zachary is my only child.
Micah is my son and always will be. I will never "move on." I love Micah just as much as I love Zachary. Micah is gone from our arms, but not from our family. Zachary needs to know that we will never forget his twin. We will never minimize his loss. We will always be open and honest with him. We won't try to hide our heartache or pretend like nothing happened.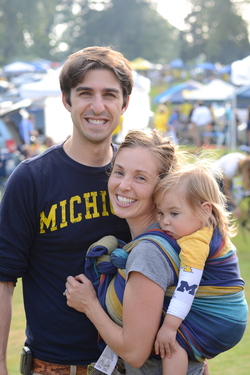 October is Pregnancy and Infant Loss Awareness month. On the surface, my family looks perfect. My husband and I are healthy, and we have a vibrant, healthy toddler. Our years of infertility, our miscarriage and the death of our firstborn son Micah
. There are
who share our story. It's very likely that you know a family who's lost a child... you just might not know about their loss. Please, help us honor, celebrate and remember our precious babies by:
Even life's most amazing blessings -- another child, a nurturing partner and all the happiness in the world -- can never replace Micah. Micah is not physically with me, but he is always with me. He is always my son. I am always his mama. Nothing can ever change that -- not death, not the passage of time, and certainly not anyone's questions. I have two children, Micah and Zachary. Micah's in my heart, Zachary's in my arms. I am incredibly blessed and proud to be their mama.
Support HuffPost
A No-B.S. Guide To Life
Related
Popular in the Community