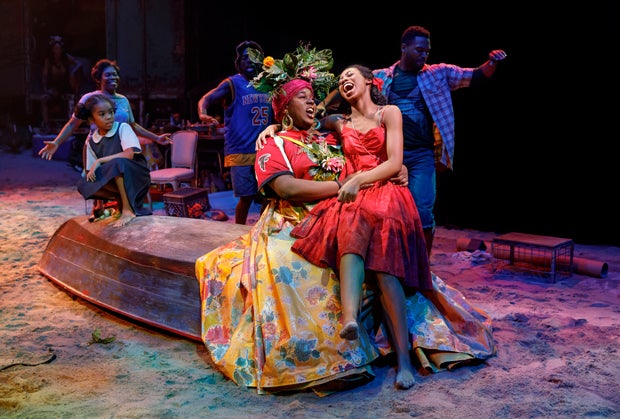 Upon walking into the new production of "Once On This Island," which opened on Sunday at the Circle in the Square Theatre, you are greeted by trash, old tee-shirts hanging on the walls, a small pool of water leading offstage, a live chicken and goat, and the cast meandering around the stage, which is completely covered in sand. They are wearing everything from bathing suits to table cloths to school uniforms to jean shorts. Most importantly, they are all barefoot. They have sand in their toes, they stand in the water, they walk with the goat, they run on the beach, they climb through the trash. Before the show has even begun, the musical has a vibe, a tone, a feeling, a smell, a sensation, an aesthetic. The actors can feel it, but more importantly, the audience can feel it.
The uniqueness of the production continued when the show itself began. The actors picked up various pieces of trash--a tube from a pool vacuum, a crate, a homemade maraca, a rainstick--and began to make a soundscape for the opening number. While this revival was in production, it was reported that in lieu of instruments, the cast would be using found-object instruments (mostly if not entirely percussion) and otherwise singing a cappella. However, this information was somewhat misleading, because in addition to the found objects the actors used there was also a small orchestra that consisted of a percussionist and a keyboardist (whose synthesizer filled in for basically everything else). Although the effect of the ensemble of actors using found objects was certainly interesting, it seems that after the first number they had completely forgotten about it, and instead let the small pit play for them.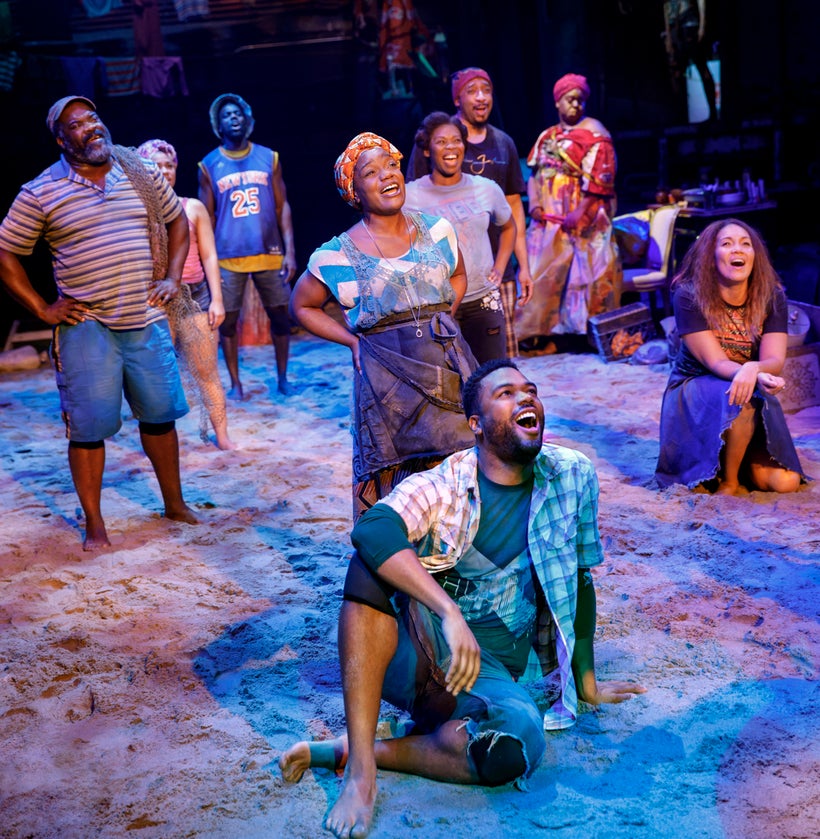 After the opening number that introduces the class dynamics of the island (peasant natives versus the rich, mixed-race French descendants) as well as the gods of the local religion, the story begins. After a large storm a young girl almost drowns, but is saved by the gods and delivered to a couple (Phillip Boykin and Kenita Miller) who become her adoptive parents. They call their daughter Ti Moune, which means "orphan." Ti Moune (Hailey Kilgore) eventually grows up, saves a rich boy from the other side of the island when he crashes his car, and falls in love with him. Their forbidden romance draws elements from "Romeo and Juliet" and "The Little Mermaid" but has no happy ending for the pair.
The story itself is driven by four major gods: Agwe, god of water (Quentin Earl Darrington), Asaka, god of earth (Alex Newell), Erzulie, god of love (Lea Salonga), and Papa Ge, god of death (Merle Dandridge). Although these actors begin in costumes of typical island people, they slowly add pieces that gradually become incredibly elaborate and regal, transforming them into gods. A plastic table cloths becomes a giant hoop skirt, a piece of chiffon becomes a gown, a blue string becomes a giant fabric beard, a hood becomes a massive robe. The gods collectively work to help Ti Moune on her quest to save her love, and in the end prove that love can conquer death by turning her into a tree.
Of the entire cast, the four actors playing the gods stole the show and certainly gave the best performances. In particular Salonga ("Miss Saigon," "Cinderella," "Les Miserables") and Newell (of "Glee" fame) were equally fierce and majestic in their queenly roles. Although the focus should have been on Kilgore as Ti Moune, her performance was not captivating enough. She was sweet and has a good voice, but she could not command the stage or compete with the iconic presence of some of the other leads.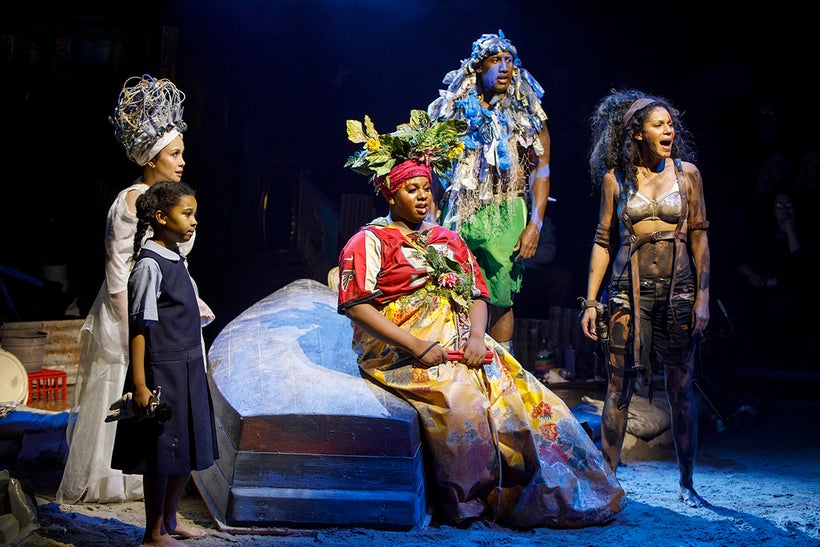 Overall "Once On This Island" felt more like a song cycle than a musical. Each song felt similar, with chaotic choreography (by Camille A. Brown), excessive amounts of haze, an over-stressed parallel between Ti Moune, her younger self (Mia Williamson), and the doll version of Ti Moune that her younger self carried around, a loud final note from the pit to punctuate the ending, and a dramatic light cue. After a while it felt more like a concert than a work of fiction.
But maybe the director, Michael Arden, intended this revival to be more about the feeling of the island than about the plot of the story. The aesthetic was clear and incredibly well curated by the designers: costumes by Clint Romas, set by Dane Laffrey, lighting by Jules Fisher and Peggy Eisenhauer, found instruments by John Bertles and Bash the Trash. The visual and sonic textures of the piece have an added emotional and maybe even political resonance in our current moment where Caribbean has been ravished by hurricanes.
More than anything else, this revival of "Once On This Island" provides an aesthetic experience unlike anything else on Broadway. 
Calling all HuffPost superfans!
Sign up for membership to become a founding member and help shape HuffPost's next chapter
This post was published on the now-closed HuffPost Contributor platform. Contributors control their own work and posted freely to our site. If you need to flag this entry as abusive,
send us an email
.