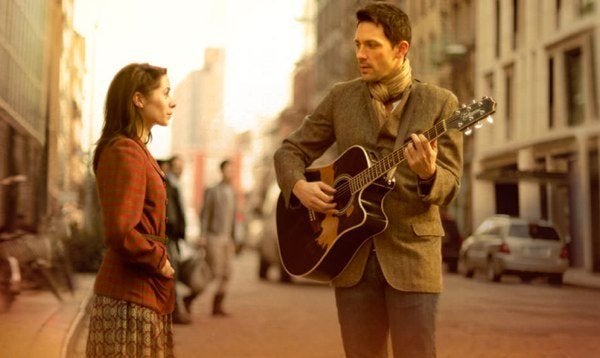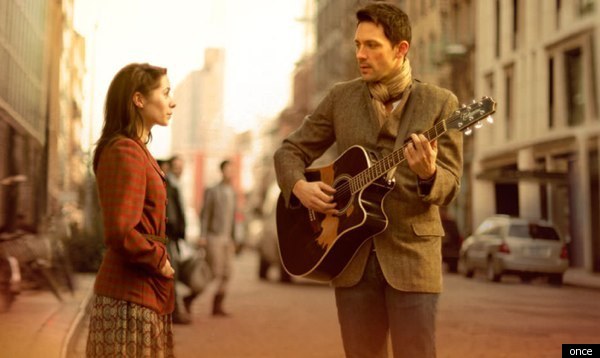 Last week, I attended the Broadway production of Once, which is based on the film version of Once. (I wanted to add the word "obviously" at the end of that last sentence, but, at the show, I was surrounded by dozens of people who seemed shocked to learn that there is a film version.) I do not attend Broadway musicals often, but (A) I liked the film version of "Once," which focused on these two unnamed, star-crossed, musically-gifted lovers and (B) I'm oddly fascinated by film's relation with Broadway. Regardless here are the seven things I learned while attending the Broadway production of Once.
1. Before the show begins, a ticketholder is allowed to walk on stage and purchase alcohol. Which is basically like walking right into the story, as the actors are actually on stage warming up. So, I sure can't get that experience at my local cineplex. This was exciting -- at least until I was told that the price for a bottle of Sam Adams totaled $13. Well, no wonder why all of the characters in this story are so poor.
2. Boy, musicals sure are long. OK, I already knew this, but when comparing this show directly to the film, it's startling. In 2007, I attended Xanadu. Yes, Xanadu is also based on a movie, but I can't quite remember the last time I've watched the film version of Xanadu from start to finish -- if ever. So I certainly wasn't paying attention to any differences between the film and stage versions. With Once so fresh in my mind, it was inevitable. And considering that the stage version of Once is 135 minutes, compared to the film's brisk 85 minutes, there is quite a bit added.
3. Speaking of: Remember the banker that lends the Guy money so he can record an album? Well, he now gets a much larger role. Not only does he sing his own song at the bank, not only does he inexplicably get to join the band for the recording session, we, for some reason, also learn the banker's sexuality during a throwaway joke. The Girl's Czech family has a much larger role, too, providing comedic backdrop.
4. Pop culture references never get old, until they do. If you were expecting to hear a Josh Grobin reference, or see a plethora of ironic fist bumps that end in fake explosions, well, you guessed correctly. I get it that this is now pretty much the standard for contemporary Broadway musicals, but Once is such an intimate story, the one-liners seemed a bit out of place.
5. Though, most importantly, the music -- along with some spirited dancing -- is great and makes the experience worthwhile. It's almost better to look at this show as more of a concert than a narrative. And lead Steve Kazee kind of does sound like Glen Hansard. Unfortunately, the night I was there, Cristin Milioti did not perform and was replaced by her understudy, Andrea Gross -- whose comedic timing was great, but her voice was, well, not Cristin Milioti's and nowhere near Markéta Irglová's
6. As an aside: I have no idea if this is a "thing," but the gentleman directly to my right just had to be the first one to clap after every song. To the point that, three times, he started clapping when he was fooled by just pause in a song. Either he really loves Once or he really loves the concept of striking his hands together in an effort to create noise.
7. So! If you're looking for the intimacy of the film, this probably isn't going to be quite what you want. But, if you want to hear these songs performed live with some nifty dance numbers, well, Once can provide that -- and $13 dollar beers.
Mike Ryan is senior entertainment writer for The Huffington Post. He has written for Wired Magazine, VanityFair.com and GQ.com. He likes Star Wars a lot. You can contact Mike Ryan directly on Twitter
Popular in the Community