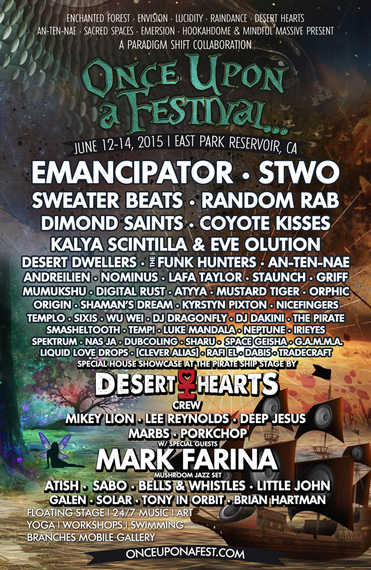 Just like creating a film, putting together a multiple day live music event is a collaborative art form. With music festivals on the rise, it was only a matter of time before they combined forces to form a one-of-a-kind co-creative super festival. The bright, collaborative minds of Envision, Lucidity, Desert Hearts, Enchanted Forest, Antennae Presents, Raindance and Emersion have joined forces and are thrilled to bring you the first annual Once Upon a Festival.
Just around the corner, Once Upon a Festival will be held on June 12-14, 2015 at the swimming friendly East Park Reservoir in Colusa County, California on the west side of Sacramento Valley and just three hours north of the Bay Area. Surrounded by California's iconic golden rolling hills, the venue itself plays a huge role in the festival. With trees available for hammocks and slacklines and a lake to escape the inland heat, Once Upon a Festival promises to be a truly unique festival experience.
Building a fairy tale wonderland, Once Upon a Festival boasts fully immersive installations, stages, galleries, and environments 24 hours a day. With a 24/7 noise permit, there will be a constant flow of music for those who wish to dance til sunrise and beyond. One of the most innovative elements of this festival is the construction of a floating stage complete with floating dancing platforms.
Hookadome and Sacred Spaces, known for their installations and decor at Burning Man and various international festivals, will be contributing their tangible visions for patrons to enjoy. Lucidity will be bringing their Branches Mobile Art Gallery while Enchanted Forest will be featuring their lounging and healing sanctuary, Nectar Temple. Like a transformational version of Belgium's Tomorrow Land, Once Upon a Festival will be bringing to life the whimsy of a fairy tale by creating a magical realm where all of our childhood memories of bean stalks, mermaids and princesses will be manifested.
What is really drawing people from all corners of country to this event is its fairy-tale lineup. Emancipator, STWO, Sweater Beats, Random Rab, Dimond Saints, Coyote Kisses, Mark Farina, Desert Hearts crew, Kalya Scintilla, Desert Dwellers, Funk Hunters, An-ten-nae, Andreilien, Nominus, Mumukshu, Digital Rust, Atyya, Orphic, Sixis and many more will be enchanting our ears, minds and bodies.
Each stage will offer its own special flavor of soul-churning electronic music. The Lost Tribe Tree House will be dosing its visitors with viscous globs of bass music while Envision is curating the Sunday lineup from the quintessential Random Rab sunrise-until-close set with Kalya Scintilla. The Pirate Ship stage will be the home for house heads, featuring a 3 hour Mark Farina sunset set and two thumping nights of Desert Hearts takeovers. All daytime music will take place at the floating stage in the middle of the lake where festival-goers can bask, dip, and dance. The full schedule is now posted on Facebook.
I believe that by gathering in community out in nature we create a rare opportunity for individuals to observe their value systems and inherent human motivations from a new or alternative perspective that is free of social conditioning. Providing this opportunity is my driving motivation for producing these events but it is just an opportunity, not a transformation. It is always up to the participant to capture the moment and create a lasting positive impression.
- Matt Siegel, Envision
Website: http://onceuponafest.com/
Facebook: https://www.facebook.com/onceuponafest
Facebook Event: https://www.facebook.com/events/840913562659459/
Calling all HuffPost superfans!
Sign up for membership to become a founding member and help shape HuffPost's next chapter