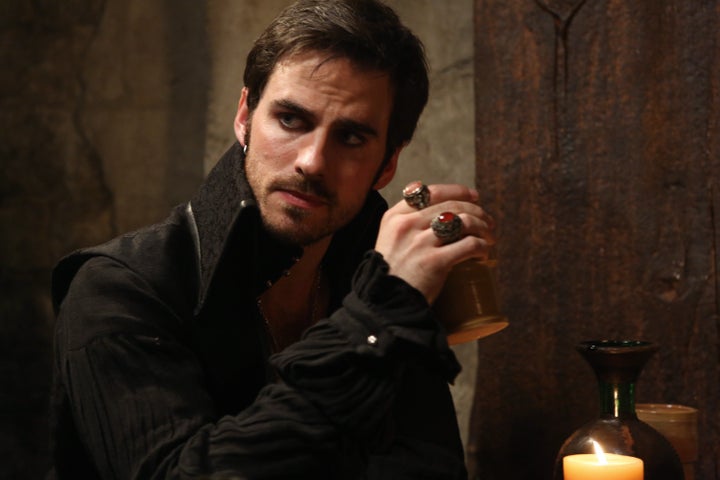 This Sunday's episode of "Once Upon a Time" (Sun., Oct. 21 at 8 p.m. ET on ABC) will introduce us to another legendary character from the Disney pantheon: Captain Hook.
But this iteration of the classic J. M. Barrie character seems less cowardly crocodile-hater (although the episode is called "The Crocodile") and more Captain Jack Sparrow, thanks to the casting of dashing Colin O'Donoghue. And, as you might notice in the preview clips below, he's also missing the very appendage that gives him that memorable name -- which may explain why Hook is going by Killian Jones when we first meet him. Seems like we've got ourselves a good ol' fashioned origin story,
In the first clip, we see Rumplestiltskin (Robert Carlyle) having a small domestic dispute with his wife Milah (Rachel Shelley) over her unsavory choice of drinking company, and get our first glimpse of O'Donoghue's charming Captain.
Obviously, said confrontation doesn't go so well, since we next see Rumple paying a visit to Killian's ship to retrieve his wife. But since their meeting takes place before Rumple acquired his magical powers, he doesn't make a very imposing opponent ...
Meanwhile, in present-day Storybrooke, Mr. Gold is on the hunt for Belle, who has apparently grown tired of his lies and manipulations and left him. Desperate times call for desperate measures, because the next preview shows the erstwhile imp asking Charming for dating advice.
But Belle's not too far away -- she's taken refuge at Granny's, leading to a sweet meeting with another strong-willed woman.
"Once Upon A Time" airs Sun., Oct. 21 at 8 p.m. ET on ABC.
Are you excited for Sunday's "Once Upon a Time"? Share your predictions below!
PHOTO GALLERY
Once Upon a Time
REAL LIFE. REAL NEWS. REAL VOICES.
Help us tell more of the stories that matter from voices that too often remain unheard.
BEFORE YOU GO