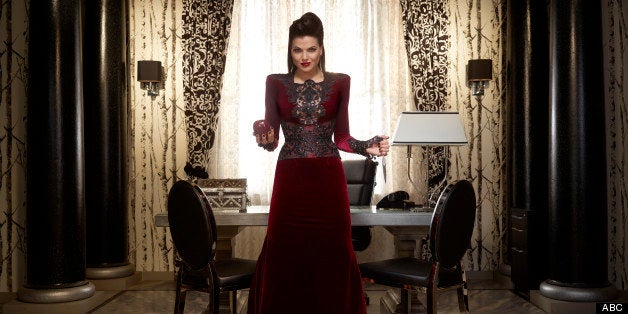 In this week's Regina-centric episode, fittingly titled "The Evil Queen," our favorite villainess is once again up to no good, as the episode description can attest:
With the aid of Hook, Regina attempts to put a plan in motion that will help transport herself and Henry back to Fairytale land. But her plan revolves around a fail-safe that was planted within the curse, which if triggered could wipe Storybrooke off the map -- and kill all of its inhabitants; and Emma's suspicions about Tamara grow. Meanwhile, in the fairytale land that was, the Evil Queen asks Rumplestiltskin to transform her into an unrecognizable peasant in order to kill an unsuspecting Snow White, with the twisted aim of earning the love and respect of her subjects.
Kidnapping aside, the episode will take us back in time to just after the events of the Season 1 episode "The Heart is a Lonely Hunter," when the Evil Queen dispatched the Huntsman (Jamie Dornan) to kill Snow White and he brought back the heart of a stag instead.
"She doesn't understand why it's so difficult to kill this little princess that's out running around in the forest. So, she meets with the peasants in a village where she knows Snow White is hiding and she offers them a lot of money and gold, opportunities for better lives… and no one budges," Parrilla told TVLine. "She doesn't understand why everyone is protecting Snow White and why they don't love her. She's the queen, and yet they hate her so much. So, she asks Rumpelstiltskin to disguise her as a villager, and she ends up walking amongst these people and asking about their feelings about the queen. And what she discovers is a very sad thing, how much she is hated."
Will the truth about how she's perceived motivate The Evil Queen to change? Of course not: "She's more like, 'You ungrateful bastards' ... she can do no wrong in her eyes," Parrilla admitted. "She's not as self-aware as you at times would like her to be, or as Regina in Storybrooke is ... Although, again in Storybrooke, she's making some dangerous decisions in opening this portal and taking Henry away."
Check out preview clips from the episode below:
For more from Parrilla on this week's episode and what to expect from the finale, click over to TVLine.
"Once Upon a Time" airs Sundays at 8 p.m. ET on ABC.
PHOTO GALLERY
Once Upon a Time
Calling all HuffPost superfans!
Sign up for membership to become a founding member and help shape HuffPost's next chapter
BEFORE YOU GO