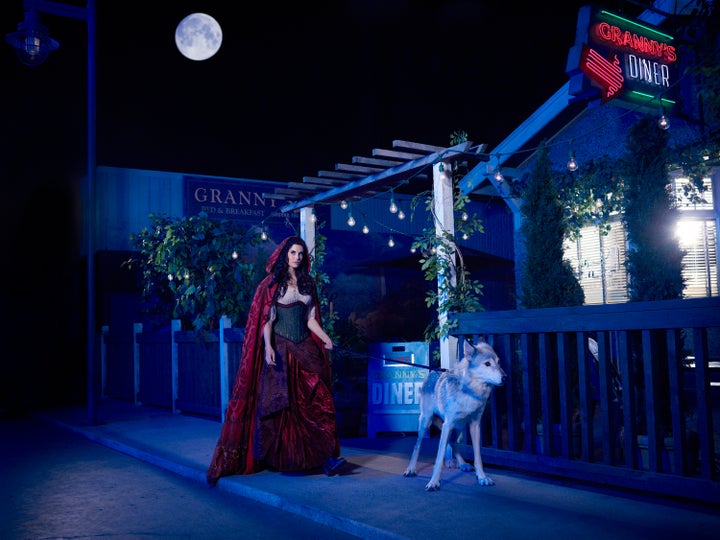 In grand "Lost" tradition, "Once Upon a Time" has become adept at servicing every member of its strong ensemble cast, with at least one episode a season dedicated to exploring a character's fairytale history as well as their present-day arc. This week's episode focuses on Meghan Ory's Ruby/Red Riding Hood, who -- as we discovered last season -- has a Big Bad Wolf inside her that's always itching to break free.
In the Nov. 11 episode, Storybrooke experiences a full moon, and let's just say that the lunar cycle causes some problems for our crimson-clad girl. HuffPost TV caught up with Ory earlier this week to preview "Child of the Moon" and what's coming up for her character in Season 2.
Let's talk about this week's episode. In Storybrooke, Ruby becomes the prime suspect in a murder case. What else can you tease?
It's the first full moon after the curse is broken, and Ruby is very much aware that she may or may not turn into a wolf again. The fact that she is part wolf makes her the prime suspect when someone is murdered! Go figure, I don't know why they'd just assume it was me, but … [Laughs.]
Albert Spencer, a.k.a. King George [Alan Dale], has been lurking around Storybrooke recently. Does he play into Ruby's problem at all?
King George is up to no good in this episode, I've got to say. He's not being super nice to David [Josh Dallas] and he's not being super nice to Ruby either.
What can you reveal about her story in the fairytale flashbacks?
With Red, we're picking up where we ended last year, so we're very close after Red and Snow run off after Red discovers that she is a wolf and she's eaten Peter and the townspeople are after her. So it's quite soon after that in the timeline and how she's dealing with being a wolf -- which is not very well -- and we go into a little bit more of how she deals with her wolfness.
We know that she meets another wolf called Anita [Annabeth Gish] and a pack. Can you talk about their dynamic with Red?
There is another wolf pack, which is very interesting, led by Anita. She's a very strong, beautiful, mysterious woman who is the leader of this wolf pack, and she helps Red in her time of need, when she needs it most, and it's very interesting, their dynamic together.
Is that side of the story more about Red embracing her true nature?
Yes, exactly. Being with other wolves is definitely going to help her figure out how it is to be a wolf.
Red has kind of been Charming's right-hand woman in Storybrooke since the curse broke. Will that continue?
You're definitely going to see more of the Red and Charming friendship -- I can't really go into too much detail of what it entails, but we definitely expand on that and their friendship.
There also seemed to be a real friendship beginning with Ruby and Belle [Emilie de Ravin]. Has there been more development on that front?
I think that Ruby and Belle have a very interesting connection and I think Ruby is very much one to help people when they're in trouble because she's been in so much trouble herself, so I think she does everything she can to help people in need.
We've seen her using her sense of smell in a handy way in Storybrooke since the curse was broken. Does she have any more useful wolf abilities?
You're gonna see a little bit more of that for sure -- like other wolf-people combinations, there are definitely traits that have carried over into her real life and you'll see more of that in this episode.
Her last attempt at romance didn't go so well, since she ate Peter, but is there anything on the horizon?
I think that is the question, whether or not she's able to open up and love again after everything she's been through, so I'm very curious to see what's going to happen with that.
What about what you're filming now. Is there anything you can tease?
I don't know if there's anything specific because so many things happen, but I can say that you have to watch every episode, because so many things happen! It gets pretty crazy.
"Once" has such a great ensemble cast. Is there anyone you're hoping to work with that you haven't really had an opportunity to yet?
I'm dying to know the backstory behind the look that Ruby and Gold shared in the pilot. They shared a moment there and Robert Carlyle and I have speculated on what's behind that and we don't know and we would like to find out. [Laughs.] He gets around, that Gold.
"Once Upon A Time" airs Sundays at 8 p.m. ET on ABC.
PHOTO GALLERY
Once Upon a Time
REAL LIFE. REAL NEWS. REAL VOICES.
Help us tell more of the stories that matter from voices that too often remain unheard.
BEFORE YOU GO