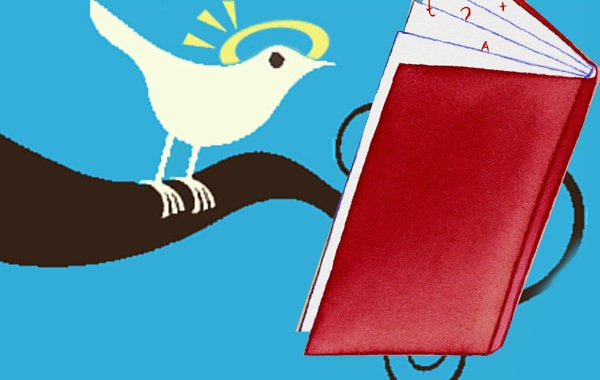 Three months ago I did not have a Twitter account, and though I'd reluctantly established a Facebook fan page, I'd put next to nothing on it. But I had a book coming out in May, and the world of publicity has changed radically since I last published a novel, in 2005. So I joined Twitter, set up a Goodreads author page, and posted my new author photo and links to my prepublication reviews on Facebook. Then I wasn't sure what to do, except check my pitiful Twitter follower numbers and feel sad when the total dropped from nine back to five.
Today, three months later, I'm about to close an online contest that involved forty-seven other writers and more than 1200 entries via Facebook, Twitter, and a mailing list. What happened? Well, for one, I went on a traditional book tour, and walking into stores every day wondering whether anyone would be there made me feel not just anxious but powerless. For another, I realized how many newspapers that reviewed my last book no longer had book pages. And, perhaps most importantly, I slowly began to see the vigor and vitality of the online community of readers, writers, and reviewers, particularly on Twitter. On Twitter, you can exchange erudite, funny, snarky, emotional thoughts on literature all day long. It's like going to a writers' conference without the booze and ill-considered affairs.
One of the writers I "met" on Twitter was Allison Winn Scotch, with whom I'd once shared an editor and publisher. Allison is not only an NYT bestselling writer, but a generous supporter of other writers and their work. I saw how cheerfully she went about reaching out to readers, and when she included me in a giveaway with twenty-seven other writers, the enthusiasm of both those writers and the readers who responded to the contest left me buoyant.
So, one night when I couldn't sleep, I sent out a number of emails, hoping to find eleven other writers willing to give away ten copies of one of their books, so that a book club could win a year's worth of reading. Instead I ended up with forty-seven. Then the suggestions started coming: Let's do call-ins to the clubs! Let's chip in for an ad in Shelf Awareness! People thanked each other and praised each other's work, and, as Julia Glass said in an email, "Everyone's free-form joy is quite delightful."
Maybe it seems odd that free-form joy should come from giving away--not even selling--ten copies of one's book. You have to understand what a lonely, frustrating profession this is, not just in the writing of the books but in the selling of them, and how ill-suited many of us introverted indoor types are to the kind of self-promotion publishing a book now requires. This has been a virtual support group, and the gratitude from other writers at being included and the generosity of spirit with which everyone has worked to promote each other's books has been genuinely moving.
But let's get down to the nitty-gritty: do efforts like this help us sell our books? This much I can tell you: many of the other writers who maintain Twitter accounts and Facebook pages report an uptick in their followers and fans. A number of people saw their Amazon ranks drop, which is--for those of you who are not obsessive writers checking the numbers like a dieter checks the scale--a good thing. Of course, like all of this, it's a highly unscientific good thing, as none of us really knows what those numbers mean in terms of sales.
Of one thing we can be sure: Somebody bought a book! And maybe that person will read it, maybe tell someone else to read it. Irene Zutell wrote me that seeing the enthusiastic comments about her book on the contest page was a much-needed ego boost she'll take back to the project she's working on now. We all get caught up in where we get reviewed and how many copies we sell, but it helps maintain sanity to remember what we really want, which is to be read--and, if we're really lucky--not just read but loved. When I'm working I sit alone and write words that no one will see for months or even years. Ten years ago, when my first book was published, I knew what readers thought only if I was lucky enough to get a newspaper or magazine review, or some thoughtful reader took the time to send me an email. Now, sitting at my computer, I have instant feedback, good and bad, at my fingertips. If Twitter gives me nothing else, it gives me this: "Passed along Husband and Wife to my good girlfriends as a MUST READ." Thank you, ashleytaylor76, wherever you may be.
You can see the list of the authors who participated in the giveaway here.
Calling all HuffPost superfans!
Sign up for membership to become a founding member and help shape HuffPost's next chapter