In the real world, watching a tree grow would take years. But thanks to Belgian artist Naziha Mestaoui, you can watch virtual trees grow and blossom before your eyes. Did we mention the immaterial foliage will bloom to the rhythm of your own heartbeat?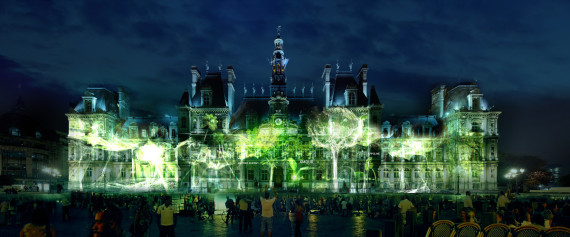 The stunning virtual project, "One Beat One Tree," projects virtual forests onto city spaces, blending the boundaries between nature and technology, the real and the imagined.
A heartbeat sensor is connected to each viewer through his or her smartphone, thus allowing each seed of virtual greenery to blossom to a personalized beat. To further increase the fluidity between visible and invisible, the digital trees are later physically planted in regions throughout the world, from Europe and Latin America to Africa and Asia.
Mestaoui was inspired to embark on the project after working for more than 14 years in the Amazon, she explained to The Huffington Post. The tribes instilled in her the idea that the future we are heading towards is becoming more and more immaterial. For these ancestral societies, daily reality was constantly shifting between the visible and invisible.
"One of the first [things] that amazed me was the relationship they have to nature," she said. "For them a tree is not wood and carbon compensation, it's a spirit, another living being with its own intelligence. They can connect to this intelligence, and exchange information with it, learn from it."
Thus, "One Beat One Tree" was born, endowing viewers with the power to create life and influence nature in both physical and virtual space. "I wanted to create an art piece using technologies to connect us to this immaterial value of nature... If we want technologies to reconnect us to nature, we just need to create it."
Since its inception two years ago, the project has already sparked the growth of 13,000 trees. At the 21st Climate Conference in Paris, taking place December 2015, Mestaoui will project her virtual forests onto classic city monuments, turning the historic city of Paris into a digital landscape. See a glimpse of the immaterial magic to come below.
Calling all HuffPost superfans!
Sign up for membership to become a founding member and help shape HuffPost's next chapter
BEFORE YOU GO
PHOTO GALLERY
Archi-future: 11 Green Buildings That Will Blow Your Mind