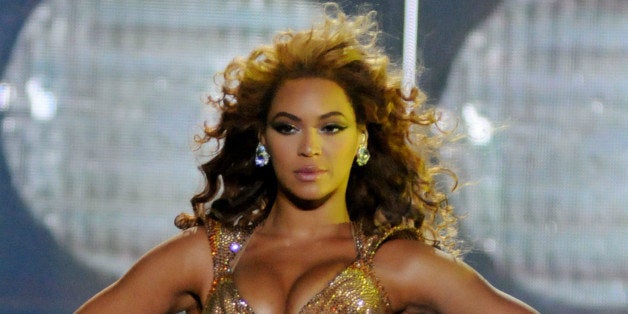 For Christmas this year, I wanted a new album from Beyoncé. It's been a hard, wonderful year to be a black woman: I saw violence against black women and girls spiral, but also saw young sisters empowered by media and mounting activism to claim black women's humanity as a cause to fight for. So I've been hoping Tidal would gift me with new music from Beyoncé and Rihanna to enjoy over break. Then, rejuvenated, I'd bring their creative production into my "BeyoncéFeminism, Rihanna Womanism" course to challenge students to think about what the feminism they need looks like.

Instead, I got this: Signs the academy is ready to strike down this generation of black feminist curricula, one Beyoncé class at a time.

Rutgers University's Women's and Gender Studies just cancelled one of its most popular courses, Kevin Alldred's "Politicizing Beyoncé." Alldred's course invited students to engage Beyoncé's music not as entertainment but as a jumping off point to enter black feminist debates about gender, race, and sexuality. As is standard for courses on black feminism, offered regularly in U.S. universities for 30 years, readings presented interdisciplinary perspectives to provide an overview of the field. Unlike most black feminist courses, though, this enrolled to capacity all 11 times Alldred taught it.

"Behind the scenes, they told me that because so many people wanted to take it, it was detracting from other courses," Allred said. "But beyond that, I have seen a larger issue with Beyoncé ... and black feminism in general."

As a University of Texas at Austin professor, I've also been debating whether to offer "Beyoncé Feminism, Rihanna Womanism"-- the highest-enrolling course in my department's history--as a large lecture next academic year. Without a doubt, this is the most intellectually challenging undergraduate course I've ever designed. Beginning with analysis of Beyoncé and Rihanna's songs, we read their oeuvre in conversation with African-American and Caribbean feminist theory that engages issues of violence, economic opportunity, sexuality, standards of beauty and creative self-expression.

But in fall 2016 it will become legal to carry concealed weapons on Texas university campuses. The same things that make this course wonderful for my students will make it difficult for me to feel I can guarantee their safety. Namely, if someone wants to find a place to target black women and attack black feminism, literally, my course will be the easiest place to go. While Rutgers students are facing intellectual violence against black women, I'm worried about physical violence against black women at the University of Texas.

My course provides students with an introduction to media studies as well as black feminist theory, and challenges them to close gaps between popular and academic expressions of black women's concerns. It's a monumental amount of work: Students were greeted with a 19-page syllabus! It has been the most rewarding course I've ever taught.

In this racially diverse, female-dominated class, young women of color strike out and find their voice. Every lecture, students raise hands to offer original analysis of readings, viewings and theoretical issues to a packed lecture hall. The premise of the class is what they know well -- popular music, but also their own experiences -- is worth knowing, and could help them understand dense academic texts. One honor student told me she just felt smarter in that class than anywhere else, and felt her knowledge was thoroughly valued and welcomed. And it was: I learned from her and other students every day just as they learned from one another.

Prof. Brittany Cooper points out that Rutgers' "Politicizing Beyoncé is probably the only course at the school with a named black woman in the title, despite the fact that it's standard practice to have an entire directory of classes titled after white men." In short: What unnerved the department was that a black woman could be placed at the center of academic inquiry, and that black women's thought was proving more engaging to this generation of students than that of European feminists or American historians.

In the quest for a safe space, will my Beyoncé course be the next to go?

I'm not yet sure what the most responsible course of action is. But let's be clear: With all due respect to Queen Bey, this issue here is not Beyoncé. It's the needs of a next generation of college students and citizens, and whether we value the bodies and thoughts of women of color enough to commit to keeping them safe in our universities. As Beyonce sings it: "I'm repping for the girls that's taking over the world/ Let's give it up for the college grads."
Popular in the Community