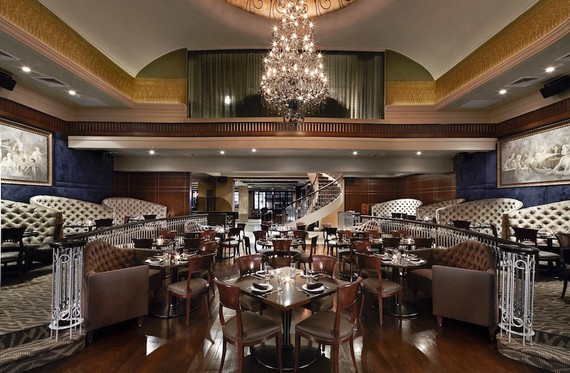 A quick count of new, high-end steakhouses to open in Manhattan just in the past eighteen months comes to 16, added to the dozens more dotting the island and the other boroughs. And in NYC, whose real old-timers like Peter Luger and Palm were the first to serve USDA Prime beef straight from the meat packing district, that the competition to get the best quality beef is at its most fierce. Such quality is never cheap.
Menus at these new steakhouses don't differ radically, though some are more ambitious than others, but, despite the many clichés of décor still flourishing, the spaces and designs have changed very much. Two new entries do it with size, style, and sizzle.
EMPIRE STEAKHOUSE
151 East 50th Street (near Third Avenue)
212-582-6900
empire.com
The new Empire Steakhouse (the first is on West 54th Street) has taken over the historic premises of what was once a 1920s East Side opera house, then a famous and lavish nightclub called Versailles, where chanteuse Edith Piaf performed in the late 1940s and which also played host to the Desi Arnaz Orchestra, Bob Hope, Dean Martin, Jerry Lewis and many other top bananas of the 1950s. Back then you could even have your fortune read by Doris the Palmist.
Just a few months ago this was an admirable Turkish restaurant named Ibis, which retained much of the trappings of the old nightclub, as have the new owners, the Sinanaj brothers, who also run Ben & Jack's. The new bar is spacious and well-lighted but beyond it is a room of daunting size--450 seats--with tall, tufted booths, a winding staircase, cathedral dome, a railed mezzanine, a splendid wall of back-lighted wines, and a main floor that was once clearly meant for dancing the night away.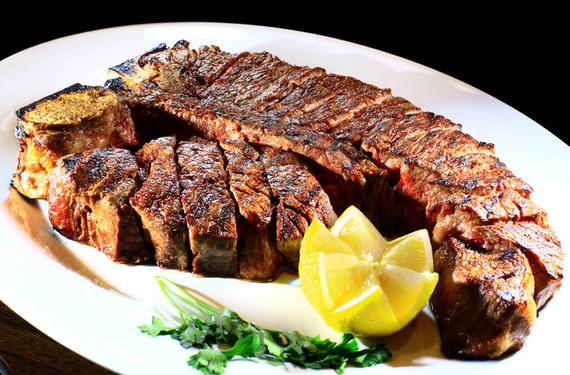 I'm not old enough to remember any of that history, but, upon entering, I took in a good sense off what the room must have been like back then, and I'm glad the current owners have maintained some of that art déco swank.
The 20-seat wine room is, however, new, with a huge glass wall of bottles stunningly lighted, with more than 400 selections, as well as a Single Malt Scotch list with over 100 selections. But I do wish the bar (below) was more committed to making classic cocktails correctly: It botched both a daiquiri and a whiskey sour by not using freshly squeezed citrus juice.
I have no quibbles though about the very rich, caramelized onion soup, thick with a gratin of cheese ($8.95) or about the bright red tuna tartare ($18.95) and jumbo crab cocktail ($21.95). The sizzling Canadian bacon ($5.25) is as wonderful as it sounds when it hits the plate.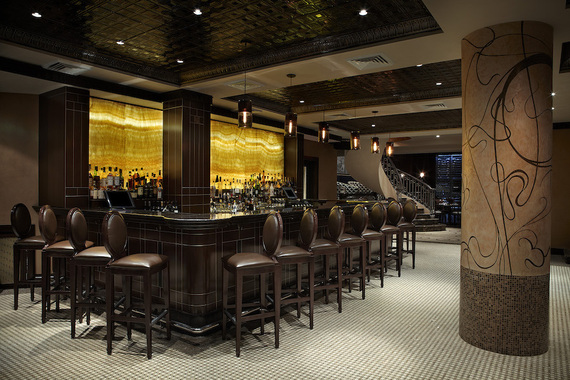 The featured item at Empire is the tomahawk ribeye steak ($64.95), a hatchet-shaped, massive piece of fat-marbled beef that can easily feed two people. The double rack of American lamb chops ($54.95) has both the heft and the richness of the best lamb, right down to its charred bones. I ordered a four-pound lobster (market price), impeccably steamed and tender as one could wish, its carcass cracked, the meat kept warm. Accompaniments included good creamed spinach ($10.95), fried onions rings ($9.95) and truffled mac and cheese ($15.95), though a large platter of steak fries ($10.95) were, at least that evening, limp.
For dessert go with the cheesecake or the Key lime pie, and maybe, in the spirit of the old Versailles, a glass of Cognac to finish off, with a toast to Edith Piaf.
Open for lunch and dinner daily
The opposite of Empire in size is the intimate and ingratiating new Four Cuts NY on First Avenue, which, ironically, also took over a Middle Eastern restaurant. Executive Chef Christopher Miller, previously at Bobby Van's and Ben Benson's, knows every aspect of cooking a great piece of beef, and he calls this a "boutique steakhouse" in Sutton Place for its size and cozy charm. I would use the rarely cited word "smart" for its walnut designer chairs, a garden wall, white tablecloths, excellent lighting, wall of faux books, and its cheery striped banquettes. This is not the typical, raucously loud steakhouse found so easily elsewhere, and all-around manager, captain, wine advisor and raconteur Gregory Edgehill is as congenial a fellow as you'll meet in a NYC restaurant.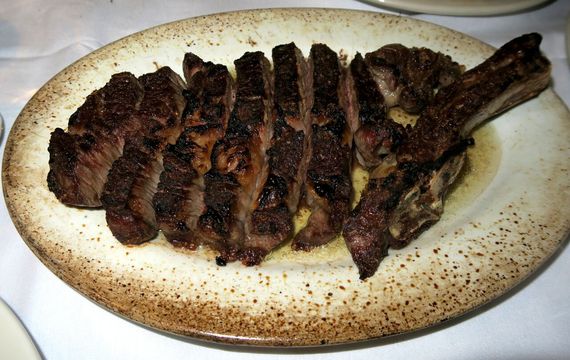 A shrimp cocktail ($19.95) was generous but the Jumbo lump crabmeat cocktail ($18.95) really seemed more the even larger Colossal grade, the sweet, briny lumps as large as figs and of superb texture. Some of that same lump crab went into the two good-sized crab cakes ($19.95), though there was a good deal more shredded crab and filler in them than I'd hope for.
The porterhouse for two ($46.95 per person) and the NY sirloin ($49.95) were juicy, resilient examples of Prime beef, said to be dry aged in Four Cuts' own off-premises locker. They put the perfect char on the outside while keeping the perfect temperature on the inside. They were out of lobsters that night, so I ordered Dover sole, which was of good size though it had a slightly chewy texture and bland flavor.
The crisp home fries ($6.95) and giant baked potato ($5.95) are bargains, and I could easily make a meal of the latter. Onion rings ($7.95) were crisp and sweet, and steamed asparagus ($11.95) were spring-like in flavor.
Only a single dessert is made on the premises, a lack that should be addressed by Chef Miller, who gives such personal attention to cooking quality ingredients so seriously.
So, if you are daunted by very large, very loud NYC steakhouses, Four Cuts, fitting quite snuggly into this tony neighborhood, may be just the civilized boutique alternative you're looking for.
Open for lunch and dinner Tues.-Fri, for dinner Sat.-Mon.
Related