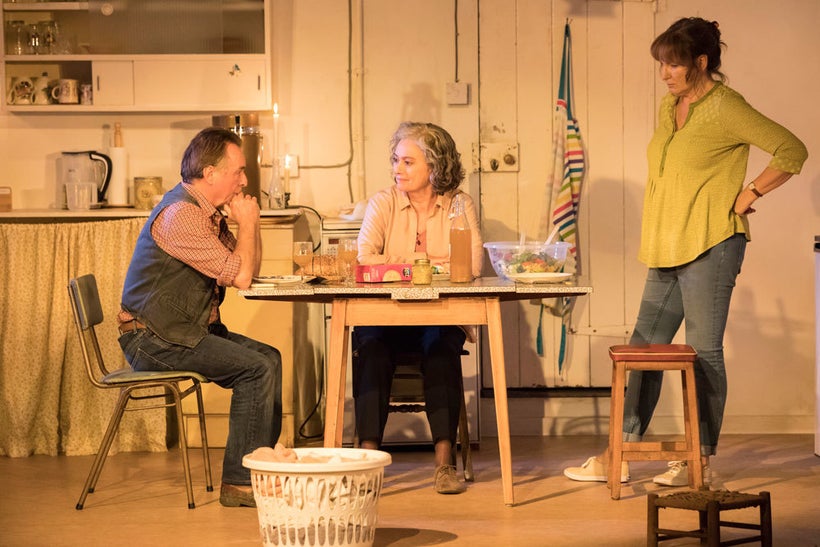 An excellent piece of theater, "The Children", by Lucy Kirkwood, now playing at the Samuel Friedman Theatre, proves to be a thought-provoking piece of microwaved meat with an outstanding cast of English pros cooking up an appetizing evening on the stage.
Rose, at the top of the play turns to the audience with a noxious nose bleed which indicates an ominous cloud hanging over the story from the get-go. A sense of discomfort permeates the air of the two lives before us, while the audience wonders about the dynamics of Rose and Hazel's relationship. For that matter what is Rose doing on the English seaside in the first place, after the two old friends who worked together 40 years ago, at the local nuclear power-plant, have not seen each other since then? We do sense something is wrong, as they chop away with easy, but tense banter while Hazel chops up a dinner salad. Then we become aware that Hazel's and her husband Robin's home by the sea are not far from their farm which has been hit with a Tsunami, and nearby the local power plant has had a breach. It's mayhem in the bucolic paradise of disaster. One would not consider these three inhabitants predictably hysterical in view of the circumstances; in fact, they seem mentally dubious during such a crisis, and in fact, we are led to believe that this love triangle from bygone days, between these three retired nuclear physicists is coming up for a second gasp of air in the middle of quiet chaos.
The Children's superlative cast which includes the always excellent Francesca Annis (Rose), who is daring and determined, the charming and natural Ron Cook (Robin) and the ever controlled and emotionally absorbing Deborah Findlay (Hazel) are all equally impeccable in this mysterious trinity of friends. Performances of such high quality never allow the audience to wander far, without bringing them back to what it is that Rose is there for without being engaged. One thing is for sure; it's more than one would suspect from the components which take us through the story-line of their lives for the past 40 years to the climactic end. This poignant drama, brought here from Britain's own impressive Royal Court Theatre by The Manhattan Theatre Club is a winner, with small but relevant flaws which did not escape me. Why would one have a farm so near the power-plant and not far from that, a cottage by the sea? The lack of distance did not justify being out of the contamination zone after a nuclear disaster and compromised the logic of the story. It would seem to be no less affected by the fallout whether within 10 miles of the plant or not. It did take a bit of time for Rose's agenda to be revealed, while it could have come a bit sooner with a bit more context, just a bit more fleshing out. That being said, it remains to be both an exciting and disturbing play with a deeply important message
Calling all HuffPost superfans!
Sign up for membership to become a founding member and help shape HuffPost's next chapter
This post was published on the now-closed HuffPost Contributor platform. Contributors control their own work and posted freely to our site. If you need to flag this entry as abusive,
send us an email
.