Even here in Santa Monica, close to the ocean, it's so damn hot right now. So, let's talk about something cool, very cool. How about the recently renovated Musée Picasso in Paris? Its remodeling was much too expensive and painfully protracted -- but putting all that aside, the museum's final presentation of its vast collection of Picasso's art is simply delightful.
My impression, when I visited the museum in April, was that its 17th century building feels twice as spacious as before, and the display of the artwork is much more adventurous. I was not planning to spend more than one hour at the museum, but there were so many artworks that I had not seen before. I happily lost track of time.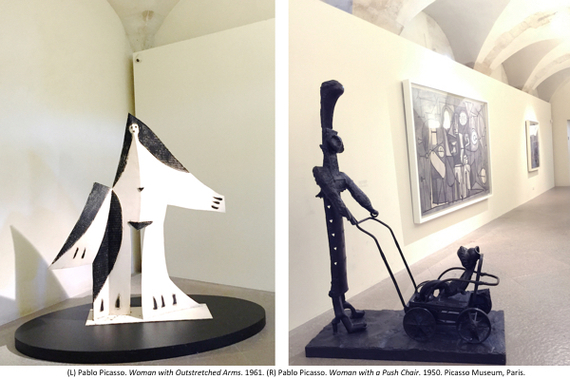 The presentation of Picasso's sculptures is particularly striking -- all of them come across as if they were created not a half-century ago, but yesterday. One of my favorite works is an almost life-size sculpture of a Woman with Outstretched Arms, which actually is made of a simply folded sheet of metal with white and black paint. The woman is naked, but there is something intriguing in the outline of her figure, which is reminiscent of a nun's habit. You look at it, and it comes across as both sacred and profane. It's up to you to decide...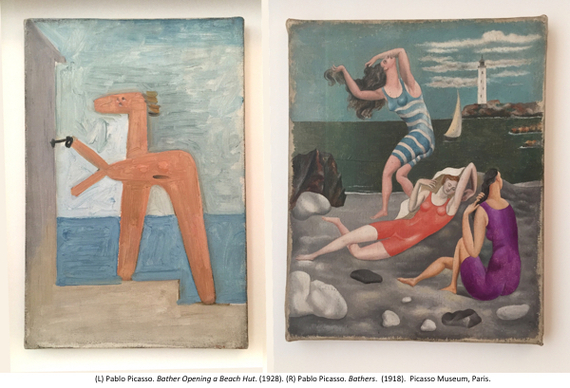 70 years of art making, and never running out of fresh ideas of how to tell a story -- what is Picasso's secret? No matter how sensual, or even extremely sexual his subject, there is always an element of humor, and even a touch of innocence. Take a look at the small painting, Bather Opening a Beach Hut. A strange naked figure attempting to turn a key -- half human, half horse -- looks like it either belongs in a children's book or... between the pages of an adult magazine? Pure Picasso.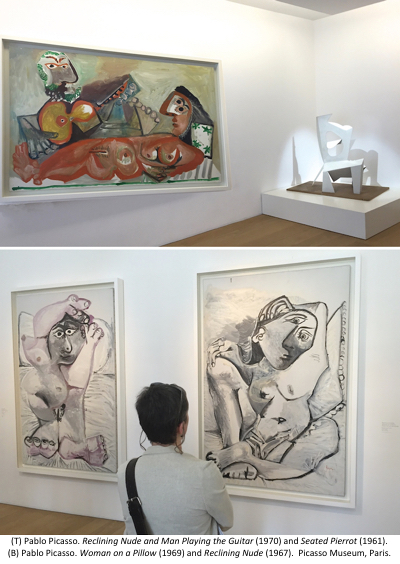 No one but Picasso can bring up the subject of sex with such a shocking level of boldness and brutality. Once again, I urge you to take a look on our website at some of the paintings I photographed at the museum -- but, be sure that neither your in-laws or children are standing nearby. In the hands of a less genius artist, it would be pornography. But, Picasso aims for so much more than simple titillation.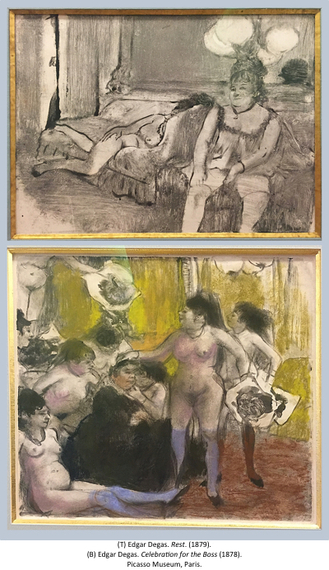 One of the surprises at the Picasso Museum was to see a display of his private collection of works by artists he admired -- among them, Degas' scenes from brothels. Obviously, these were an inspiration for many Picasso works. After seeing more than a hundred of his artworks, I left the museum with the feeling that one simply cannot see or have too many Picassos.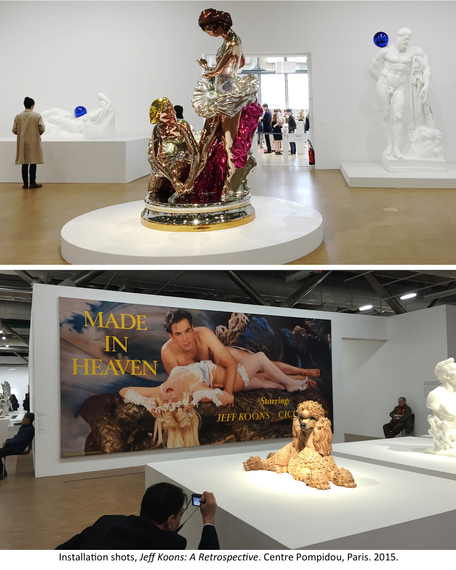 But, this definitely was not the way I felt visiting the sprawling retrospective of works by Jeff Koons at the Centre Pompidou. Koons is one of the best-known contemporary artists, and his works command astronomically high prices. But the intentional banality of his subjects -- in spite of the technical virtuosity of the execution -- creates a tiresome affect. Usually, I look at most of his shiny sculptures with amusement for a second, but they never hold my attention longer than that. Even his most provocative paintings and sculptures where he shows himself having sex with his former wife, Italian porno star Cicciolina, do not have enough drama to sustain one's attention. Probably, one of the reasons is that Jeff Koons is simply in love with himself more than anything or anyone else.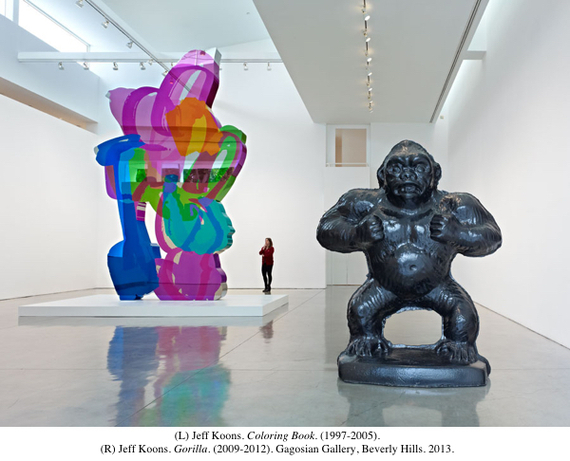 Curators of his travelling exhibition would do much better service to the artist concentrating on a few of his strong works, instead of showing a multiplicity of the art produced by his factory-like studio with a couple hundred assistants. A few years ago, Gagosian Gallery in Beverly Hills had an exhibition of just two Koons sculptures and each of them was a knock out. One was a multi-ton black granite sculpture of a gorilla that you could swear was made out of inflated plastic. Another was a color book made of stainless steel that looked as if it was made of translucent glass. That was the first time in many years that I have encountered a work by Jeff Koons that truly engaged me.
To learn about Edward's Fine Art of Art Collecting Classes, please visit his website. You can also read The New York Times article about his classes here, or an Artillery Magazine article about Edward and his classes here.
Edward Goldman is an art critic and the host of Art Talk, a program on art and culture for NPR affiliate KCRW 89.9 FM. To listen to the complete show and hear Edward's charming Russian accent, click here.
REAL LIFE. REAL NEWS. REAL VOICES.
Help us tell more of the stories that matter from voices that too often remain unheard.