Click here to read an original op-ed from the TED speaker who inspired this post and watch the TEDTalk below.
As fate would have it, David Blaine was sitting next to me on the plane.
Blaine was giving a talk at TEDMED, the same conference I was heading for. He was tall, with big hulking shoulders. But his hands were slender -- almost feminine. He was holding a deck of playing cards, pacing through them slowly. Two of hearts, three of hearts, four... each one was marked with notes for his talk.
I had only known Blaine as "some famous guy" who was always trying to get himself killed on national TV. After burying himself, freezing himself, or submerging himself in water for a week, I expected him to be powerful, dark, and grim. But actually, he seemed pretty normal. And nervous.
TEDMED was David Blaine's first public talk. He swore it was the scariest thing he'd ever tried. He'd rather hold his breath for 18 minutes than give a talk that long.
Blaine might be famous, but he'd always had something between him and the audience before: his magic. Take away the glass coffin, the giant block of ice, or his card tricks... he was anxious.
No judgment or pressure. An invitation. And I discovered that what seemed like a death wish was actually his mantra for living life. For him, the act of trying is sacred. -- Lisa Shufro
I watched him write and rewrite the notes on his cards again and again. In some ways, he thought the process he'd gone through wasn't exciting enough to share with anyone. It was just a series of logical steps to his goal.
Blaine is obsessed with logic. For "fun," David would start shooting brainteasers at me rapid fire. It was a little nerve-wracking, to be honest. But if I hesitated for fear of failing, he'd suddenly become very gentle.
"Just try," he said, "It's okay. You'll get it."
No judgment or pressure. An invitation. And I discovered that what seemed like a death wish was actually his mantra for living life. For him, the act of trying is sacred.
"You know, D," I replied, "You're not at all what I thought you'd be like."
He smiled and turned back to his cards.
Once we were at TEDMED, David would come out at night and perform magic until the wee hours. From behind the safety of his cards, he was totally at ease.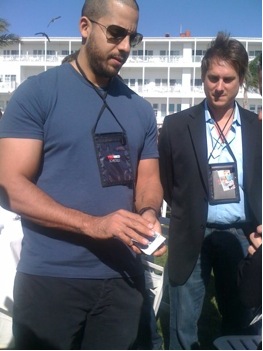 But during the day he would watch other talks for a few minutes, turn white and disappear to work on his talk. It was killing him to tell this story.
As I got to know him better, I realized that he was challenging himself to do something a magician never does: go on stage to reveal an intricate web of failures. The opposite of magic.
When he gave his talk, David's vulnerability affected all of us profoundly. He reminded us of the untapped possibilities we all have in us -- if we get past the fear of losing ourselves in the process.
When it was all over, he gave me this card. It was the first card from one of the dozens of decks he sacrificed in the preparation for his talk: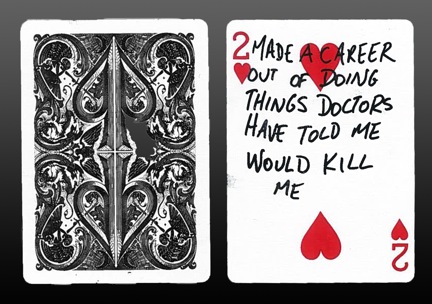 Meeting David challenged many misconceptions I had about him. And about my own limits.
Two years later I gave my first talk in public from the stage of the Kennedy Center Opera House. In front of two hundred thousand people. Many of them were accomplished doctors and scientists. I was now the Managing Editor of TEDMED -- without a formal degree in science or medicine.
As a musician, I'd been on stage thousands of times. But never without a violin between the audience and me.
Right before going on stage, my words drained from my mind. I started holding my breath.
I pulled the card out from my pocket. It reminded me that famous or not, everyone gets scared when they risk failure -- even David Blaine.
As I walked on stage, I started to breathe again. I was ready for the next step.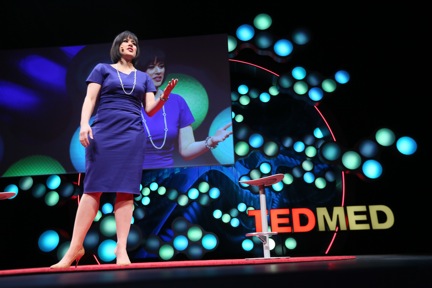 Ideas are not set in stone. When exposed to thoughtful people, they morph and adapt into their most potent form. TEDWeekends will highlight some of today's most intriguing ideas and allow them to develop in real time through your voice! Tweet #TEDWeekends to share your perspective or email tedweekends@huffingtonpost.com to learn about future weekend's ideas to contribute as a writer.
Related
Popular in the Community