Fifteen year-old Sumaya worked at Tazreen Fashions Ltd, sewing clothes for Wal-Mart and Sears, until last November 24, when the factory was gutted in the most deadly fire in the history of Bangladesh's garment industry. Sumaya escaped the blaze by jumping form a window, but at least 112 of her coworkers did not. Management had bolted the doors shut.
The site of the factory, Nischintapur -- which means "Place of Security" -- is now a haunted village. The dusty playing field of the elementary school is where the charred bodies waited to be claimed. Fifty-three were too badly burned to be identified, and were buried in a mass grave. Throughout the village, people carry small photographs of their dead, and the names of the dead have been painted on the doors of their houses.
Sumaya, her family's primary breadwinner, survived the fire. But after receiving basic surgery for trauma to her face, she began to experience nosebleeds. Her right eye began to bulge and lose vision. These symptoms suggested more than an injury, but a proper diagnosis wasn't made for months. In July 2013, a biopsy confirmed that she had a rare and difficult-to-treat cancer, inflammatory myofibroblastic tumor (IMT). Slipping into depression, Sumaya stopped eating and asked to go home to die.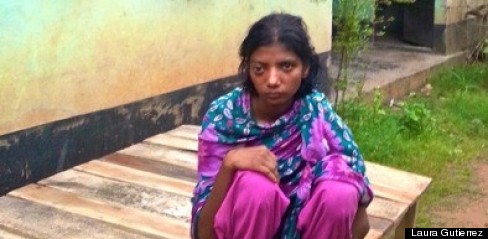 Compensation for Some, Not All
In April 2013, Bangladesh's garment industry experienced another catastrophe: the Rana Plaza collapse. Over a thousand people perished and thousands more received life-debilitating injuries, compelling international retailers to start changing their relationship with Bangladesh's industry. Yet these new initiatives are largely nominal and toothless. While several retailers have signed the "Bangladesh Building and Fire Safety Accord" that will ensure a more sustainable and accountable industry, major US retailers such as Walmart and the Gap have refused. Likewise, many global retailers have verbally committed to compensating the victims of Tazreen -- except Walmart.
Within Bangladesh as well, where the garment industry is publicly hallowed as the prosperity and development, the attitude is criminally laissez-faire. Members of the BGMEA -- the association that promotes the interests of the garment industry -- also occupy senior government positions, ensuring that the industry goes unregulated and continues to profit. Meanwhile, Bangladesh's Prime Minister Sheikh Hasina absolves the government and industry of responsibility and wrongdoing: "Anywhere in the world, any accident can take place. You cannot predict anything." Despite demands from victims and activists, the owner of Tazreen Fashions has yet to be arrested or tried for criminal negligence in the deaths and injuries.
Some funding has been distributed, but has been inconsistent, insufficient, and not mandated by law, further perpetuating the unsound relationship between company and worker. Companies, the BGMEA, and the Bangladeshi government have provided the equivalent of $7500 to some families, yet most go uncompensated. Without specific accounts of such donations available, these funds provide only a false sense of closure. By July 15, the Criminal Investigation Department (CID) had completed their investigation: twenty-four workers are still unaccounted for, despite the timesheets and pay stubs they left behind. Their families are left without answers or compensation. Meanwhile, thirteen graves at Jurain Cemetery near Dhaka remain unidentified. Families who have lost not only their loved ones but also their family income must now cope with official denial of the simple fact of their relatives' existence.
Small voluntary donations cannot replace genuine compensation, although it may briefly alleviate the sense of guilt on the part of those responsible. Further, philanthropic giving circumvents traditional labor relations and accountability between employer and worker. Those responsible -- the factory owners, the brands, the BGMEA -- rely on this exemption from legal accountability to maintain the status quo.
One of the most vocal advocates from Nischintapur is Mokitul Islam Matin, whose older sister Rehana died in the Tazreen fire. Her body was among the charred unidentifiable and unclaimed, which meant that the family's loss remains uncompensated. Matin was himself a garment worker until he quit in order to pursue justice for his sister.
By the end of January, DNA tests on the missing Tazreen workers had been completed. Rehana's was not among them. Within a few months, Matin's perseverance to prove that his sister had existed and died would lead to death threats against him and his family. He has gone into hiding.
Compensation for the injured has been even more difficult to discern. Injured workers, like Sumaya, who left Nischintapur soon after the fire were never accounted for. Many workers who are now developing symptoms either do not associate them with the fire, or are unable to prove it in order to obtain compensation.
Who is Responsible for Sumaya?
Sumaya, with her mother by her side, remains in their one-roomed home. The cancer was unusually aggressive: the mass has invaded her brain and doctors recommend palliative care. They speculate that the blunt trauma contributed to the cancer's rapid spread. Further, the lack of proper and timely medical care she was able to receive after surviving the disaster is responsible for the delayed cancer diagnosis and her subsequently aggravated condition. Still, the BGMEA, the government of Bangladesh, and the retailers that we North Americans support every day are under no obligation to help her.
Sumaya's medical tragedy, Matin's search for justice, and the community of Nischintapur's attempts at recovery are far from merely anecdotal: they illustrate the ways that local, national, and global politics and economics dictate the lives of the very poor, in Bangladesh and beyond. They also call for global accountability.
Disasters like the Tazreen fire and the Rana Plaza collapse are the most startling and publicized examples of the garment industry's inherent disregard for human life. But this is only revealed only when public outrage outweighs financial imperatives. Workers like Sumaya and Matin, matter most when they are either exploited labor, or when which when their suffering is given weight in the initial outcry after a disaster -- but not later, when the immediate calls for justice have waned, when we settle back into the uneasy, accepted knowledge that "this is just the way the world is."
Related
Popular in the Community