Whether you're planning a wedding reception, bridal shower or backyard event, classic white dishware can be an instrumental piece to creating your beautiful tabletop. Its friendly-to-look-at, amorphous character makes it suitable to be used in a variety of ways. We were able to develop five distinct styles with white dishware as the centerpiece, classified below as rustic, vintage, traditional, modern and storybook.
We teamed up with celebrity florist, Mark Held, and vintage rental wonder, Laura Clausen, to bring this project to life. Seek inspiration from some of our favorite industry pros, and voila: You'll have a tabletop detailed to perfection!
Rustic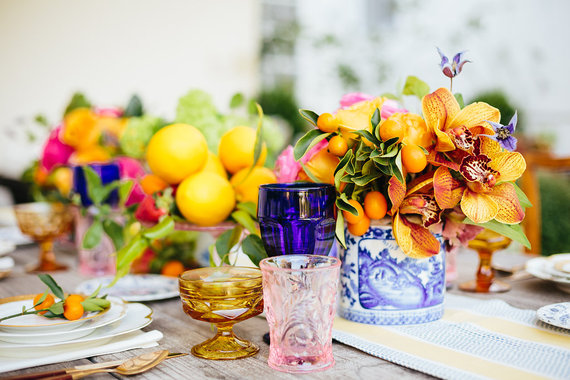 To pull off the rustic vibe with cachet, we paired classic blue glass with white china and complemented them with robust fruit and flowers. The wooden flatware added a layer of casualness, instilled the overall design with an outdoors, orchard-inspired feel. So simple and timeless!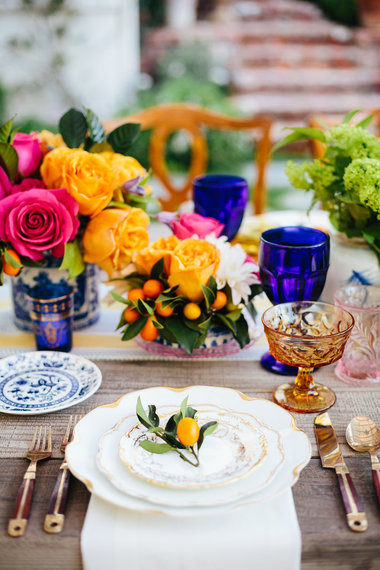 The team at Mark's Garden played with colorful florals and varieties of garden roses, citrus, strawberries and viburnum. By way of jaunty, vibrant colors, the end effect was flashy but also had a serene and complete feel to it.
Vintage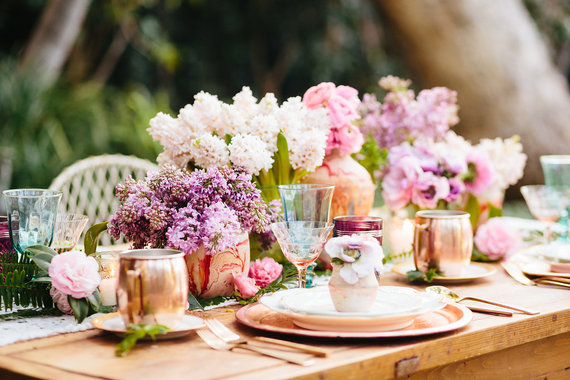 With the vintage look, the objective was to create something simply irresistible that took the party back in time. We went retro by using Nemadji pottery, which served as the perfect backdrop to Love Detailed's copper mugs and plastic glassware.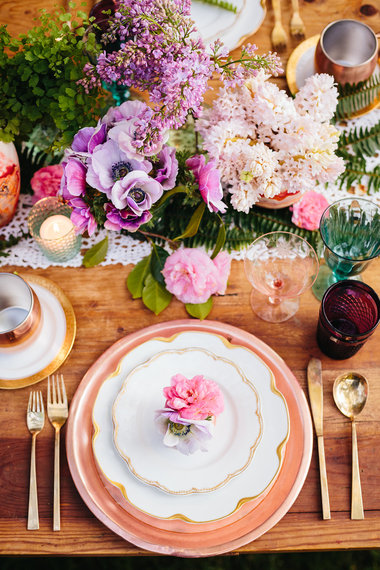 Colorful glass and vintage fabrics were the main elements used to develop the vintage look in floral. Alluring but muted tones of lavender, pink and ivory created what seemed to be French Impressionist's painter's pallet on this table.
Traditional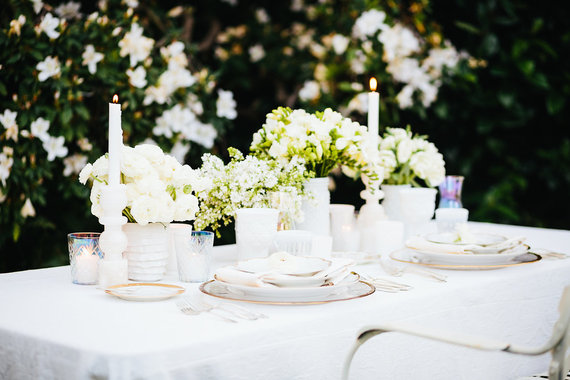 A classic look that no wedding lover will ever be disappointed with! We appreciated this theme for its understated formality, and chose to use gentle, soft colors rather than loud ones. We combined the white landscape with gorgeous La Tavola linen, then added Dish Wish marble candlesticks, iridescent stemware and Love Detailed milk glasses. By using silver flatware and gold-rimmed plates, we doubled down on the design's lush elegance.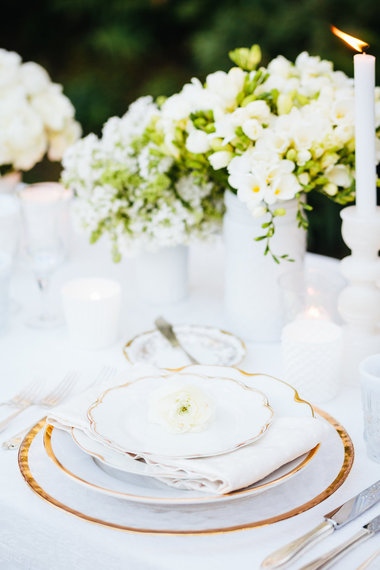 When going for the traditional look, there's a whole array of reliable options that have delighted wedding guests for decades. We referred to some of them here, going with white lilac, ranunculus, tulips -- imbuing the table with elegant hues of white all the more.
Modern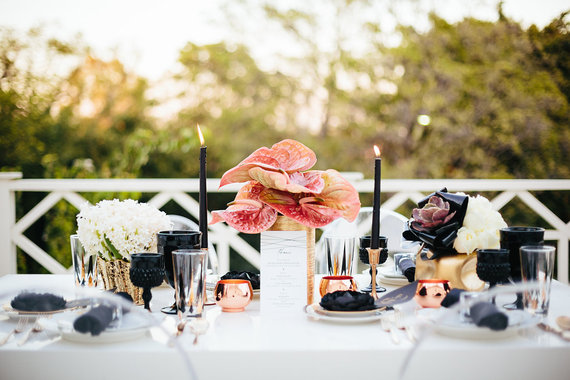 The modern look required a methodical use of color and ornaments. The pivotal decision was the inclusion of the Lucite Love Detailed napkin rings, which we accented with bold, contemporary metal. We created a sensational concoction between Love Detailed's copper votives, Dish Wish's brass candlesticks and flatware, and Mark Garden's gold vessels.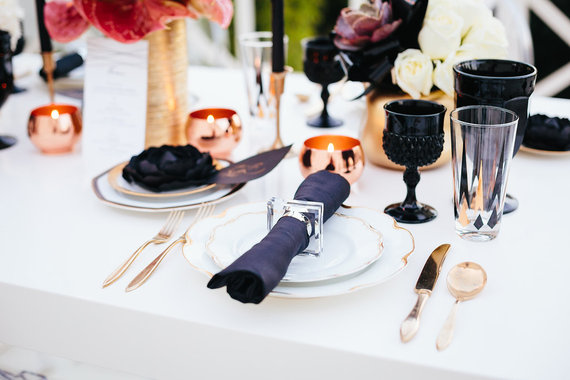 Candlesticks and architectural containers in varied shades of gold made for the perfect balance to the dark dishware. For florals, we rocked an amalgamation of white, soft blush, marsala -- Patatone's color of the year -- and touches of black to highlight the essential use of black in this modern theme.
Storybook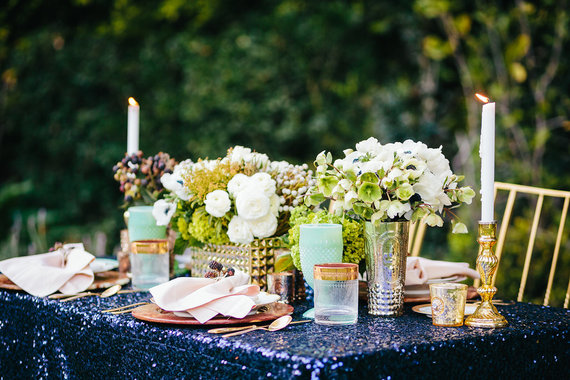 In this design we created a surreal visage, fusing elements of white, navy and gold, and even a shade of jadeite. We fell in love with the blue sequin here, both for its texture and its sparkle against the gold flatware and dish rims. The marble chargers from BBJ Linen made for a jaw-dropping juxtaposition to the flashy tablecloth and mercury glass vessels. Lastly, we tied it together with organic blackberries.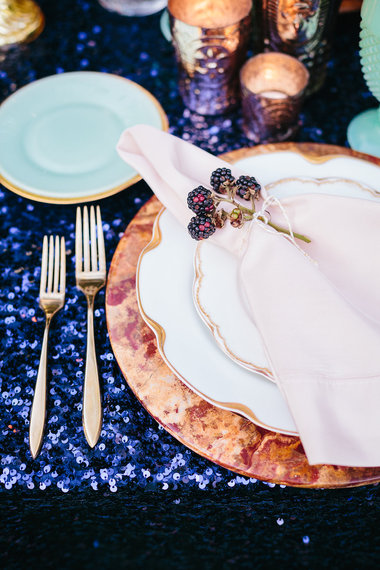 Dreamy elements served as a source of inspiration for the Storybook look. We used several whimsical and ethereal flowers, like immature hydrangea, anemones, ranunculus, brunia berries and helleborus. Planted atop navy linen sequin by La Tavola, Mark's Garden left its acclaimed insignia on this design.