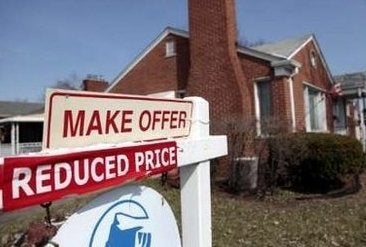 Nearly half of the permanent home loan modifications under the government's plan to help troubled borrowers come from a single company that handles less than three percent of the eligible mortgages.
The rest of the mortgage servicers enrolled in the government's Making Home Affordable program -- including multi-billion dollar bailout recipients Bank of America, JPMorgan Chase, Wells Fargo and Citigroup -- converted just 948 trial modifications into permanent ones.
More than 72 percent of Ocwen's 1,058 borrowers who went through the trial process received a permanent reduction in monthly mortgage payments, the company says. The average for all servicers stood at a paltry 1.26 percent, according to a recent Congressional watchdog's report. Ocwen noticed its high conversion rate after being contacted by the Huffington Post.
For a company that has been dogged by allegations of improper conduct towards borrowers, the news is one of the few bright spots to emerge from an otherwise dreary report by the Congressional Oversight Panel (COP), the Elizabeth Warren-led body created last year to watch over the bailout.
"The crisis has made them look good," says Alan White, a law professor at Valparaiso University who has written extensively on mortgages and foreclosures. "[Ocwen] seems to have gotten ahead of the curve."
Meanwhile, JPMorgan Chase and Wells Fargo declined to reveal the number of trial home loan modifications under the government's program that have become permanent; Bank of America didn't respond to an e-mail seeking comment.
White suggests that the banks are reluctant to reveal the data because the number is embarrassingly low. He adds that the Treasury Department "should start firing the under-performing servicers and bidding their work out to the successful companies."
Based on company-provided figures, Ocwen appears to fall into that select group. Thus far, most of its temporary modifications are becoming permanent. And the rate at which its modified loans redefault after six months -- 24 percent -- is nearly half the rate of the entire industry, according to a report released by federal regulators last month.
But COP cautions that the permanent figures are "very preliminary." A spokeswoman for Treasury, Meg Reilly, says the sample size is not large enough to draw conclusions regarding conversion rates, since more than 95 percent of trial modifications have yet to reach the deadline for converting to final modifications, she adds.
Here's why: Permanent modifications under Obama's Home Affordable Modification Program (HAMP) first go through a three-month trial period. Since the COP and Ocwen figures are as of Sept. 1, that means that those permanent modifications entered the trial phase back in April and May. As of the end of May, 50,130 borrowers were in trial plans (there are now 500,000). The low number of permanent modifications is partly due to the fact that "the initial volume of HAMP trial modifications was quite low," the COP noted in its report.
Even at this preliminary stage, the low number of permanent modifications is still shockingly low. Warren's panel said it is "concerned about the low rate of conversion from trial to permanent modifications." Unless the rate increases "substantially... HAMP will come nowhere close to keeping up with foreclosures."
The panel's report discusses possible reasons behind the low conversion rate, including data reporting issues and the failure of borrowers to comply with the program, like making timely payments. One issue stands out: "the difficulties servicers have in assembling completed documentation on modifications commenced on a 'verbal' or 'no-doc' basis."
As the report points out, Treasury permits servicers to rely on a borrower's stated income in order to get them into a trial program. Full documentation is required for a permanent adjustment, but for those first three months a borrower doesn't need to prove income or debt levels, an ominous parallel to the lack of vetting applied to many mortgage borrowers during the housing boom.
Ocwen is different, says Paul Koches, general counsel and an executive vice president at the firm. The Florida-based mortgage servicer requires all documentation to be in place before putting a borrower in a trial modification, Koches says. It also requires the first month's payment (rather than setting up the plan, and then collecting modified payments for the next three months).
"We trust but verify. We don't do trial modifications until we're locked and loaded," Koches says.
The documentation requirement helps explain the firm's high conversion rate. Koches adds that it also is one of the main reasons behind their borrowers' comparatively low redefault rate. Having the paperwork in place before the trial plan starts also helps account for why so few of the firm's loans have been accepted into the trial program.
The firm views the Obama plan as a way to make money: Ocwen says modifications under the government's plan will generate more revenue for the firm than non-government-backed modifications, according to its latest quarterly filing with federal regulators. Servicers get a bonus when a borrower's trial plan becomes permanent, then additional bonuses during the next few years if the borrower stays in the program. And as more trial modifications become permanent in the next few months, Ocwen expects even higher revenues.
Since government-backed modifications are part of the Obama administration's $75 billion foreclosure prevention plan, Ocwen could get as much as $656 million from taxpayers for its modification efforts.
White of Valparaiso University adds that the firm, in contrast with its bigger competitors, may have already had the internal systems in place to turn temporary modifications into permanent ones. Ocwen specializes in subprime mortgages -- about 85 percent of the 300,000 loans it services are subprime -- which traditionally have higher delinquency and foreclosure rates. Because of that, the firm may have had experience in modifying loans, thus it was better prepared when the housing bubble burst.
Big banks like Wells Fargo and JPMorgan Chase, though, aren't used to modifying loans, White says, so now they're struggling to keep up. However, he adds, the housing bubble burst two years ago; the banks should have been at least partly ready for the onslaught of delinquent mortgages and loan modification requests.
White also brings up an interesting statistic. He looks at the 1,711 permanent modifications as mortgage loans that entered the trial phase by the end of May. At that point, there were 50,130 trial modifications. So according to White, a little more than three percent of trial modifications became permanent.
(Treasury and COP note that many of those temporary modifications may be in process of getting paperwork submitted in order for them to achieve permanent status. Treasury granted a two-month extension -- on top of the three-month trial -- for borrowers and servicers to get their documentation ready.)
Taking out Ocwen's numbers, the rest of the servicers in Obama's plan were responsible for just 948 permanent adjustments out of 49,072 trial modifications, or a temporary-to-permanent conversion rate of less than two percent.
Elizabeth Warren's panel said that permanent modifications that do not redefault will be key to preventing foreclosures -- HAMP's only goal. To make the point, the panel's report noted that in August there were more trial modifications than completed foreclosure sales.
"While this is cause for some measured optimism," the panel cautioned, "unless August trial modifications convert to permanent modifications at a rate of 80 percent, a far cry from current conversion rates, permanent modifications will not keep pace with completed foreclosure sales."
Support HuffPost
The Stakes Have Never Been Higher
Related
Popular in the Community