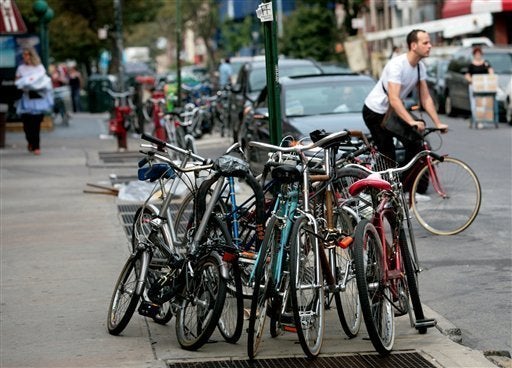 While there are only around 240,000 tickets to next week's Inauguration, some estimates predict more than a million people will show up to line the streets of Washington D.C. from the end of the Capitol all the way to the Lincoln Memorial.
One person that doesn't have a ticket certainly deserves one. Ryan Bowen decided to ride his bike from Los Angeles to Washington D.C. to attend Obama's swearing-in ceremony. That's 50 days of cycling up to 150 miles a day in order to get to the goal.
Bowen was a bike commuter but not a long-distance rider before he started his trip. He's gotten in shape on the road, he told the Star News Online, inspired by Obama to make the trip.
He's been aided by plenty of strangers along the way providing both food and overnight lodging. Now Bowen's nearing his goal, having made it to Wilmington, North Carolina yesterday. All told, he will have cycled some 6,400 kilometers to get to the Inauguration.
Bowen is hoping that some way, some how, the nagging issue of the lack of ticket will be resolved once he hits D.C.
Luckily, the city is giving bicycles pretty good treatment for the ceremony and the festivities. Vehicular traffic will be severely curtailed, but bikes can get through. The Washington Area Bicyclist Association is even providing two valet parking stations for bikes at either end of the Mall.
From his Biking for Obama web site, Bowen is inviting cyclists to accompany him as he rolls into the city. He's also formed a bike-share program for the Inauguration weekend, and is calling on all local cyclists to offer any extra bikes for people who would like to ride to the event but don't have their own two-wheelers.
What's so inspiring about Bowen's ride is that in underscores two great trends - people's enthusiasm for the incoming Administration and its change agenda, and 2009 as a banner bike year!
REAL LIFE. REAL NEWS. REAL VOICES.
Help us tell more of the stories that matter from voices that too often remain unheard.