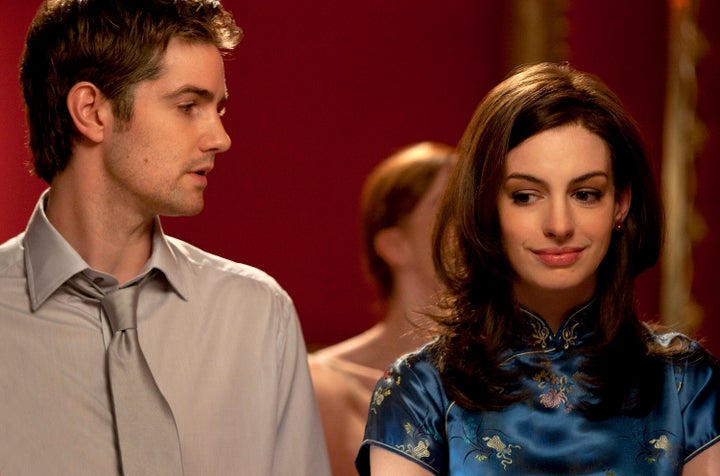 Jim Sturgess has been here before.
The first time was in 2007, when Beatles musical "Across the Universe" catapulted him to the spotlight. Then in 2008, Sturgess co-starred in "The Other Boleyn Girl" and starred in "21," both of which enjoyed box office success.
Do you remember his name? If you do, you're in the minority, because all three times the British actor has quickly slipped out of the embrace of Hollywood stardom. Perhaps it's because he morphs into different roles so effortlessly, we can't even remember who he is beyond a "I know that guy!"
Three years since his last "big" role Sturgess is back in the same place, starring in a major motion picture, this time opposite Anne Hathaway in "One Day," a romantic tragicomedy that opens Friday.
The 30-year-old Sturgess is refreshingly unaffected and agreeable to talk to -- even over the phone, his good manners are unmistakable. He stopped twice to apologize for the inconvenience -- once when our phones disconnected, and again when he was whisked out of his car and off the call -- all amid a disorienting torrential downpour in New York.
"I could see when I was filming '21' that it was going to go a direction I wasn't comfortable with it going," Sturgess explained, in regards to his near-fame. "After '21,' I was given the opportunity to make some choices and help finance some films."
Those choices included a string of independent films, including "Crossing Over," a drama about illegal immigrants in Los Angeles, "Fifty Dead Men Walking," a take on Ireland's violent history and prisoner-of-war drama "The Way Back."
Most of Sturgess' films have been so polarizing, critics are too busy choosing a side to focus their attentions on his acting -- the most noticeable thread has been a lack of noticing. Given how quietly Sturgess shifts from one role to the next, each one radically different from its predecessor, it's likely most reviewers have to look up his name every time he's in a movie just to recall what he was in last.
A New York Times review of "Fifty Dead Men Walking" noted that "Mr. Sturgess's Martin is almost unrecognizable from the Paul McCartney-John Lennon-like hybrid he embodied so appealingly in 'Across the Universe.'" The Guardian called him "terrific" for the same role, "relaxed and note-perfect as the opaque McGartland."
In "One Day," Sturgess is once again unrecognizable as Dexter, an exasperatingly arrogant young man who sort of stumbles into success as a TV show host, a job that requires him to play an even more exaggerated version of his character. This trait was partially what drew him to the role.
"Dexter was interesting -- flawed and sort of fake and in need of attention," Sturgess said. "Arrogance comes out of an insecurity, and it was just working out what those insecurities were."
The film follows Dexter and Emma, polar opposites who forge a lifelong friendship (and if you haven't seen the poster, or ever seen a movie, they form an attraction, too) after spending one day together on July 15, 1988. For the next 20 years, the plot hops around as we watch our star-crossed pair weave apart and back together when they meet each year on July 15.
In his own life, Sturgess has never quite had an experience he could relate to his character's. He's been with his girlfriend, Mickey O'Brien -- keyboardist for synth-pop group La Roux -- for the past seven years.
"I can relate to the friendship part, but my best friend's my girlfriend, you know what I mean?" Sturgess explained.
The two make such a good pair, they even manage to collaborate. Sturgess, who has a history as a musician, is currently working on an album with O'Brien, under the band name Tragic Toys.
"Out of all the times I've written music with people it's been easier with her -- she's a lot more talented than myself," he said graciously.
Contrary to his own temperament, playing someone so openly full of themselves sounded fun to Sturgess. But in reality, it's a difficult thing to fully embrace when you also have to extract some sympathy from your audience.
"It was hard," he said. "In the book you really get to spend a lot more time with him and he becomes a bit more excusable -- for the film you have to try to find a real fine balance, knowing when to push for more of the arrogant side and knowing when to expose the more vulnerable side."
The more challenging part of the film, however, was the plot itself, which doesn't move continuously, but jumps around from one year to the next with hardly any warning.
"There was one day that I played the youngest version of Dexter and the oldest version all in the same day," Sturgess said, likening the experience to making a new short film every day. Out of these "short films," the period Sturgess enjoyed most is sure to win him some sympathy points.
"I actually enjoyed the scenes with the young girl who played Jasmine," Sturgess said. "I really enjoyed pretending to have a daughter, and I like working with young people and trying to make it believable for them. You have to work a bit harder when you're with kids."
What's key here is that, for Sturgess, enjoyable work equates to more challenging work. Take one project he signed on for with Michael Winterbottom ("A Mighty Heart," "The Trip") -- "Promised Land." The film traces the lead up to the 1948 division of Palestine and creation of the state of Israel. Talk about politically charged. "Across the Universe" was driven by a political climate, as were "Crossing Over," "Fifty Dean Men Walking" and "The Way Back," but none come close to the nerves being touched here.
Sturgess would be at the center of the storm, starring as a British officer going after extreme Jewish factions that were fighting to create Israel.
"It's always interesting to me to tell stories that come from difficult political climates," Sturgess said. "I thought it was a well-written script, and it really focuses on a human story within a controversial subject matter."
Whether the film even gets made is another story, as its apparently struggling to get financed at the moment -- "It's a hard film to get made because it is so controversial," Sturgess noted.
Regardless, merely coming near a film like this would be career suicide for most stars -- not that Sturgess seems to mind. It's a telling choice though, one that shows us he's is a character actor first, who's willing to make some risky choices -- sometimes they pay off, sometimes they don't, and some days, his world collides with stardom.
Calling all HuffPost superfans!
Sign up for membership to become a founding member and help shape HuffPost's next chapter