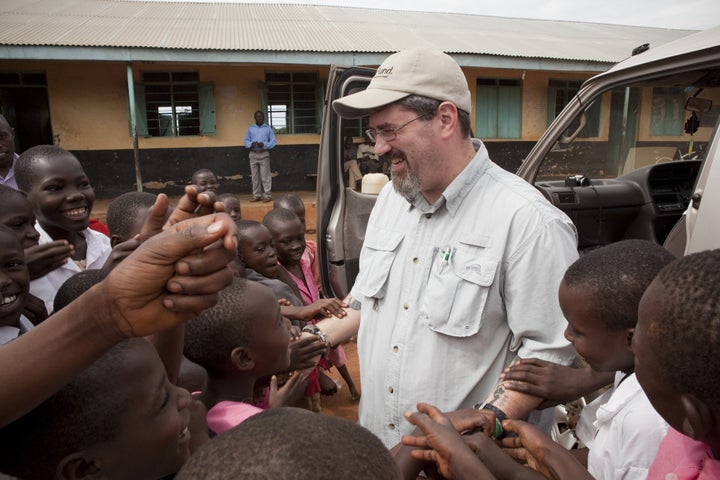 Some months back we joined with the alliance of ChildFund sister agencies around the world in commissioning a global survey of the world's poorest children. We asked 10- to 12-year-olds in more than 30 developing countries a series of questions about their lives, giving voice to children whose opinions are rarely sought and often overlooked.
One of the questions was, "What do you need most?" Two answers stood out from the rest: food and education, one speaking to their immediate needs and the other perhaps to their longer-term hopes. Two-thirds of the children said they were hungry -- either for food or to learn.
Overlooked in the results was this finding: one in every 10 children living in the Americas said that what they needed most were shoes. Shoes. Remember, they could have chosen anything. But when asked to name the one thing they needed to make their lives better, many of the children of Bolivia, Ecuador, Guatemala and other developing nations in our hemisphere confided that what they most wanted was the capacity to walk without exposing their bare feet to the elements. Pick anything, and they chose shoes.
Those findings came to mind a few weeks back when ChildFund participated in One Day Without Shoes. The global effort was designed to raise awareness about the millions of children who spend their days barefoot, inviting all manner of discomfort and danger. No shoes means children's feet are exposed to diseases, cuts, bites and infections. A ChildFund study in 2010 found that an estimated 15 percent of school-aged children in developing countries have hookworm, ringworm and other parasitic diseases due to bare feet.
Shoeless children bear other burdens beyond obvious health and safety issues. In many schools throughout the developing world, children are required to wear uniforms and shoes. No shoes means no education, a consequence that compounds the physical hardships of going shoeless.
But those physical hardships were on full display around our offices on One Day Without Shoes. The usually benign parking lot became an obstacle course of dangerous terrain. The carpeted hallways held potentially harmful items -- staples and thumbtacks -- and the jagged edges of desks and chairs kept threatening unsuspecting toes. Those of us who encountered a snake near the front door, an unfortunate coincidence if there ever was one, felt particularly vulnerable (read: we were terrified). Even within the comfortable confines of a suburban office park, going shoeless was more of undertaking than we could have imagined.
Our day-long adventure reinforced the point: shoes may be a luxurious indulgence for many Americans, but take them away and not only do you forego any degree of comfort but you also expose yourself to painful repercussions. The roads and villages within the developing world are no less forgiving, no less threatening.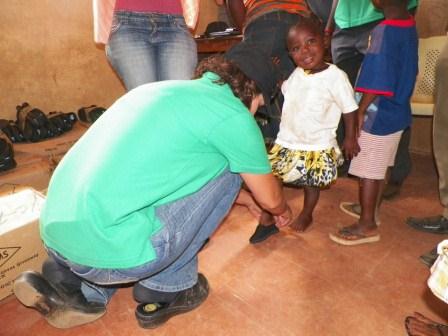 A little girl is fitted for new shoes, through the TOMS partnership with ChildFund International.
ChildFund has been pleased to work with TOMS in helping provide new shoes to children without them. In Liberia recently, we delivered TOMS Shoes to three communities as part of TOMS One for One™ model. (For every pair of shoes sold, TOMS gives a new pair of shoes to a child in need -- not just once but over and over again as they grow.) The children had been pre-sized, and on the day the shoes were delivered, one community showed its appreciation by throwing a big festival. Imagine, a festival to greet the arrival of a shipment of shoes.
One Day Without Shoes reminds us that days without shoes can run into years. It reinforces the threatening conditions that millions of children endure each and every day and underscores the limits put upon them for having to go barefoot. And there is an emotional element not to be overlooked: giving children new shoes bestows on them a greater feeling of self-esteem, a sense of dignity that is an essential human quality for all of us.
Popular in the Community