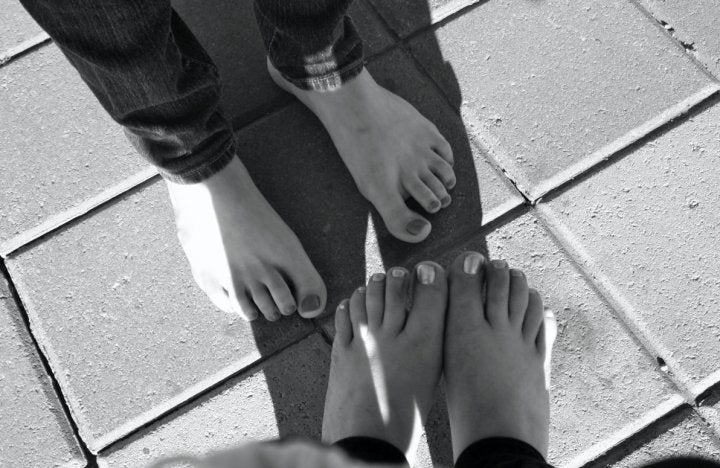 If you ever have the pleasure of visiting Claudy Dalegrand at his home just south of Cap Haitien, Haiti, be sure to wear a good pair of shoes. To get to Claudy's house, you have to duck off the main road and jump from rock to rock across a shallow stream. Then you walk down a very rocky path for several minutes, winding your way through a small neighborhood.
IMA World Health staff visited 12-year-old Claudy and his family at their home to get a sense of how an average school-age child goes about his day -- walking to and from school, playing with friends, etc. A carpenter, Claudy's father Alcant showed us the workshop just outside the family home where he builds cabinets and chairs to sell. His daily income is about $5.42 -- not enough to, among other things, keep his family wearing shoes that fit well and adequately protect their feet on the rugged paths they walk on daily.
As we have seen in our work in Haiti and around the world, shoes are a first level of defense when it comes to good health, and are a great complement to the Neglected Tropical Disease (NTD) Control program IMA World Health implements in Haiti. In addition to preventing cuts and injuries that can become infected, shoes can help prevent the spread of hookworm -- which affects an estimated 740 million people globally according to a World Health Organization estimate -- and other soil-transmitted diseases that can enter through the feet. Shoes that fit well are even better, as they help to prevent injuries as well as blisters that can easily become infected. And, very importantly, shoes are required for school enrollment.
Shoes are especially helpful when combined with other programs designed to keep children and families healthy. Claudy is among the 4.3 million people in Haiti who received preventive treatment for hookworm and other NTDs through the National NTD Control Programme last year. Funded by USAID, through RTI International, the program is supported by the Haitian Ministry of Health and Ministry of Education.As an implementing partner in the program, IMA World Health met Claudy during an annual medication distribution at his school.
NTDs -- including soil-transmitted helminths (intestinal worms) and Lymphatic Filariasis (whose telltale symptoms include painfully swollen and disfigured legs) -- persist exclusively in the most impoverished communities in developing countries due to inadequate sanitation, unsafe water and infected mosquitoes. NTDs are also costly, economically and socially, on both a personal and systemic level. In Haiti, it is not uncommon to meet children who are sick and struggling in school because intestinal worms are stealing their nutrition, or otherwise healthy adults whose swollen limbs make them unable to work.
To successfully combat and prevent these diseases, IMA has been working with the Haitian government and other partners since 2007 to conduct Mass Drug Administration (MDA) with two safe and effective drugs, DEC and Albendazole. MDA is conducted at schools and community distribution posts annually all over the country. Everyone in attendance receives free treatment.
In 2011 we were able to add shoes to our distributions, and we have seen the combination of the disease-fighting drugs and new shoes packing a one-two punch against NTDs for children in Haiti like Claudy.
IMA World Health is proud to be a part of the efforts to ease the burden of disease in Haiti -- one person, one pair of feet at a time. By continuing down this path we hope that one day, Neglected Tropical Diseases will be a thing of the past in Haiti.
One Day Without Shoes is an important day for raising awareness for the millions of children, like Claudy, that are at risk of injuries, disease and infections without properly fitting footwear. As we witness daily in our work, shoes play a vital role in protecting children's health and development. Join us on One Day Without Shoes and raise awareness for keeping children healthy and in school.