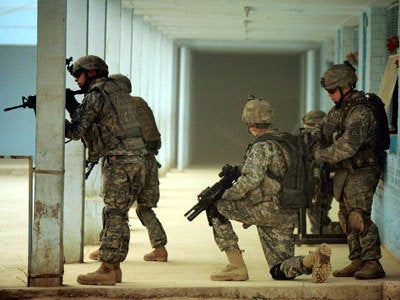 He hugged me when I walked in the back door and found him unexpectedly standing in my kitchen. Unlike so many of my 18-year-old son's friends, who've crossed that invisible line into manhood where it's not considered cool.

Because he and my son had drifted apart, I had not seen him in awhile. I knew he had barely finished high school because, like so many young people these days, there wasn't much there for him. He wasn't college-bound, wasn't into theater or band or sports. He had never quite fit in.

So I asked him what he'd been up to, this tall boy with the sweet smile.

"I joined the Army," he said quietly. "So I'm trying to go around and say good-bye to everybody."

When he told me this I tried not to gasp.

Not quite two weeks ago my son walked across a stage and accepted his high-school diploma. A few days before that his friend boarded a plane for Fort Benning, Georgia, to begin basic training.

Two young men. Two paths. It could have been so different.

At five years and counting, we still don't know much about the tragic price of the wars in Afghanistan and Iraq. How many soldiers will die or to put a face on it, how many like the 20-year-old female Marine who brought a stuffed animal with her to Iraq and was killed last week, will never live to see 21. We also don't know how many will come home severely depressed or suffering Post-Traumatic Stress Disorder. Or how many will be plagued by traumatic brain injuries, though the recent Rand study gave us a pretty good idea with its staggering estimate of some 320,000 veterans battling the condition.

As if that weren't enough there's a related horror for this generation of soldiers to fear. According to new U.S. Army estimates, soldiers in Iraq are trying to kill themselves at a rate of five a day. The trend is so alarming that at a recent gathering of the American Psychiatric Association, the head of the National Institute of Mental Health warned: "It's quite possible that the suicides and psychiatric mortality of this war could trump the combat deaths."

Yet one thing we do know is this: we have turned the armed forces into the largest vocational training school for young people in the country. What other educational enterprise regularly fields slick, direct-mail pitches to potential recruits with promises of cars, cash, and college tuition? Not long ago I went to the mailbox and, lo and behold, there was one from the Marines for my son. Like the other pitches he's received, I tossed this one out.

But some young people aren't so lucky. They don't have a parent looking out for them or they don't have great options. The military counts on this. With both wars in Iraq and Afghanistan continuing indefinitely, the Army intends to add 65,000 troops by 2010. That's a lot of bodies to dredge up. Is it any wonder that the military was recently caught granting waivers to felons? Or that the majority of new recruits come from families earning less than $60,000 a year?

This is why my son's friend signed on to become a combat medic. Not because he had a passion for war or wanted to fight terrorism or because his father had been an Army Ranger and so the service was in his blood.

His parents were divorced and he lived in a modest apartment with his father. His father ran a small car-detailing business and barely got by.

No, he enlisted in the Army because he was lost. He enlisted because in an economy with few good-paying jobs and little opportunity it was the best future he could envision for himself.

"I applied to be a fire paramedic but they're not taking anyone under 22," he said that afternoon in my kitchen.

After completing his medic training, he said the Army would be shipping him to Alaska or Germany. "Or I might be deployed to Iraq," he said after a pause. "I hope not. I'm really scared of IEDs."

That afternoon his twin sister had come with him. "I am really going to miss him," she kept saying. Her brother kept mentioning the pending date too, as if he couldn't quite fathom it.

This is part of the problem too, and why most Americans have been so thoroughly removed from the realities of the war. Most of us don't have sons or daughters in Iraq or Afghanistan. Most of us haven't had to watch our children wrestle with an impossible decision: a dead-end job at home or a potential career path through the armed forces. Or worse.

When my son walked across the stage to accept his diploma, I reminded myself of this. Then I thought of a tall sweet boy going through another ritual a few thousand miles away. And how it could have been different for him.