As a writer and entrepreneur, I get to meet many amazing people doing cool businesses and changing the world very often. One of those amazing people I've met this year is Bob Clarizio, the owner of Titan Tiny Homes out of Chicago.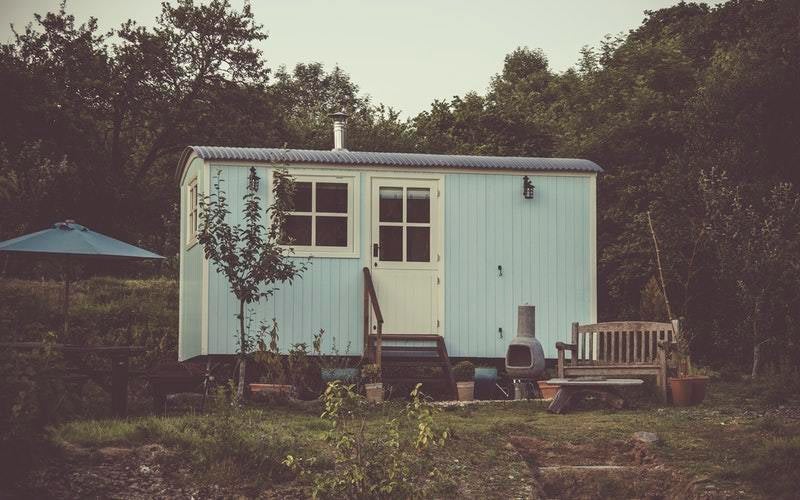 He creates high-quality tiny houses at affordable prices with some very cool innovations like whole home heating by infrared floor and in-wall heating, and he builds his shell out of SIPS (structural insulated panels) which no one else in the industry is doing.
He also manufactures his own tiny home trailers which he designed and in conjunction with the sips, his tiny homes are significantly lighter. He's become one of the most recognized builders in the tiny house niche.
I recently interviewed Clarizio and asked him about his entrepreneurial journey.
What problem does Titan Tiny Homes solve and why is it important?
Titan Tiny Homes' focus is to improve the lives of humanity by providing highly efficient, affordable housing. Our mission is to give our customers the financial freedom by lowering their household bills allowing them to live a more stress-free and debt-free, minimalistic lifestyle.
How did you come across this idea and what motivated you to start?
It is a funny story; It was Summer 2015 and I was walking out of a house that I was looking to purchase because at the time we were in the rehab game of fix and flipping houses. So as I was walking out of the home my office manager Renita called me and said someone from FYI Television network called and said they would like us to build them a tiny house for their hit show Tiny House Nation. It turned out that the original builder the network had scheduled was nowhere to be found. In short they would need us to begin building the tiny house on wheels as soon as possible and within a week would be sending a film crew into town to film the final 7 days of the build process. I decided to take the job, it took every bit of the 15 days we were given, many very late nights and even one 26 hour long work day in order to complete the home in time for the reveal, but we did it. When it was all complete we were told by Calvin Collins, Senior Producer of the show, that we were the only builder to ever complete a home from start to finish within the film schedule!
It wasn't an overnight success, but did you know it would catch on in a big way?
I knew that any exposure for a company on a major network is good for business which is in part why I decided to do the show. It was during the filming of the episode of Tiny House Nation that I realized how big it could get with the correct marketing. As we were filming that week, our Facebook page following doubled from 800 followers to 1600. We were just a small fix and flip company so getting Facebook followers and "likes" was not exactly at the top of our to-do list so you can imagine the surreal feeling we had as a company when people started to "cheer" for us, so to speak. It really motivated us. We now have over 34,000 follower on our Facebook page and will most likely hit over 50,000 by the year's end.
What are some hardships you had to overcome in the beginning and how did you overcome them?
When I decided to shut down all other business dealings including a 300 unit apartment maintenance contract and over half a million dollars of fix and flip projects and focus solely on starting Titan Tiny Homes, most of my employees thought I was absolutely crazy and inevitably quit working for Titan. So here I was with Renita and Lee, my office managers and a 10,000 sqft building with no labor force. It was a very stressful last few months of 2015. Then something amazing happened. After four months of not selling
one tiny house and about 15 days away from being kicked out of our newly leased facility we were able to sell 3 tiny homes within a week and then 3 in February and by the end of May we had sold enough to keep us busy all the way through the summer of 2016. The rest is history. To date, Titan Tiny Homes has sold over 50 homes in its first 18 months of being in business and is on track to do 60 – 100 homes in 2018.
What are the biggest challenges facing the tiny house industry?
The largest challenge we face is zoning and public acceptance of our product as use for a full time dwelling. Our homes are currently financeable and insurable by all major carriers and lending institutions.
What's one piece of advice you'd like to give our aspiring entrepreneur readers?
I think the most genius thing we did is that we didn't give up. Starting this company has taught me so much about myself and the game of business that I would have never learned otherwise. If I could break it into three lessons, I would have to say: One, don't believe your own hype, or in other words stay humble, it always gets easy before it gets hard when starting out in business. Two, never give up. You can get frustrated and rest
but after your 10 minute breather is over keep pushing with new ideas and whether they're right or wrong ideas, the important part is that you keeping pushing forward with new ideas. Three, constantly look back from where you started off at. So many times I feel we get lost in the day to day small progress and forget that every day worth of progress adds up to a lot of progress by the end of a year. With that being said, if you can think of each day as a piece of paper by itself it doesn't add up to much but when you stack 365 pages together it adds up to way more than you ever thought.
REAL LIFE. REAL NEWS. REAL VOICES.
Help us tell more of the stories that matter from voices that too often remain unheard.
This post was published on the now-closed HuffPost Contributor platform. Contributors control their own work and posted freely to our site. If you need to flag this entry as abusive,
send us an email
.