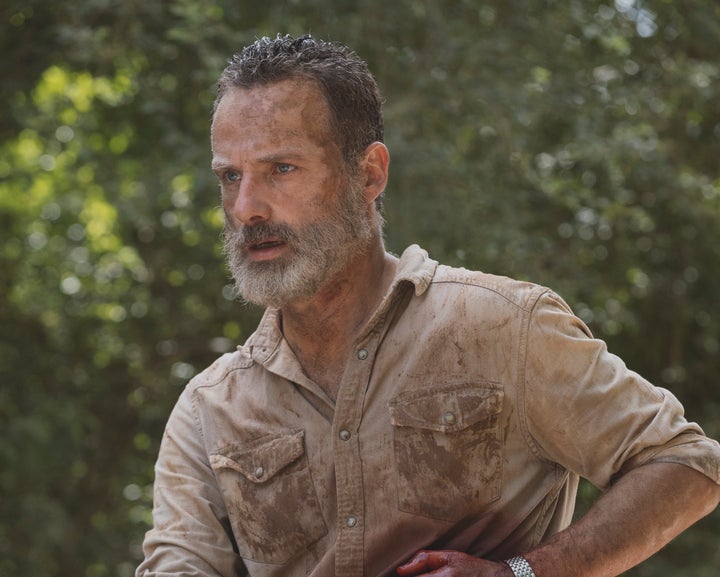 It's official. Rick Grimes rolled under the big dumpster in the sky. But, surprisingly, Andrew Lincoln's exit from "The Walking Dead" isn't even the wildest thing to happen in the most recent episode.
After news of Lincoln's impending departure from the show leaked over the summer, AMC began teasing the actor's final moments with marketing promos, videos and an emotional letter from Lincoln himself, reassuring us that his time on the show had come to an end.
And it sort of did on Sunday night.
In his penultimate episode, Rick Grimes appeared to be impaled by a large piece of metal, stuck in place with zombies closing in. Thanks to numerous photos and a teaser of the episodes' first few minutes released by AMC ahead of Sunday's airing, we knew he'd pulled himself off the metal bar with the help of his belt and led the zombie herds on a wild chase to the bridge the communities have been building, all the while spewing blood everywhere.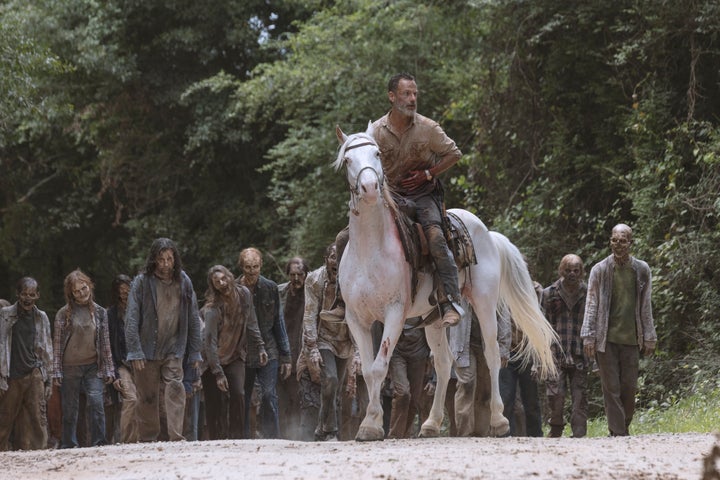 When the full episode aired, we watched as Grimes was visited by the ghosts of "Walking Dead" past in three different visions on his quest to "look for his family." Jon Bernthal's Shane Walsh returned to give Grimes inspiration, Scott Wilson's Hershel Greene implored the formerly passed out protagonist to wake up, and Sonequa Martin-Green's Sasha arrived to explain to him that people never really die. (She's obviously taking poetic liberties here because, huh, has she ever seen an episode of "Walking Dead"? People die, a lot.)
During the hallucination, Rick realizes that the "family" he's been looking for isn't blood relation, like dead son Carl (Chandler Riggs). It's his new family, the other living survivors like Michonne (Danai Gurira) and Daryl (Norman Reedus). (I mean, I could've probably told you that, dude. But do your thing.)
Rick snaps himself out of his fever dream and realizes he's gotta find someway to takeout the herd of zombies before they end up rolling through all the communities. The real, non-hallucinated Michonne, Daryl and other survivors show up in time to witness Grimes detonate some dynamite on the bridge, blowing himself and the ensuing zombies to smithereens. The zombies and Rick all wash away in the raging water below.
And that, everyone, is the end of Rick Grimes.
Well, almost. Did you really think a simple explosion could take out Rick?
Just as Glenn (Steven Yeun) miraculously rolled under a dumpster to avoid zombies back in Season 6, Rick somehow survives the explosion and conveniently winds up on the bank of a river near Jadis (Pollyanna McIntosh), who's arranging a helicopter transport at that very second. She tells the helicopter pilot that Rick is a "B" (one of the designations she uses for captives she'd like to use in a trade with the helicopter group) and that he's badly hurt and needs help.
And so the helicopter pilot accepts Rick and they all fly away ... and live happily ever after, we'd assume? That's how Sheriff Rick Grimes, aka the Ricktator, aka the throat biter, aka the primary character in "Walking Dead" leaves the show. Rick doesn't die after all. 
In fact, he might not even be gone that long. On "Talking Dead" following the show, Scott Gimple, the "Walking Dead" chief content officer, said AMC is going to make original Rick Grimes movies. What does that even mean? Time will tell.
Now, back to this episode. At this point, the best part of the show was yet to come.
After the helicopter flies off, some new survivors appear on the show, and they're having a tough time evading zombies. Eventually, they're saved by some good Samaritan shooting just enough undead for them to escape. Wait. What's this? A gun-and-sword-toting preteen girl? "What's your name?" they ask. The girl puts on a cowboy hat.
"Judith ... Judith Grimes," she replies.
She might as well have said, "Bond ... James Bond." Because here's what's going on: That's actress Cailey Fleming. Unknown to the audience, the show has jumped ahead in time several years. Judith Grimes is apparently now carrying on her family's legacy. 
Fleming played young Rey in "Star Wars: Episode VII," so can we declare the young Jedi's family origin story solved? (Her dad is Rick Grimes! Or, technically Shane, but that's neither here nor there.) But really, it's too soon to tell how the show will actually move on from Lincoln's character. At least we know the Force is with it.
Calling all HuffPost superfans!
Sign up for membership to become a founding member and help shape HuffPost's next chapter
BEFORE YOU GO