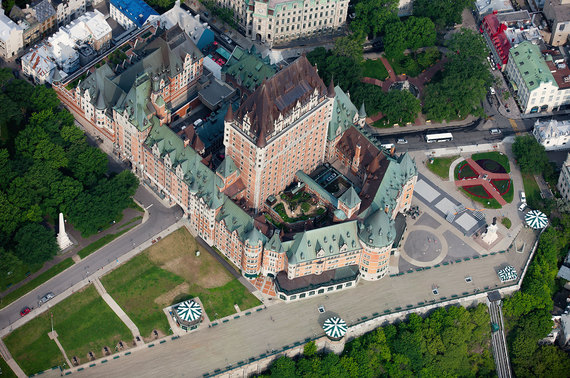 I assume that there is a good deal of competition between the Canadian cities of Montréal and Québec as to which offers the most pleasures for the traveler intent on finding history, architecture, shopping and dining on a short trip. For the latter two interests, Montréal surpasses Québec, but for the first two, I find Québec the clear winner. And the delightful part of a visit to Québec is that its touristic charms can pretty much be covered in two days, perhaps appended by visits outside the city to Jacques Cartier National Park and Le Massif de Charlevoix, which offer some of the most spectacular mountain views in North America.
It is almost impossible to stand anywhere in Québec and not see the towering Château Frontenac (above), which has dominated the city's skyline for more than a century, opened in 1892 by William Van Horne, general manager of the Canadian Pacific railway, as a stopover for travelers that have included King George VI and Queen Elizabeth, Princess Grace of Monaco, Ronald Reagan, François Mitterrand, Charles Lindberg, Alfred Hitchcock and Ernest Hemingway. Its vast layout is best seen in aerial photos, for it sprawls atop Dufferin Terrace in full view of the St. Lawrence River. Just to stroll through its magnificent wood-carved hallways and to peak into its splendid Champlain restaurant is requisite activity.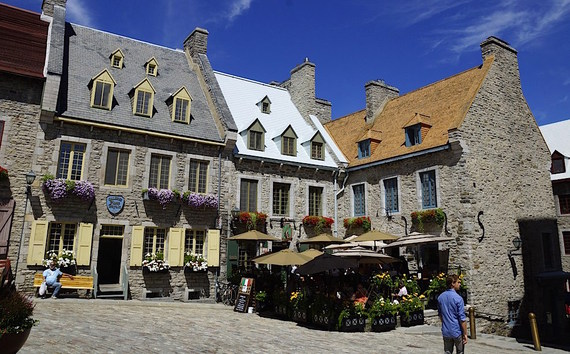 From the hotel you can wind though Québec's Old Town to Place Royal (above), where in 1606 Samuel de Champlain founded the first French settlement in North America; the square retains all its 17th and 18th century cobblestone charm, including the beautiful Notre-Dame-des-Victoires, the oldest stone church in North America, built in 1688. The streets and staircases that lead in and out of the Place are just as historic, some with painted walls depicting Québec history--especially the Rue du Petit Champlain. The streets are dotted with boutiques and bistros. The Lower Town, which can be reached by a funicular, brings you to the foot of Cap Diamant, from where it's a short walk to the Old Port.
Not very far away is the business and government sector of the city, which includes the superb Parliament Building (dedicated 1886) and its 22-foot tall Fontaine de Tourny, with its 43 water jets and sculpted figures--all shipped in from Bordeaux only in 2003 by department store magnate Peter Simons. Beyond that are the great Plains of Abraham, Québec's beautifully landscaped 240-acre park with the enchanting Joan of Arc Garden with over 150 plant and flower varieties on display. The Plains of Abraham was the site of the Battle of Québec in 1759, during the Seven Years War, whose victory by British troops over the French sealed the city's future, defenses, and architecture. In 1763 with the Treaty of Paris the French lost all claims to Canada, whose effect was to engage the French to help the Americans against the British when the Revolutionary War began.
Down in the Old Port is a three centuries old Auberge Saint-Antoine, now a wholly modern hotel within the shell of a very historic property, once used as a wharf, a cannon battery, and mercantile warehouse, remnants of which have been preserved in the auberge by four generations of the Price family from Wales, which made its fortune in logging. The auberge is now run by Martha Bate Price (wife of Tony Price), Evan, Llewellyn and Lucy Price (their children and the family's 6th generation).
On a recent visit, my wife and I had the pleasure of dining at the Auberge's lovely Panache restaurant (below), dating back to 1822 as a warehouse, set within rustic stone walls with a wood-beamed ceiling and with a marvelous view of the great river. Young French Chef Louis Pacquélin's cuisine is derived from Canada's seasons. "I work a lot with fruits and vegetables in spring and summer from our organic farm," he said at lunch, "then focus on the proteins in winter. I had to work hard to find the best farmers to supply what I wanted. I am also impressed with the Canadian artisanal cheeses."
The result is a menu of French and Quebeçois classics like roast suckling pig with a ragôut of white beans and sage, spiced with Dijon mustard.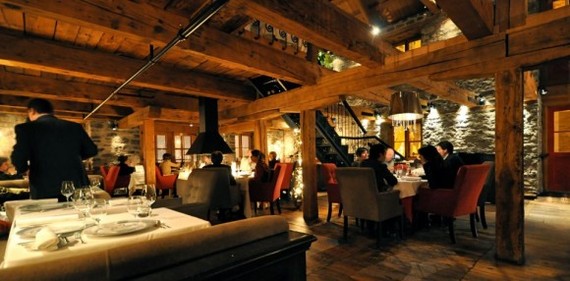 We began with tangy, warm goat's cheese on toast with honey and frisée greens that proved Pacquélin's point about the quality of Canadian cheeses. Also, there was an excellent terrine of chicken livers with housemade cornichons and croutons, and an impeccably made chicken soup with truffles in the style of the Lyonnais restaurant La Mère Brazier.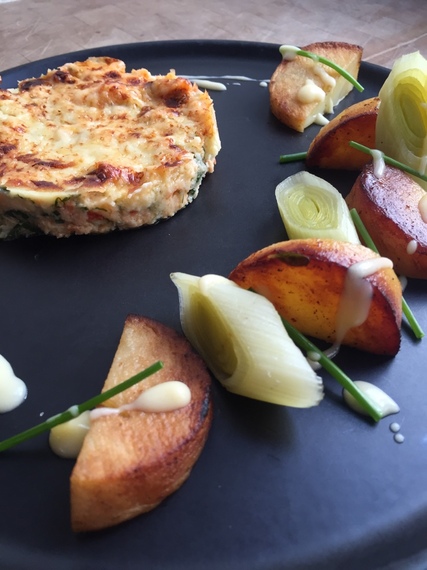 That juicy, crisp-skinned suckling pig was delicious, as was a gratin of lobster with very rich, very proper sauce Mornay, further enriched with a potato fondant and leeks but a little too much thyme. Filet of Canadian beef came within a pastry crust, a tough thing to make well and here it was very, very good, the brioche crisp, the beef perfectly cooked, served with a marmalade of peppers and salad of green beans. Somewhat lighter was a dish of ravioli stuffed with butternut squash and ricotta.
Dessert was deeply satisfying--a classic chocolate éclair with pear and sugar-butter crumble. It was all as fine a meal as I've ever had in Canada.
Panache's wine list holds 700 selections and 12,000 bottles, including several Canadian bottlings. We enjoyed a Cuvée Spéciale Vignoble do Marathonien 2012 at a reasonable $45.
Lunch appetizer & main course or main course & dessert: $19; Appetizer, main course, dessert & filter coffee or tea: $24; Dinner $19 prix fixe or $14-$29 for appetizers, $39-$54 for main courses.
es.