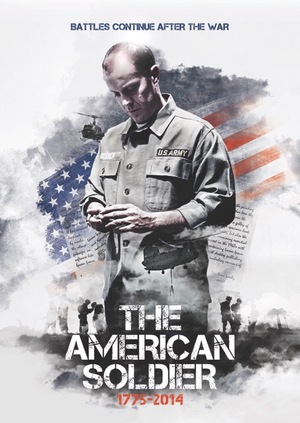 What happens when the people we count on to protect us become the most vulnerable? That's the question actor and writer Douglas Taurel aims to answer in his one-man show The American Soldier, recently performed at New York's 59e59 Theaters as part of the East to Edinburgh Festival. In a series of monologues culled from letters and testimonials spanning the Revolutionary War to the present day, Taurel explores the many faces of Post-Traumatic Stress Disorder (PTSD), painting a detailed portrait of the military experience which explains that when trauma strikes one, it affects all.
As some critics have pointed out, Taurel's subject matter is hardly new. Works abound about the difficulty soldiers face in transitioning back to civilian life (one need look no further than Clint Eastwood's American Sniper for an in-depth view of the dichotomy between public heroism and private agony), but what distinguishes The American Soldier from pieces that cover similar ground is its sense of historical universality -- and its creator's genuine emotional investment in the topic.
During the play Douglas introduces audiences to eight soldiers and four family members, weaving back and forth across time to reenact accounts from a jaded Vietnam veteran, a wife and son of a soldier just deployed to Afghanistan, a shell-shocked alcoholic home from World War II, an adrenaline-fueled husband between tours in Iraq. These characters relay seemingly different stories, but the material emphasizes their commonalities -- feelings of loneliness and desperation, escapes into substance abuse, equation of combat with sexual thrill (at least two of the men in separate time periods discuss their fondness for women's breasts). Soon enough, as the monologues blend thematically into each other, we learn that PTSD has never been restricted to just one war or group. We are all in this together.
Onstage Taurel commits totally to his characters in every circumstance, whether starving at Valley Forge or facing heavy artillery at Iwo Jima. He's such a student of behavior that a scene where he appears as an amputee veteran, which had the potential to go seriously awry, is pulled off flawlessly and makes for a powerful standout sequence.
Even speeches not suited to his solid masculine build -- a young wife struggling to be strong for her kids, an elementary schooler with a plan to keep his dad from deploying again, a mother of a fallen soldier (easily mistaken by one reviewer for a father) -- are effective in Douglas's hands because he imbues them with such conviction. There's a softness he conveys when speaking as a female character which lends his words credibility and punch, even if the physical masquerade doesn't entirely work. (Taurel says he owes his character technique to years of study with renowned acting teacher Wynn Handman, a mentor to such artists as Alec Baldwin, Michael Douglas, and Denzel Washington among others.)
Of course, the real power in these monologues is that they illuminate the difficult tolls taken both on those who go to war and those they leave behind. One of Taurel's father characters elicited audible gasps from the crowd at 59e59 when he revealed that he'd lost his son, a veteran of Iraq and Afghanistan, not to battle -- but to PTSD-related suicide.
This section of the show hits home the hardest for Taurel.
As a father myself, that gets to me a lot. I don't even know how parents function after they lose their children. No one pays enough attention to it, but the stress has been too high for [family members of veterans]. They can't connect; divorce rates are high. Wives can't handle the emotional burden of being the ones at home while their husbands do multiple tours. They're committing suicide; so are the parents who lose their kids. [For more information on this, see Ashley Fantz's eye-opening study "The Uncounted."]
The American Soldier is a longtime passion project for Taurel, who admits he's never served in the armed forces but does have several family members in the military and holds a deep-seated respect for our fighting men and women. Seven years of research led him to countless sources of archival material, among the most interesting a letter written in the 1800s by a daughter who describes her veteran father's mental condition in perhaps one of the earliest documentations of PTSD. This letter, along with a video about a soldier who obsessively collected battlefield photos after three tours in Iraq, was what sparked Taurel's decision to center the show on families.
Douglas remembers of the video, "You saw this guy just clicking away like a crack addict looking at pictures of dead people, and his six-year-old son says, 'My dad's back, but he's not really back. He used to play with us a lot and it kind of sucks that he doesn't.' That really connected [everything] for me."
He and director Padraic Lillis (recently inducted into the Indie Theater Hall of Fame) started shaping The American Soldier around the concept of a nuclear family. "I had so much material," Taurel recalls, "but I didn't have the structure I needed, and Padraic said, 'I want you to find sacrifice from everyone -- find a son, find a wife, find a dad, find a mother.' We've now told all their stories, so we feel we have a good balance."
When I point out that the play doesn't include a statement from a female soldier, Douglas answers that such material did exist in early versions of the script but wasn't working in the show's larger arc. However, he's fascinated by the many stories he's picked up during the research project and hopes that one day he can tour with The American Soldier and cycle through various monologues until the viewpoints of all genders, all eras, all roles within military life have had their chance to be heard.
What I really hope people will get out of the piece is a deeper appreciation for the sacrifices of veterans and the families they leave. I'm confident if we can understand that, we'll be better prepared to make decisions about war and to take care of them when they come back. Maybe somebody will go, "I saw a play that really talked about what those guys go through," and they'll see a veteran and say thanks. And maybe that thank-you will make the veteran feel better, and maybe he won't go home and drink that night. Or maybe that's the day he calls the V.A. to get help. That's what I'm hoping the show does.
The American Soldier definitely invites audiences to feel real compassion for the men and women who risk their lives for our country. Throughout the show a lone recurring character speaks about three lessons he learned from the army, each one having to do with being part of a larger unit. "It's not about you," he eventually concludes. "It's about your country and the men that you serve with. You are part of an amazing history and brotherhood."
Ultimately The American Soldier examines three families -- those waiting for the soldiers at home, those they make while serving together, and the wider family that is the whole human race. War, as General Sherman said, is hell, but if we can comprehend even slightly the hell that our returning servicemen and women are living, perhaps we can lend them a hand and begin to put our worldwide family back together again. Judging by the enthusiastic ovation that his performance earned at 59e59, concerned citizens will certainly be at attention to receive Douglas Taurel's very important and poignantly conveyed message.
Written and performed by Douglas Taurel and directed by Padraic Lillis, The American Soldier will be presented at the Edinburgh Fringe Festival from August 7-22 at the Zoo South Side Theater. For more information on the show, go here; see more on Taurel's other projects here.
Related
Popular in the Community